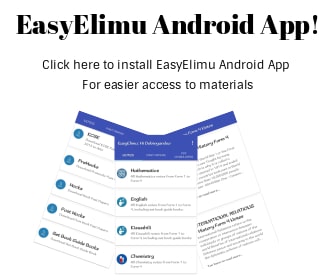 ---
Christian Religious Education is the study of God's revelation to human beings through scriptures, the persons of Jesus Christ and the Holy Spirit.
There are many reasons why schools study CRE. Some of the reasons are to:
Enable you to develop a personal relationship with God.
Help you to acquire basic principles of Christian living.
Help you to develop a sense of self-respect and respect for others.
Help you to develop positive attitudes and values, which help you to cope with challenges of life.
Contribute to the moral and spiritual development of students.
Help you to contribute positively to the transformation of an individual and the society as whole.
Help you to identify answers to situations of life, including death and Eternal life.
Help learners to identify answers to life's questions.
Promotes international consciousness.
Help you to understand yourself.
Promote cultural integration.
Enable you to acquire a better understanding of God.
Unite people.
Guide you in choosing a career
Help you to appreciate African religious heritage and other religions.
Promote living values such as honesty concern for others, kindness, love and unity.