1. Parenting should build an environment of trust and peace in a family. Write an essay that explores how this statement applies to the Ole Kaelo family in Blossoms of the Savannah.
Introduction - (2mks)
Body
Points of interpretation;
- The kind of parenting by Mama Milanoi and her husband does not herald peace and trust in their family. The girls desire to join the university does not receive any attention from the parents. The girls get emotionally affected as a result.
Ole Kaelo's acerbic/stinging tongue is a source of discomfort to his daughters. They enjoy his absence from the house.
The parents secretly conspire to marry off Resian to Oloisudori, which leads to her escape from home and her misery. This betrays her trust.
Resian is fully aware that the father loves Taiyo and hates her. Reasian is always on the receiving end, being cajoled and criticized for this or for that by the father. She knows no peace in the family.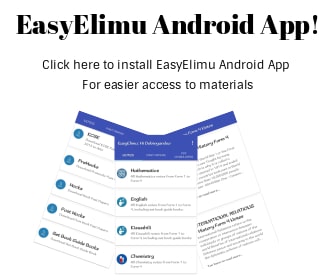 (Any 4 well explained points x 3)
Conclusion - 2mks
Language A-4, B-3, C-2, D-1
(20mks)
2. The author has been able to effectively employ irony to bring out the message of the text. Illustrate the effectiveness of this style in the text.
Introduction
Communication is greatly dependent on the manner of passing the message. One of the most effective ways of communicating is by use of irony. The text Blossoms of the Savannah by H.R Ole Kulet clearly employs this style.
Content
Olarinkoi presents himself as dependable person when he saves Resian and Taiyo from rapists. He however turns out to be a rapist himself he wants to have Resian
against her will.
FGM which is a harmful practice to women is practiced, propagated and defended by the people it hurt most women.
Mama Milanoi remains mum even when her daughters are harassed by her husband who wants to have them circumcised and married off to Oloisundori against their
wish.
Ole Kaelo opts to marry off his daughter Resian mannered old man, in order to save his business.
Conclusion
Irony as a style is one of the major styles employed by the author to communicate his message.
3. It is resian's determination that makes her achieve her goals. In the light of what happens in the novel, Blossoms of savannah, Write an essay in support of this assertion.
Introduction