The structure of the earth consist of a series of layers both internal and external, these layers includes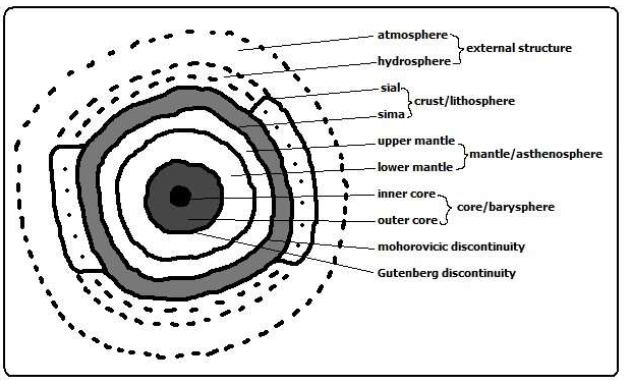 The evidence used to study the earth's interior are
mining

drilling

quarrying/excavation
Outermost layer of the earth
Made of soils and other loose deposits of sand
The dominant rocks are granites.
Extends from 16-24 km thick but where mountains occurs it can have a thickness of 70km.
Has 2 layers; continental crust and oceanic crust.



1. Sial

Also called continental crust
Made of light colored rocks
Called sial because it's made up of

si

lica and

al

uminum.

It is lighter( having a density of 2.7 grams/cc) this makes it float on the oceanic crust.



 2. Sima

Also called oceanic crust
Mainly made of basaltic rocks which are brittle.
Called sima because it is made of

si

lica and

ma

gnesium.

It has a density of 2.8-3.0gm/cc
It is thin ranging from 6km-10km in thickness.



Mohorovicic Discontinuity (Moho

)

 A definite zone of discontinuity between the crust and the mantle.
Was discovered by Dr. Andrija Mohorovicic in 1909.
On average its about 2900km thick

Its composed of silicate rocks rich in iron and magnesium.(olivine)
It has an average density of 3.0-3.3gm/cc
Its divided into two layers namely; upper mantle and lower mantle



Upper mantle

Rocks are more elastic than those of sima.

Temperature is about 1000◦c.



Lower mantle

Rocks are like very viscous liquid.

Temperature ranges between 1000◦c to 3000◦c.



Gutenberg Discontinuity

A definite zone of discontinuity between mantle and core
Its has a radius of 3470km

Its divided into two layers namely; inner core and outer core. 

Outer Core
Its has an average density of 12.0gm/cc
Composed of hot molten rocks
Made up of nickel and iron
Temperatures are up to 3700◦c. 



Inner Core

A solid mass of iron
Its has a density of 16 -17gm/cc.
Temperatures are estimated to be 3700◦c to 5500◦c.
Due radio-active decay causing most of the heating. The decay of the radio-active material causes explosion occasionally releasing a lot of heat through nuclear fission

Due to great pressure as a result of overlying crustal materials, this intense pressure generates a lot of heat inside the earth.

The earth stills retains the original heat which it had before its started cooling, during cooling the outer parts cool faster than the interior trapping the original heat inside it
It's a layer of transparent and odourless gases held 

to the earth by its gravitational pull.

The earth revolves with it because its held onto it by 

gravity

It's about 330km thick.
Composition of the Atmosphere
Gases-exist as a mixture

Smoke particles

Dust particles

Water vapour



The Structure of the Atmosphere
It's divided into 4 layers/zones namely: troposphere, 

stratosphere, mesosphere and thermosphere.

Troposphere

Lowest layer of the atmosphere



characteristics

Contains most of the atmospheric water vapour or clouds

Extends 8km at the poles and 13km at the equator

Temperature decreases with increase in altitude at a rate of 6.5

0

c per 1000m (normal lapse 

rate)

Pressure falls with increase in height

The speed of wind increases with increase in height

Contains dust particles

There is a zone of transition between troposphere and stratosphere called

tropopause,

In these zone there is no change in temperature with increase in height, hence 

experiences zero lapse rate



Stratosphere

Extends from the tropopause to a height of 30km

characteristics
The temperature increases with increasing altitude , this is called the negative 

lapse rate, the temperature increase is caused by the concentration of ozone 

gas

Has ozone layer which absorbs harmful ultraviolet radiation.

Winds are light in the lower but increase with height.
The atmospheric pressure continues to fall as the air is dry
Air is calm so it's used by passenger jets
Limited amounts of water vapour

There is a zone of transition between stratosphere and mesosphere called 

stratopause

.



Mesosphere

Extends from 50-80 km



Characteristics

Temperature decreases with increasing altitude, this is called positive lapse rate, the 

decrease in temperature is because there is no water vapour or ozone gases to absorb 

the incoming terrestrial radiation

Its has the lowest temperature ranging -90

0

c

Has very strong winds that at times reaches 3000km/hr



There is a zone of transition between mesosphere and thermosphere called mesopause .

which is an inversion layer.



Thermosphere

Extends from 90-120km

characteristcs
High radiation is present.
Temperature rapidly increases with height, this is due to the over concentration of atomic oxygen which absorb incoming ultra-violet radiation
Temperature reaches to a high of over 1500

0

c

The pressure is very low.
Gases and molecules in this layer exist as ions due to high radiation.

NB

Thermosphere has no definite top but merges gradually into the outermost part of the atmosphere called exosphere.

Exosphere consists of rare gases like hydrogen and helium.

Beyond the atmosphere there is the outer space.

Outer space is the universe beyond the atmosphere in which other planets and stars exist.
Composition of the Atmosphere
The atmosphere is composed of the following gases
Nitrogen 78%

Oxygen 20%
Water vapour 1%
Argon 0.94%

Carbon dioxide 0.03%

Inert gases such as neon, krypton and xenon are found in traces (negligible percentages)
Significance of the Atmosphere
Animals and plants breathe in from it oxygen for respiration.

Plants use carbon dioxide from it for photosynthesis.

Water vapour in the atmosphere condenses to form clouds which give us rain.

Ozone layer in the stratosphere shields us from ultraviolet radiation which may cause cancers.

Carbon dioxide and methane in the atmosphere cause global warming through the green house effect.
Part of the earth's surface covered by water masses e.g. oceans, seas, lakes, rivers and even underground water. It comprises 73% of the earth's surface area.
The lower atmosphere, hydrosphere and the upper part of the earths crust are called biosphere meaning the sphere of the earth in which organic liofe exists.