1. What are the reasons that would make an individual engage in business? (4 marks)

2. List four types of utility and the production activity associated with each of them. (4 marks)

3. Outline four ways in which the office facilitates effective handling of documents. (4 marks)

4. Highlight four factors that may influence a consumer to purchase products from a kiosk rather than a supermarket. (4 marks)

5. State four circumstances under which hire purchase may be used to acquire goods. (4 marks)

6. Give four reasons for the increased use of mobile phones when banking. (4 marks)

7. Outline four methods that the Government of Kenya uses to regulate business activities.(4 marks)

8. State four disadvantages of using the internet as a means of communication. (4 marks)

9. State four differences between life assurance and general insurance. (4 marks)

10. Give four reasons for observing ethical practices in product promotion. (4 marks)

11. The graph given below represents the demand and supply curves of milk.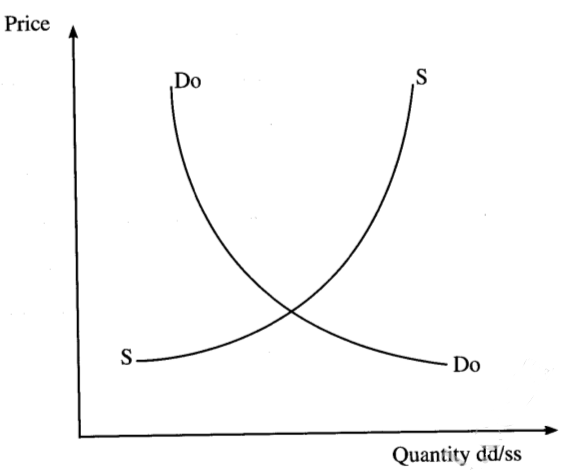 State four effects of a shift of the demand curve to the right. (4 marks)

12. Outline four disadvantages that a manufacturer would suffer if wholesalers were eliminated from the chain of distribution. (4 marks)

13. The following balance sheet was incorrectly prepared.
PEMBE TATU TRADERS

BALANCE SHEET

FOR THE YEAR ENDED 31.12.12

Ksh

Ksh

Stock 5,000

Debtors 50,000

Bank overdraft 5,000

Furniture 7,000

Cash 9,000

Capital 66,000

19,000

123,000

Prepare a corrected balance sheet.(4 marks)

14 The following figures relate to Jumbo Traders for the year ended 31.12.13.

Details                                                  Ksh
Capital (31.12.13)                                 940,000
Net loss                                                 20,000
Additional investment                            420,000
Monthly drawings                                   5,000

Determine the capital as at 1.01.13. (4 marks)

15. Identify the ledgers in which the following accounts are maintained. (5 marks)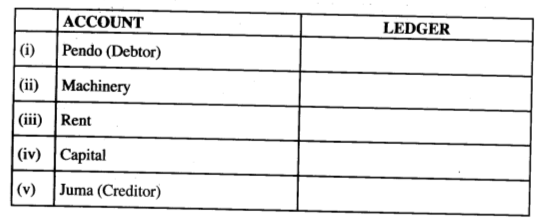 16. List three levels of inflation. (3 marks)

17. Name the documents described by the statements given below used in International Trade. (4 marks)

(a) Request for payment before goods are delivered

(b) Shows ownership or title of goods imported

(c) Shows the country of manufacture of goods.

(d) Shows the transportation charges for goods.

18. The following Purchase Returns Journal relates to Farasi Traders.
PURCHASE RETURNS JOURNAL

DATE

DETAILS

INVOICE NO.

FOLIO

AMOUNT

2012

 

 

 

 

MARCH

 

 

 

KSH

1

 

R22

PL1

2,000

3

Junior

100

PL2

4,000

4

Mimi Supplies

30

PL5

5,000

 

Kilimanjaro

 

GL4

11,000
Post the information above to the relevant ledger accounts. (4 marks)

19. Outline four goals of development to a country. (4 marks)

20. The following information relates to Kahawa Traders as at 31st December 2012.

Stock                1.1.12                 Ksh 80,000
Stock                 31.1.12              Ksh 120,000
Purchases                                   Ksh 1,000,000
Margin                                         20%
Required:
Prepare a trading account. (5 marks)

21. State four reasons that make it necessary for firms to maintain a healthy environment. (4 marks)

22. Highlight four benefits of business plan to an entrepreneur. (4 marks)

23. Outline four benefits of sea transport over air transport. (4 marks)

24. In which ways can an investor benefit from stock exchange? (4 marks)

25. State three clauses found in the Memorandum of Association. (3 marks)