Instructions to Candidates
Write your name and index number in the spaces provided above
Sign and write the date of examination in the spaces provided.
KNEC Mathematical tables and silent electronic calculator may be used.
All the working must be shown clearly where necessary
Candidates should answer questions in English.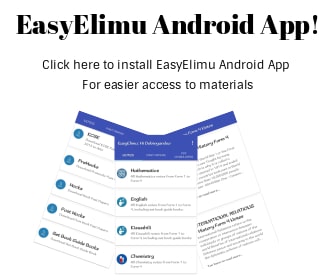 ---
Questions
The flow diagram below shows some reactions starting with propanol. Study it and use it to answer the questions that follow.



Name the process in step I, II and III; (3 marks)
Write an equation for the reaction in step I and V (2 marks)
Give the name and structural formula of substance M (2 marks)
Name the reagents B and N (2 marks)
State the condition necessary for reaction in step II (1 mark)
The diagram below shows the structure of a detergent.



Identify the detergent (1 mark)
A sample of water was found to contain magnesium ions. Explain why the detergent above is a suitable reagent to be used in the water. (1 mark)

The table below shows properties of four substances. Study it and use it to answer the questions that follow.



Substance
Melting point
(0C)
Electrical conductivity​
Solid
Molten
A
-33
Poor
Poor
B
801
Poor
Good
C
1083
Good
Good
D
1417
Poor
Poor




Identify the structure in A and C. (2 marks)
Explain the conductivity in substance B (2 marks)
Give a reason why substance D has a h-igh melting point. (1 mark)

Draw dot and cross diagram showing bonding in the following; (2 marks)

Ammonia gas (N=7, H=1)
Sodium sulphide ( Na=11, S=16)

Explain the following; (3 marks)

Magnesium and sulphur are in the same period of the periodic table. However, magnesium oxide is a solid while sulphur (IV) oxide is a gas at room temperature (Mg = 12, S=16, O=8)
Ethanol is molecular but it dissolves in water
Solid copper metal is a better electrical conductor than molten copper

The diagram below shows the set-up used to test a property of carbon in the laboratory. Study it and use it to answer the questions that follow.



State the role of potassium hydroxide solution (1 mark)
Write an equation for the reaction in the combustion tube (1 mark)
State the property of carbon being investigated. (1 mark)

Sodium carbonate is prepared industrially using Solvay process. The flow diagram below shows some of the reactions in the process. Study it and use it to answer the questions that follow.



Identify; (2 marks)
Solid Y …………………………………………………………………………
Solid P ………………………………………………………………………….
Write an equation for the reaction taking place in chamber M (1 mark)
Name the process taking place in chamber N. (1 mark)
State two uses of sodium carbonate (2 marks)

The set-up below was used to prepare carbon (IV) oxide gas in the laboratory. Study it and answer the questions that follow.



Identify the mistake in the set-up and suggest a possible correction. (2 marks)
Complete the diagram showing how the gas can be collected (1 mark)

The list below shows reduction potentials of element M, N, P and Q


Eθ volts
M2+(aq) + 2e → M(s)
N2+(aq) + 2e → N(s)
P+(aq) + 2e → P(s)
Q2+(aq) + 2e → Q(s)
-0.76
-2.37
+0.80
-0.14




Identify the element that is strongest reducing agent (1 mark)
Which elements would form an electrochemical cell with the highest e.m.f. (1 mark)
The half cells of M and P were combined to form an electrochemical cell.

Draw the electrochemical cell formed (3 marks)
Calculate the e. m. f of the cell formed (1 mark)

The set-up below was used during the electrolysis of a solution of Magnesium sulphate using inert electrodes.



State the observation made in electrode Q. Explain (2 marks)
Write an equation for the reaction in electrode P (1mark)
A current of 0.5 Amperes was passed through the cell for 16 minutes and 5 seconds. Calculate the volume of product at the anode at RTP (1M= 24l ,I F=96500C)(3 marks)

Give one application of electrolysis (1 mark)

Define molar heat of neutralization (1mark)
The table below shows temperature reached when equal volumes of an alkaline solution of 1.5M concentration was reacted with 0.95M sulphuric (VI) acid.
Plot a graph of temperature against volume of acid used (3mks)


| | | | | | | | | | |
| --- | --- | --- | --- | --- | --- | --- | --- | --- | --- |
| Total volume of Sulphuric VI acid added | 0 | 5 | 10 | 15 | 20 | 25 | 30 | 35 | 40 |
| Volume of alkaline solution | 30 | 30 | 30 | 30 | 30 | 30 | 30 | 30 | 30 |
| Highest temperature reached | 23 | 24 | 25 | 26 | 27 | 28 | 28 | 27 | 26 |

From the graph determine

the volume of sulphuric VI acid needed to completely neutralize 30cm3 of the alkali solution ( 1mk)
the temperature change (1mk)

Calculate the heat change for the above reaction density of solution 1g/cm3, Specific Heat Capacity 4.2g/J/K (2mks)
Calculate the molar heat of neutralization for the reaction (2mks)

The diagram below shows the set-up used to extract sodium metal.


Identify; (2 marks)

Electrolyte X
Gas Y

During extraction of sodium using the down's process, calcium chloride is added to the ore. Give a reason for the addition of calcium chloride. (1 mark)
State two uses of sodium (2 marks)
Give a reason why sodium is extracted using electrolysis (1 mark)
Why is the anode made of graphite and not steel? (1 mark)
On the diagram, label the steel diaphragm. (1 mark)
State the role of the steel diaphragm (1 mark)
State and explain two observations made when sodium metal is placed in a trough of cold water. (3 marks)

The figure below shows some properties and reactions starting with solid S. Study it and answer the questions that follow.


Identify; (2 marks)
Solid S
Gas K
Write an equation for the reaction in step 1 (1 mark)
State the property of solution F that makes the reaction in step 2 possible. (1mark)
Write an ionic equation for the reaction in step 2 (1 mark)

Starting with Zinc oxide, describe how a dray sample of zinc carbonate can be prepared in the laboratory (3 marks)
Name the process taking place when the following reactions take place (3 marks)

Calcium chloride placed on a watch glass overnight forms a solution
Sodium hydroxide reacts with sulphuric (VI) acid to form a colourless solution
Silver nitrate and potassium chloride react to form a white solid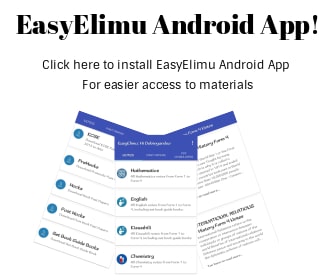 ---
Marking Scheme
Name the process in step; (3 marks)
I – Combustion (1 mark)
III – Esterification (1 mark)
IV – oxidation (1 mark)


Write an equation for the reaction in step (2 marks)
I – 2CH3CH2CH2OH(l) + 9O2(g) → 6CO2(g) + 8H2O(g) (1 mark)
V - CH3CH2COOH(l) + NaOH(aq) → CH3CH2COONa(aq) + H2O(g) (1 mark)
allow fractions and ignore state symbols


Name propylmethanoate (1 mark) (2 marks)
Structural formula

(1 mark)
B - Acidified potassium manganate(VII) or Acidified potassium dichromate (VI) accept the respective formulaes (1 mark)
N – Soda lime(1 mark)
170 – 180°C/ reject high temperature of temparatures out of range ((1 mark)

Soapless (1 mark)
Magnesium ions make water hard. The detergent forms lather easily with hard water and doesn't form scum (1 mark)


A …Molecular/ simple molecular (1 mark)
C …Giant metallic/ metallic (1 mark)

In solid state the ions are in fixed (1 mark)state hence a non-conductor. In molten state the ions dissociate and become mobile(1 mark) hence it conducts eletricity
It has covalent bonds/ giant covalent structure which are strong throughout the structure hence a lot of energy is required to break them(1 mark)



(1 mark) ii. (1 mark)

Explain

Magnesium oxide has strong ionic bonds hence ions are held strongly. Sulphur (IV) oxide has molecules held together by weak van der waals forces(1 mark)
Ethanol is molecular but it dissolves in water
Ethanol has hydrogen bonds which make it polar and soluble in water(1 mark)
In molten state the electrons have increased kinetic energy which make them move randomly reducing their conductivity. (1 mark)

To absorb unreacted carbon (IV) oxide (1 mark)
CO2(g) + C(s) → 2CO(g) (1 mark)
Reducing property (1 mark)

Solid Y ……Limestone or Calcium carbonate (1 mark)
Solid P ……Calcium oxide (1 mark)
NaCl (aq) + NH3(g) + H2O(l) + CO2(g)→ NaHCO3(s) + NH4Cl(aq) (1 mark)
Filtration (1 mark)

It is used in the manufacture of detergents, soaps, paper.
Also used in the manufacture of water glass (sodium silicate), borax, sodium phosphate, and many other sodium compounds.
It is used in as a wetting agent in brick industry
It is used as an abrasive and foaming agent in toothpaste
It is used as a pH modifier
It is used as water softener – Hard water which consists of magnesium and calcium ions are precipitated by carbonate.
As a laboratory reagent to standardize acids and as an analytical reagent. any one (1 mark)

Sulphuric(VI) acid forms an insoluble salt with calcium carbonate(1 mark)
Correction: use of nitric(V) acid or hydrochloric acid(1 mark)


accept syringe 1 mark)

The list below shows reduction potentials of element M, N, P and Q

N
N and P



½ mark for correct anode, cathode salt bridge, voltmeter, and workability
(TOTAL 3 mark)
0.80 – (– 2.37) = +3.17V(1 mark)

Colourless bubbles as oxygen gas is formed (1 mark)
or 4OH-(l)= 2H2O(l) + O2(g) +4e-
electrode P 2H+(aq) + 2e → H2(g) (1 mark)


Q = It
Q = 965 x 0.5 = 482.5 C
2H+(aq) + 2e- → H2(g)
1F = 96500 x 4 = 386000C → 1 mole / 24l
482.5 C → 0.03litres

Extraction of reactive metals like Na, Ca, Al,
Purification of metals
Electroplating
galvanization of iron
Manufacture of pure chemicals like hydrogen, chlorine and sodium hydroxide

heat change when one mole of water is formed by the reaction of H+ ions and OH- ions (1 mark)
The table below shows temperature reached when equal volumes of an alkaline solution of 1.5M concentration was reacted with 0.95M sulphuric (VI) acid.
s=1
p=1
c=1 (1 mark each total 3mks)

From the graph determine
use correct graph reading = 27.7cm 3 (1 mark)
the temperature change use graph(23-28.5)
don't penalize –ve sigh


Calculate the heat change for the above reaction density of solution 1g/cm3 , Specific HeatCapacity 4.2g/J/K (2mks)
Highest
(4.2 x (27.7+30) x(23-28.5)) = -1333.87J
Calculate the molar heat of neutralization for the reaction (2mks)
0.026315M = --1333.87J
1M = -50.65kJ/mol

Identify; (2 marks)

Electrolyte X – Molten sodium chloride
Gas Y – Chlorine

An impurity to reduce the melting point of the ore(1 mark)
State two uses of sodium (2 marks)

Sodium is used in the production of titanium, sodamide, sodium cyanide,
sodium peroxide, and sodium hydride.
Liquid sodium has been used as a coolant for nuclear reactors.
Sodium vapor is used in streetlights and produces a brilliant yellow light.

It is a very reactive metal which cannot be reduced by the reducing agents used
Sodium reacts with steel
On the diagram, label the steel diaphragm. (1 mark)

Prevents sodium and chlorine from recombining

Hissing sound as hydrogen gas is produced
It darts on the surface as the reaction is exothermic
It melts into a silvery ball as the reaction is exothermic

Identify; (2 marks)

Solid S – lead (II) carbonate
Gas K – carbon (IV) oxide

PbCO3(s) + 2HNO3(aq) → Pb(NO3)3(aq) + CO2(g) + H2O(l)
Amphoteric
Write an ionic equation for the reaction in step 2 (1 mark)
Pb2+(aq) + SO4(aq) → PbSO4(s)

Add zinc oxide to warm nitric (V) acid until in excess. Filter to obtain zinc nitrate as filtrate. Add sodium carbonate solution into the filtrate. Filter to obtain zinc carbonate as residue. Wash residue with distilled water and dry between filter papers.
Name the process taking place when the following reactions take place (3 marks)

Deliquescence
Neutralization
Precipitation or double decomposition