Explain five benefits that may be realized by a country as a result of government policyto relocate industries to rural areas. (10 marks)
Kenya has experienced a lot of loses through road accidents. Explain five measures the government has taken to reduce further loss of lives. (10 marks)

Discuss five principles that would guide the Kenya's Government on effective use of public resources. (10 marks)
On1st Jan 2011,Tradelink Enterprise had 22,250 Cash and 250,000 in the Bank


2nd Jan.

–

Made cash sales of shs 465,200

5th Jan

–

Received a cheque for shs 451,250 from Kamau

Traders in full settlement of their debt after allowing a

5% cash discount.

15th Jan

–

Paid Ndaru Traders Shs 184,000 in cash after

deducting a cash discount of shs 16,000

20th Jan

–

Deposited shs 200,000 from the cash till into the bank

25th Jan

–

Paid wages shs 144,000 in cash

28th Jan

–

Settled Mbago Trader's account of Shs 300,000 by

cheque, less 15% cash discount

29th Jan

–

Withdrew shs 250,000 from the bank for office use

30th Jan

–

Deposited all the cash into the bank, except

shs 59,700.

Required
Open a duly balanced Three Column Cash Book for the above transactions

The table below shows the age distribution of a country.


| | |
| --- | --- |
| Age in years | % of population |
| 0 – 15 | 45 |
| 16 – 55 | 31 |
| 56 and above | 24 |

Explain five negative economic implications of this age distribution to a country.(10 marks)


Explain five services that the Central Bank of Kenya offers to commercial banks.(10 marks)

Discuss Five characteristics of under developed countries
The following balance sheet was prepared from the books of Kimani Traders.
The following transactions then took place in January 2012



Opened a bank account for the business and deposited shs 120,000 from personal sources.
Paid part of the bank loan shs 40,000 by cash.
Bought goods worth shs 50,000 on credit.
Sold part of the furniture worth shs 10,000 in cash
Required:
Prepare Kimani Traders Balance Sheet as at the end of January 2012

Explain five benefits to Kenya for being a member of the East African Community Economic block.
Explain five importance of Entrepreneurship to the development of the Kenyan economy. (10 mks)

Describe four factors considered when choosing a means of communication. (8mks)
The following trial and balance relates to business of Twiga Traders as at 30th June, 2008.



Required:

Prepare a trading profit and loss account as at 30th June 2009. (8mks)
Calculate the following ratios:-

Rate of return on capital (1mk)
Margin (1mk)
Quick ratio (1mk)
Rate of stock return over (1mk)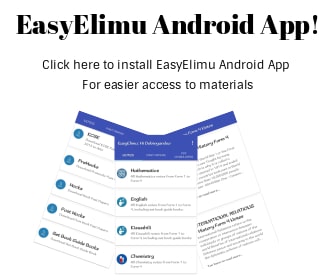 ---
MARKING SCHEME
Benefits that may be realized by a country as a result of government policy to relocate industries to rural areas include:

Increased availability of variety of goods and services as a result of newbusinesses in the area.
Availability of auxiliary services - citizens would enjoy more and better auxiliary services like transport.
Increased job opportunities - there will be more jobs available that would reduce unemployment
Increased utilisation of locally available resources - locally available factors of production will be used and the citizens would earn rewards associated with them.
Improved standard of living as development of the rural areas increases the quality and variety of goods and services.
Reduced congestion in towns - this would benefit the few citizens remaining in the city.
Balanced economic development as economic activities are spread throughout the country.
Transfer of technology to rural areas which leads to production of better quality goods/services.
Creation of market for goods/services produced in rural areas.

Measures the government has taken to reduce further loss of lives

Removal of unroad-worthy vehicles which may cause accidents.
Installation of bumps to reduce speeds which may cause accidents
Heavy penalties to motorists who disobey traffic rules.
Limit number of passengers in vehicles to avoid overloading
Ensuring that public service vehicles have speed governors to limit the speed
Making sure that passengers have safety belts to minimize casualties incase of an accident.
Construction of duo carriage roads and bypass to ease congestions which may cause accidents.
Making sure that public service vehicles/all vehicles are driven by qualified drivers.
Restriction on travelling hours/ensure drivers have ample time to rest before driving e.g public service vehicles not allowed to travel at night.
Any 5 @ 2 = 10 marks
Describe five principles of public expenditure. (l0mks)

Sanctions
Public expenditure must be approved by the relevant authority.
Maximum social benefit
Should be incurred in a way that majority of the people are able to reap maximum benefit out of it.
Adaptability
Should be flexible enough to meet the prevailing economic situation
Economy
Should be incurred in the most economical way by avoiding any possible waste.
Proper financial management

TRADELINK ENTERPRISES
THREE COLUMN CASHBOOK FOR JAN 2011


Date

Details

folio

Discount allowed

cash

Bank

Date

Details

folio

Discount

received

cash

bank

1st Jan 2011

2nd Jan 2011

5th Jan 2011

20th Jan 2011

29th Jan

30th Jan

30th Jan

balbld

sales

cash

bank

cash

balbld

C1

C2

C3

23750√

22250√

465200√

250,000√

250,000√

451,250√

200,000

150,000√

15th Jan

20th Jan

25th Jan

28th Jan

29th Jan

30th Jan

30th Jan

Ndaru traders

Bank

Wages

Mbago

Cash

Bank

balcid

C1

C2

C3

16000√

45000√

184000√

200000√

144000√

150000√

59700

255000√

250000√

546250

61000√

737,700√

1051250√

61000√

737700√

1051250√

59700

546,250

24 x ½ =12 marks

Negative economic implications of given age distribution.

About 45% of the total population consists of those below 15 years. This implies more expenditure has to be directed towards provision of education, health etc/
There is high dependency ratio which adversely effects savings and investments of the working population.
There is need to plan for creation of employment opportunities to cater for the expected increase in labour force.
Industries are likely to produce mainly goods used by the young population at the expense of the needs of adult population.
The country may be forced to import such goods as food and medicine which leads to balance of payments problems.
There will be little or no exports as the majority of the population who are young consume everything.

Services of central bank to commercial banks.

Banker to the commercial bank by safe keeping.
Provides clearing house facilities for cheque arising from interbank activities.
Lender of last resort to commercial banks when they have no other source to borrow from.
Issue of currency, notes and coins for use by commercial banks. Also replaces worn out currency.
Maintains an account for foreign exchange rates, sells and buys foreign currency to and from commercial banks.
Provides advisory services to commercial banks on banking and economic matters.

Indicators of under development.

High level of poverty where many people live below poverty line.
Disparity in income distribution – There are many people whose income are very low while minority earn very high income.
Low level of savings and investment: Low per capita income in Kenya make them have little or nothing to save.
High population growth rate that leads to low per capita income.
Rural to urban migration in search of jobs and other social amenities in urban areas.
Over dependence on agricultural sector.
capital deficiency in form of finance, machines and equipments.
Cultural bottle necks where many countries are ties in traditional customs and beliefs which are rigid to adjust to the upcoming and existing structures of development.
(10 mks) Any 5 point well explained (2 mks each)




Fivebenefits of being a member of economic bloc such as East African Community.

A wider market is created for goods and services produced in the country.
A country will be able to specialize in the production of goods and services they are best endowed.
Promotion of peace and understanding among member countries in the region.
Increased employment for people in the region.
There will be improvement of infrastructure in the region due to increased economic activities.
Increased economic bargaining power in trading activities.
Higher quality goods and services are produced due to competition.
(Any 5 well explained @ 2marks = 10marks)

Creation of employment
Entrepreneurs start business and create employment
Attracts foreign investors
As business strive and grow it attracts foreign investors who invest in business locally making use of local resources
Entrepreneurs made use of local resources in their industries as raw materials in the production process
As different business are started in the country it leads to provision of a variety of goods and services
Savings on imports – local entrepreneurs are able to produce goods that are substitute to imports
Successful entrepreneurs get as eyes openers to potential entrepreneurs who view them as role models.
Describe five factors considered when choosing a means of communication. (l0mks)

Cost of the means — A cost effective means should be selected by the sender.
Distance between the sender and the receiver for example telephone are preferred for a long distance communication.
Need for confidentiality means face to face offer room to ascertain the environment around you.
Urgency/Speed, means like telephone is fast over long distances
Need for evidence written communication would appropriate when evidence is required.
Desired impression
Reliability of the means: the sender should use a means that provides the assurance of reaching the intended recipient.
Accuracy of the means (any 5 x 2 10)





Rate of return on capital = Net Profit x 100
= 47,650 x 100
771,850
= 61.21% ≈ 61%.
Margin = Gross Profit x 100
Net sales
= 77,8000 x 100
152,500
= 51.02% ≈ 51%
Quick ratio = Current Assets - Stock
Current liabilities
= 71000 - 11,000
15,000
= 60,000
15,000
= 4:1
Rate of stock-turn over = Cost of goods sold
Average stock
= 74,700
22,500+ 11,000
2
= 74,700
33,500
= 2.2 times ≈ 2 times.