Instructions to candidates
This paper consists of THREE sections A, B and C
Answer ALL questions in section A (25 marks)
Answer any THREE questions in section B (45 marks)
Answer any TWO questions in section C (30 marks)
All answers must be written in the answer booklet provided.
Candidates should check to ascertain that all pages are printed as indicated and that no questions are missing.
Candidates should answer all the questions in English
SECTION A. 25 MARKS
Answer all the questions in this section
Identify one method used by the archeologist to determine the age of artifacts. 1 mk
Give two social reasons for the migration of the Nilotes into Kenya. 2mks
Identify one role of the Njuri Ncheke among the Ameru of Kenya in the pre-colonial period. 1mk
Give two written evidences of contact between the Kenyan coast and the outside world. 2mks
Identify two natural factors that facilitated the coming of early visitors to the Kenya coast before the 1500AD . Imk
Name the Portuguese commander who led in the conquest of the east African coast between 1500and 1511AD 1 mk
Identify two characteristics of a good constitution 2mks
Name the treaty that marked the end of the scramble and partition of East Africa 1mk
State one settler grievance that led to the signing of the Devonshire white paper of 1923. 1mk
Mention two factors that led to African influx into urban centers during the colonial period. 2mks
Identify two economic challenges encountered by Kenyatta at independence. 2mks
State two ways in which the government of Kenya uphold the rule of law. 2mks
Identify one organ of the Kenya Defense Forces. 1mk
State two pillars of Nyayoism 2mks
Identify one type of land holding in Kenya. 1mk
Identify one function of the deputy governor. 1mk
Mention one type of fund in which government revenue is deposited. 1mk
SECTION B. 45 MARKS
Answer any three questions in this section
Apart from the Maasai, name three other groups that make up the plain nilotes. 3mks
Describe the political organization of the somali during the pre colonial period 12mks
List three methods used by the Europeans to occupy Kenya during the colonial period. 3mks
Explain the consequences of the Luo mixed reaction during the colonial period. 12mks
Highlight three levels of the colonial education in Kenya. 3mks
Explain six reasons why settlers farming was encouraged during the colonial period. 12mks
State three characteristics of early political organizations in Kenya. 3mks
Discuss six factors that facilitated the Mau Mau war with the British during the colonial period. 12mks
SECTION C. 30MKS
Answer any three questions in this section
give three ways in which citizenship by registration can be revoked. 3mks
Explain six factors that promote national unity in Kenya. 12mks
state three disadvantages of democracy.3mks
Discuss the functions of the Kenya national human rights and equality commission. 12mks
Identify the composition of the Senate. 3mks
Explain six powers of the Kenyan president. 12mks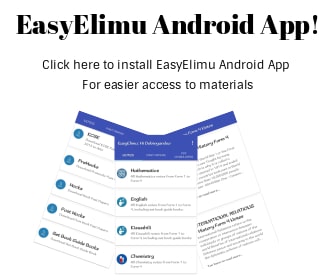 ---
MARKING SCHEME
Answer all the questions in this section
Identify one method used by the archeologist to determine the age of artifacts. 1 mks

Chemical dating
Lexico-statistical dating
Stratigraphy
Fission-track dating
Geological dating
Give two social reasons for the migration of the Nilotes into Kenya. 2mks

Over population
Spirit of adventure
Religious reasons
Family/clan fueds
Identify one role of the Njuri Ncheke among the Ameru of Kenya in the pre-colonial period. 1mk

Settle disputes among the members of the clan
Final court of appeal
presided over religious functions
Give two written evidences of contact between the Kenyan coast and the outside world. 2mks

Periplus of the erythrean sea
Greco-Roman documents
Work of Arabs merchants ..ibin Btuta and Ali Masoud documents
Identify two natural factors that facilitated the coming of early visitors to the Kenya coast before the 1500AD . Imk

Deep natural habours
Accessibility of the coast by the sea
Monsoon wind
Name the Portuguese commander who led in the conquest of the east African coast between 1500and 1511AD. 1mks

Vasco Da Gama
LaurencoLlavasco
Fransisco d Almeida
Pedro Alveres
Tristao da Cunha
Identify two characteristics of a good constitution 2mks

Durable
Comprehensive
Clear and definite
Ability to protect the rights and freedoms of citizens
Name the treaty that marked the end of the scramble and partition of East Africa 1mk
Anglo German agreement of 1890/ Heligoland treaty
State one settler grievance that led to the signing of the Devonshire white paper of 1923. 1mk

Wanted to retain the Kenyan highlands.
Asian immigration into Kenya to be curtailed.
Settlers wanted to be granted self- government.
They wanted separate development of all races in the colony.
(1 x 1 = 1mark)
Mention two factors that led to African influx into urban centers during the colonial period. 2mks

Colonial land policy which led to loss of land
Search of job opportunity
Reports of high wages in town
Traders wanted to take advantage of wider markets in towns
Attracted by the social amenities eg. Piped water, medical facilities etc
Identify two economic challenges encountered by Kenyatta at independence. 2mks

Land issues especially the former European farms
Lack of capital
Poor transport and communication
Shortage of man power
State two ways in which the government of Kenya uphold the rule of law. 2mks

Guaranteeing the independence of the judiciary
Trying suspects in a courtof law
Those found guilty can appeal
Arresting suspected criminals
All Kenyans are subject to and governed by the same law
Accussed persons are entitled to legal representations
By empowering parlianment to control the excess of the executive arm of th government
Identify one organ of the Kenya Defense Forces. 1mk

Kenya army
Kenya airforce
Kenya navy
State two pillars of Nyayoism 2mks
Identify one type of land holding in Kenya. 1mk

Public land
Community land
Private land
Identify one function of the deputy governor. 1mk

Deputizing the county governor
Acts in the absence of the county governor
Assisting in the preparations of county legislation to be inacted by the assembly
Mention one type of fund in which government revenue is deposited. 1mk

Equilisation funds
Consolidated funds
Revenue funds for eachcounty government funds
Contingencies funds
SECTION B. 45 marks
apart from the Maasia name three othe groups that makes up the plain Nilotes.

Iteso
Samburu
Turkana
Njemps
Any 3x1=3mks

Political organization of the Somali during the pre-colonial period (12 marks)

Decentralized political system based on the clans
Each clan had its own name and occupied specific territories.
The clan was led by the council of elders.
Duties of the council of elders included; maintaining law and order, settling disputes, presiding over religious ceremonies, it was the final court of appeal
They had an age set system that provided the military
They had professional warriors who safeguarded the community
With introduction of Islam, Sheikhs became the leaders and ruled using Islam laws.
(Any 6 x 2 = 12marks)
three methods used to occupy Kenya during the colonial period. 3mks

Signing of treaties
Force of military expeditions
Collaborations
Operational bases
Use of chartered companies

6 Consequences of the Luo reaction. 12mks

Both the collaboration and resistance lost their independence to the British.
The luo lost their property through burning and looting.
There was massive loss of likes, especially among the UgenyaLuo.
It bred hatred between the collaborations and the resistors.
The leaders were able to gain Western education and religion like schools.
The leaders were replaced with British administering undermining traditional political systems.
The luo were alienated from there and to pave the way for British occupation and settlements.

Highlight the Levels of colonial education

Primary education
Secondary education
University education
Six reasons why settler farming was encouraged during colonial period (12 marks)
To finance the administrative cost of the colony.
To help pay for the construction cost of the railway.
To produce cheap raw materials for British industries.
The Kenya Highlands were ideal for British settlement.
To counter Asian influence in Kenya.
The colony lacked other natural resources to be exploited.
The settlers would form the backbone of the economy and help make Kenya a white man's country.
(Any 6 x 2 = 12marks)

Characteristics of early political organization

They were led by mission educated Africans like Harry Thuku and Jonathan Okwiri.
They were a non violent.
They had similar grievances e.g forced labour taxation etc
They were formed from ethnic/tribal grounds

Factors that facilitated Mau Mauwar with the British

Use of guerilla tactics which made it difficult for the British to suppress the rebellion.
Oathing helped to unite fighters.
Support of civilians who supplied food and equipment.
Natural forest e.gabaadare and Mt.Kenya provided gandhidesout.
Resourceful and courageous leaders who had participated in World War II inspired the inspired the reste of DedanKimathi, Stanley Mathenge and general China.
There was military experience due to participation in World War II.

SECTION C

Revocation of citizenship.

If the person acquired the citizenship by fraud, false representation or failure to provide full information.
If a person supports or is found to have supported an enemy country during war with Kenya.
If the person has within five years been convicted to a prison term of three or more years.
If a person has been convicted of treason or offence of which a penalty of seven or more years.

Factors promoting national unity.

The national language.
National philosophies like socialism, harambee and nyayoism.
National symbols like anthem, coat of arms and public seal.
Social and economic interaction.
Fair distribution of resources.
Government institutions like judiciary, the legislature and executive.
National days and events like mashujaa day, jamhuri and madaraka day
Disadvantages of democracy. 3mks

It disregards the interest of the minority.
It is expensive to implement since both civic education and general elections require funding.
The wealthy use their resources to influence the voters at the expense of those with limited resources.
Its time consuming since certain procedures must be followed and the views of the majority sought before important decisions are made.

Functions of the Kenya national human rights and equality commission..12mks

To promote gender equality and equity generally.
To promote the protection and observance of human rights.
To promote respect for human rights and develop a culture of human rights in the republic.
To monitor, investigate and report on the observance of human rights.
To receive and investigate complaints about alleged abuses of human rights.
To take steps to secure appropriate redress where human rights have been violated.
To investigate or research on matters of human rights and make recommendations to the state.
To ensure state compliance with obligations under treaties and conventions relating to human rights.
composition of the senate 3mks

It has68 members, 47 elected members represented counties.
Women members nominated by political parties represented in the senate.
Two members 1 woman and 1 man are represented the youth
Two members, 1 woman and 1 man to represent persons with disabilities.
The speaker who is an ex-official member.

six powers of the president. 12mks

Commander in chief of the armed forces.
Power to exercise the executive authority of the republic.
Power to uphold and safeguard the constitution and supremacy of the republic.
Powers of merely e.g pardons persons convicted of offence.
Powers for nominate, appoint or dismiss cabinet secretary and other officials.
The power to constitutions honors in the name of the people and the republic.
Chairperson of the national security.