A pattern of a girl's dress is provided. You are advised to study the sketches, instructions and lay-out before you begin the test
MATERIALS PROVIDED
A Front yoke
B Back yoke
C Skirt front
D Skirt back
E Pocket
F Frill
G Neck binding
Plain light weight cotton fabric 65cm by 90cm wide
Enough hand needles
Sewing thread to match the fabric
THE TEST
Using the materials provided, cut out and make the RIGHT half of the girls dress to show the following
Making of the shoulder dart
Preparations and attaching of the patch pocket.
Making of machine fell seam on the R.S at the shoulder
Making of the side seam using French seam
Joining the front yoke to the front skirt and back yoke to the back skirt using overlaid seam(neaten the back section only)
Preparing the frill hem using machine stitches and gathering the free edge
Attaching the frill to the skirt using plain seam
Binding the neckline
Make hand worked button hole at the pocket hem.

At the end of the examination, firmly sew on to your work, on single fabric a label bearing your name and index number. Remove the needles and pins from your work. Fold your work carefully and place it in the A 4 envelope provided. Do not put scraps of fabric in the envelope .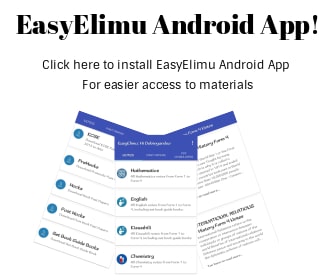 ---
MARKING SCHEME
Presentation

Work well pressed and well folded 1
Label firmly stitched on single fabric 1
Pins and tacking stitches/unnecessary threads removed 1
Made up for the right half 1
Total 4
Cutting out

All 7 pieces cut out 7
Smooth cutting of dress front skirt CF 2
Straight grain of skirt CF to within 3 mm 1
Smooth cutting of yoke CF 1
Smooth grain of yoke CF to within 3 mm 1
Smooth cutting of frills CF 1
Straight grain of frills CF to within 3 mm 1
Smooth cutting of dress back skirt CB 2
Straight grain of skirt CB to within 3 mm 1
Smooth cutting of back yoke CB 1
Straight grain of back yoke CB to within 3 mm 1
Smooth cutting of frills CB 1
Straight grain of frills CB 1
Neck binding cut on bias (mark by impression) 1
Total 22
Shoulder dart

Straight stitchery tapering to appoint 1
Thread ends well fastened at the point 1
Correct length of the dart 4.6 cm to within 2 mm 1
Correct width 7 mm to within 2 mm 1
Dart flat on RS + WS 1
Dart pressed toward neckline 1
Total 6
Joining the yokes to skirt

Both yokes joined to skirt pieces using overlaid seam
(give zero if topstitched plain seam) 1
Front yoke joined to skirt with straight stitchery close to the fold 1
Front seam allowance even and unneatened 1
Yoke and skirt flash at CF to within 3 mm 1
Yoke and skirt flash at armhole to within 3 mm 1
Back yoke and skirt joined with straight stitchery close to the fold 1
Seam allowance unevenly trimmed ½
Seam allowance well neatened ½
Yoke and skirt flash at CB to within 3 mm ½
Yoke and skirt flash at armhole to within 3 mm ½
Total 8
Side seam (French seam; if not, give zero)

Well-made French seam with straight stitchery
( stitchery) 1
Well knife-edged 1
Evenly trimmed (no threads/yarn on RS) 1
Even width 0.5 cm to within 2 mm 1
Flat at the frills RS x WS 1
Seam pressed toward back 1
Total 6
Shoulder seam (Machine fell; if not give zero)

Straight stitchery of the first line 1
Straight stitchery of the second stitching line close to the fold 1
Fell neatly tucked under (no yarn visible) 1
Evenness of fell 1
Correct width of fell 6 mm to within 2 mm 1
Flatness of the seam RS + WS 1
Seam worked on RS 1
Fell pressed toward back 1
Total 8
Pocket

Hem of the pocket even 1
Hem fixed with straight stitchery 1
Raw edges neatly tuck under all round 1
Pocket attached with good stitchery close to the fold and reinforced at the mouth 1
Pocket attached at the right position, that is, at about
5.5. cm from CF and at about 2 cm from the frills 1
Flatness of pocket 1
Correct size and shape to within 3 mm (use pattern piece to superimpose) 2
Buttonhole cut on a straight grain 1
Button hole made with correct stitch 1
Quality of stitchery (tension, length and spacing of the stitches) 3
Size of the button hole 1
Total 14
Frills

Frills attached with straight stitchery 2
Gathers evenly distributed 3
Seam allowance left unneatened 1
Frills and skirt flash at CB + CF 1
Evenly made hem 2
Hem fixed with good stitchery 3
Flatness of the hem 2
Total 14
Neck binding

Evenness of the neck binding 2
Raw edges neatly tucked under (no yarns visible) 2
Good stitchery 2
Edges flash with CB + CF 1
Flatness of the binding 1

Total 8
Sum Total 90 / 2 =4 5 marks 90 /2