SECTION A (30MKS)
ANSWER ALL QUESTIONS IN THIS SECTION IN THE SPACE PROVIDED AFTER EVERY QUESTION.
Name four records kept by a poultry farmers. (2mks)
Outline four disadvantages of using organic manures. (2mks)
State four advantages of crop rotation. (2mks)
List four factors that determine the number of secondary cultivation carries out on a farm. (2mks)
Name three activities used in clearing land. ( 1 ½ mks)
Outline four advantages of zero grazing. (2mks)
State four factors determine stage of crop production. (2mks)
Give three conditions which make it necessary to use a nursery in crop production. (1 ½ mks)
Explain the following terms as used in pasture establishment. (1 ½ mks)

Seed innovation.
Over sowing.
State four effects of over application of nitrogenous fertilizers in tomatoes. (2mks)
Outline two ways through which rain drops initiate the process of soil erosion. (1mk)
State four factors influencing the quality of hay. (2mks)
List three non- chemical methods of pest control in a maize store. (1 ½ mks)
Give four reasons why farmers are advised to raise tea in polythene sleeves. (2mks)
State three reasons of pruning in a banana plantation. (1 ½ mks)
State three importance of lining in crop production. (1 ½ mks)
Define the term Agriculture. (1mk)
Name three methods of harvesting water in a farm. ( 1 ½ mks)
SECTION B (20MKS)
ANSWER ALL QUESTIONS IN THIS SECTION IN THE SPACE PROVIDED AFTER EVERY QUESTION.
Below we illustrations of planting materials. Study them and answer the questions that follow.

Identify them. (2mks)
X
Y
Name the preparation x should be subjected to in readiness for planting. (1mk)
State two precautions taken when harvesting Y. (2mks)
Below is a diagram of a common weed

Identify the weed. (1mk)
Why is it hard to control the above weed? (1mk)
Outline three methods of controlling the above weed. (3mks)
The following was carried out to determining the humus content in soil sample. The sample weighing 120gm was heated in an oven at 1050 the dried sample was weighed and found to be 112gm. Again it was strongly heated and weighed recording a mass of 106gm.

Calculate the weight of water in the soil. (1mk)
Calculate the percentage of humus in the soil sample. (1mk)
How many times is water content in the soil sample more than humus content?. (1mk)
Outline four farming practices that are used to improve soil structure. (4mks)
Below is a diagram of a crop pest

Identify the pest. (1mk)
Explain two methods used to control the above pest. (2mks)
SECTION C (40MKS)
ANSWER ANY TWO QUESTIONS FROM THIS SECTION IN THE PROVIDED SPACE BELOW
Describe the production of beans under the following sub- topics.

Planting (3mks)
Field management practices. (5mks)
Post harvesting practices. (4mks)

Explain eight factors to consider when selecting seeds for planting. (8mks)
Explain eight factors that encourage soil erosion. (8mks)
Explain eight management practices carried out on a nursery of vegetables. (8mks)
Explain four physical methods of controlling crop pests. (4mks)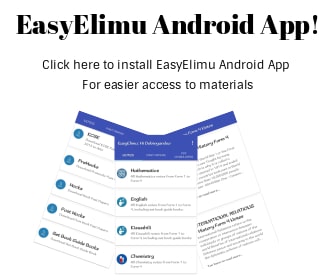 ---
MARKING SCHEME
Egg production / weight gain.­
Labour records
Feeding records
Health records
Market records
Inventory records.
Low nutritive value per unit volume/weight.
Likelihood of spread of disease/pests/weeds.
Bulky / difficult to store / transport/ apply
Loses nutrients if poorly stored.
Difficult to quantify the amount of nutrients/ unit volume.
Ensures maximum utilization of nutrients.
Controls build up of pests/ disease/ control
Controls weeds that are specific to particular crops.
Improves soil fertility when leguminous crops are included.
Improves soil structure.

Type of crop to be established/ size of seed.
Moisture content of soil.
Type of soil
Conditions of land after primary cultivation/ implements used for primary cultivation
Amount of organic matter on the surface.
Vulnerable to soil erosion/ slope of the land/ topography's.
Tree felling
Stumping / removal of stumps / destumping.
Slashing mowing.
Require little land.
Quick accumulation of manure.
Easy to control diseases and parasites.
Less wastage of feeds
Has high stocking rate
High milk yield
Efficient use of fodder
Intended use of the crop
Chemical concentration of the produce / stage of maturity / change in colour
Prevailing weather conditions.
Market demand for the produce / market price.
The crop seedlings are delicate and need great care.
Bulking up of planting materials is necessary like sugarcane.
Nursery helps to select the healthy and seedlings
When cuttings to propagate the crop need special treatment.
This is the dressing of legumes with nitro-culture in order to improve nitrogen fixation in the root nodules.
Occurrence of blossom end rot disease
Delayed maturity of plants.
Fruits crack when young
Grow more vegetative parts and produce less fruits.
Scorching effects on leaves.
Detaching soil particles on the surface.
Transferring the soil particles in splashes.
Species of forage crop
Stage of harvesting.
Drying period
Weather conditions
Storage
Cleaning the store
Proper drying of beans
Making store vermin proof.
Use of traps/ physical destruction
Use of cats / biological
For easy transplanting.
Root system is not disturbed during transplanting
Can be carried over a long distance
Seedlings can easily be stored before planting.
To increase production
Reduce incidence of banana weevils.
Materials removed acts as mulch.
Add nutrients e.g Ca to the soil.
Modifies soil Ph
Modifies soil structure.
Clear the land
Plough the land deeply using tactors
Harrow to a fine lith
Level the land
Construct bunds around the plot.
Puddle the soil to produce a fine mud.
SECTION B
X irish potato tuber/set.
Y sugarcane cutting / set.
Chitting
Burn sugar fields to chase away vermines
Deliver the cane within 24hrs to maintain quality.
Couch grass / digitaria scalarum.
Presence of underground stems/ rhizomes which are difficult to control/ underground storage structure.
uprooting
Cultivation
Slashing.
120-112=08 grams
112-106 = 6 grams
= 5%
Crop rotation
Minimum tillage
Liming
Use of manure
Drainage water logged soils
Leaving land fallow.
Cutworm.
Early planting for crop to establish early and outgrow the pest.
Application of appropriate insecticide / chemicals.
Field hygiene to prevent transmission from previous crop residues.
Physical killing and destruction.
at on set of rains
Delay planting in long rains.
Place 2 or or 3 seeds hole.
Apply DAP/ Phosphate fertilizer
Seed rule is 50-60kg or one teaspoonful per hole.

Weeding
Irrigation
Pest control
Disease control
Gapping
Thinning.

Drying

Threshing
Winnowing
Sorting
Dusking
Package.

Adaptability – should be adapted to local ecological condition.
Physical deformities/ damage: should be free from physical deformities / damage.
Health- should be free from pests and disease.
Viability / germination percentage: should have high visibility germination percentage
Parent plant should be form high yielding / healthy / high quality / early maturity.
Purity – should be clean/ free impurities
Maturity – should be of correct maturity stage.
Age/ storage period: seeds stored for long periods have low viability/ germination percentage.
Lack of ground cover exposes soil to agents of soil erosion / removal of cover exposes soil to agents of soil erosion/ removal of cover crops.
Steep slopes increase the speed of surface run-off hence erosive power of water.
Light / sandy soils are easily carried away by agents of soil erosion.
Shallow soils are easily saturated with water and carried away.
High rainfall intensity on bare ground/ leads at detachment of soil hence run off.
Frequent cultivation/ over cultivation pulverizes the soil making it easy to detach and carry away.
Overstocking leads to overgrazing which destroys ground cover exposing it to agents of erosion.
Ploughing up and down the slopes creates channels which speed up and increases the erosive it to agents of water.
Cultivation of river banks destroys riverine (viparia) vegetation and destroys soil structure exposing it to agents of erosion.
Cultivating the soil when too dry destroys soil structure making it easy to be eroded.
Long slopes increase volume speed of run off hence increasing erosive power of water.
High rainfall amount increase saturation of soil erosion.

Mulching of conserve moisture.

Erection of shade to minimize evapotranspiration.
Weed control to reduce competition with seedlings for nutrients , light, space et.c
Pest and disease control to ensure healthy and vigorously growing seedlings
Pricking out/ thinning to minimize competition for growth elements.
Fertilizer application to supplement nutrients in the soil.
Watering to ensure adequate moisture supply.
Hardening off/removing shade/ reducing watering to acclimate the seedling to conditions in the field.
Removing of mulch immediately after germination.
Land tenure is the mature of the right to own and use land while land reform is any deliberate organized action with the purpose of improving land ownership and land use.

Shifting cultivation – individuals own several pieces of land in the process of clearing and shifting to new ground after soil eschaustion.
Customary law of land ownership – land is fragmented to several pieces to facilitate inheritance by the heirs.
Population increase – people are focused to buy several pieces of land in different places due to population pressure in their area.
Accumulation of land by money lenders – private money leaders accumulate land/ repay themselves with pieces of land if an individual farmer is able to pay back the debt.
Traditional use of land – land may be offered to settle debts and as present to newly weds and others. This makes an individual to have several fragments.

Time wasting travelling around scattered fragments of land
Difficult to provide proper and effective weed, pets and disease control measures:
Difficult to develop and follow a sound farm plan;
Difficult to supervise the scattered fragments
Livestock disease and parasites are hard to control due to constant movement.
Soil conservation measures are difficult to carry out.
Restricted grazing in one holding is not possible due to overstocking, leading to land Degeneration and demidation .
Difficult to make use of Agricultural existence advice since the fragments are not easily Reached.
Results to low productivity leading to low standards of living.