State the importance of biology in the following areas. (3marks)

Agriculture
Environment
Food technology
The figures belowrepresent two phases of actively dividing cell.


Name the phases marked M and N. (2marks)
M …………………………………………………………………………………
N ……………………………………..………………………………………….
Identify the type of cell division. (1mark)
The Scientific name of confused beetle is

TRIBOLIUM CONFUSAM

. Identify any three mistakes made in writing the name. (3marks)
Study the food web below and answer the questions that follow.


Write down a food chain whose all consumers are Arthropods. (1mark)
What would be the short term effects on the habitat if all trout fish were eliminated? (2marks)
State two ways in which energy flow in an ecosystem can be expressed. (2marks)
What is the role of decomposers in an ecosystem? (2marks)
What is the role of the following parts of the ear.

Eustachian tube. (1 mark)
Tympanic membrane. (1 mark)
An experiment to investigate a certain response by termites, was set up as shown below. The set up was exposed to the sun for some time.


What were the results at the end of the experiment? (1 mark)
Name the type of response exhibited by the termites. (1 mark)
Give one survival value of the response. (1 mark)
State two unique physical characteristics of skeletal muscles. (2marks)
Name two plant tissues that are thickened with lignin. (2marks)
Study the diagram below and answer the questions that follow.



Identify the bones labelled A and B. (2marks)
A ……………………………………………………………………..
B ……………………………………………………………………..
Name the joint found in the region labelled Y. (1mark)
A student peeled off a piece of epidermis from an onion leaf and observed it under a microscope. He counted 10 cells across the diameter of the field of view. He then placed a transparent ruler across the field of view and observed the following.

Calculate the size of one cell in µm. show your working. (2marks)
Study the diagram below and answer the questions that follow.


Name the process represented by the arrows. (1mark)
Name the cell labelled 2. (1 mark)
Name the tissue formed by each of the following cells. (2marks)

1 ………………………………
3 ………………………………

Define the term wilting. (1mark)
When does wilting occur? (1 mark)
Explain how a wilted seedling acquires an upright posture after irrigation. (3marks)

The diagram below shows blood circulation in a bony fish. Use it to answer the questions that follow.

Name the structures labelled A and B. (2marks)
A ……………………
B ……………………
Give three reasons why animals have specialised excretory organs. (3marks)
In relation to transport in animals, give a reason why carbohydrates are the best source of energy. (1 mark)
Give reasons for the following

Veins have thin and less muscular walls. (1mark)
Arteries lack valves. (1 mark)

Explain why an amoeba does not need an elaborate transport system. (2marks)
State two types of mechanical digestion along the digestive tract. (2marks)
Name two organisms that exhibit symbiotic relationship and explain how each benefits from the association. (2marks)
Name two gaseous exchange structures in plants. (2marks)
How are pneumatophores adapted to their function? (2marks)
State the effects of the contraction of diaphragm muscles during inhalation in mammals. (3 marks)
What is the role of blood clotting in homeostasis. (3marks)
Explain why lactic acid level reduces after exercise. (2marks)
The diagram below represents a stage in the development of human foetus


State one function of each of the structures labelled A and B. (2marks)
A …………………………………
B ……………………………………
Apart from the size of the foetus what else from the diagram illustrates that parturition was about to occur. (1mark)
Give two examples of adaptive radiation in animals. (2marks)
State two disadvantages of using fossils as evidence of evolution (2marks)
The cells shown below were obtained from different parts of a young root tip:

Give the name of the zone from which each cell was obtained A, B and C . (3marks)
A pure Red flowered plant was crossed with a pure white flowered plant. All the F1 generation plants had pink flowers.

Give an explanation for the absence of Red and white flowered plants in the F1 generation. (1mk)
If the F1 generation pea plants were selfed, work out the phenotypic ratio of the F2generation plants. (4marks)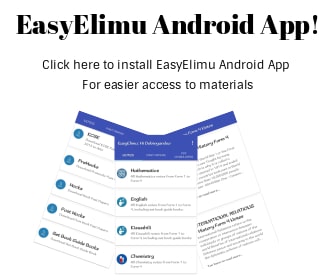 ---
MARKING SCHEME
State the importance of biology in the following areas. (3marks)

Agriculture
Improved breeds
Growing crops
Rearing animals
Environment: Conservation of resources; controlling pollution
Food technology
Food processing
Safe consumption of food/food safety.
The figures below represent two phases of actively dividing cell.

Name the phases marked M and N. (2marks)
M – Metaphase 1;
N – Anaphase 1;
Identify the type of cell division. Meiosis; (1mark)
The Scientific name of confused beetle is

TRIBOLIUM CONFUSAN

. Identify any three mistakes made in writing the name. (3marks)
Name underlined together
Generic name and specific name written in capital letters
First letter of specific name written in capital letter
Name not italised.
Study the food web below and answer te questions that follow.

Write down a food chain whose all consumers are arthropods. (1mark)
Detritus/algae Caddisfly larva Water scorpion
What would be the short term effects on the habitat if all trout fish were eliminated?
Tadpole larva will slightly increase.
Detritus plant will decrease (2marks)

State two ways in which energy flow in an ecosystem can be expressed. (2marks)
Food webs; Food chain;
Pyramid of numbers; Pyramid of biomass/energy; (any 2)
What is the role of decomposers in an ecosystem? (2marks)
The break down; of organic matter into inorganic molecules; thus facilitate recycling; of nutrients;.
What is the role of the following parts of the ear.

Eustachean tube. (1 mark)
To equalize air pressure between the middle and outer ear. To avoid distortion of the ear drum.
Tympanic membrane. (1 mark)
Convert sound waves to vibrations.
An experiment to investigate a certain response by termites, was set up as shown below. The set up was exposed to the sun for some time.

What were the results at the end of the experiment? (1 mark)
Termites moved to the covered part
Name the type of response exhibited by the termites. (1 mark)
Negative phototaxis. Rej. phototaxis
Give one survival value of the response. (1 mark)
To avoid dessication
State two unique physical characteristics of skeletal muscles. (2marks)
Striated
Multi-nucleated.
Name two plant tissues that are thickened with lignin. (2marks)
Xylem
Tracheids
Sclerenchyma
Study the diagram below and answer the questions that follow.

Identify the bones labelled A and B. (2marks)
A- Ulna;
B- Radius;
Name the joint found in the region labelled Y. (1mark)
Hinge-joint;
Cell diameter =

Diameter of field of view x 1000

Diameter of field of view x
Number of cells in the field of view. No.of cells of fied of view
Diameter = (3mmx1000) = 3000 µm
Diameter of 1 cell =

3000

µm
10 = 300 µm
Name the process represented by the arrows. (1mark)
Cell specialisation
Name the cell labelled 2. Nerve cell (1 mark)
Name the tissue formed by each of the following cells. (2marks)

1 Epithelial (tissue)
3 Muscle (tissue)
Define the term wilting. (1mark)
A phenomenon in which plant cells lose water by osmosis, become flaccid making the plant to droop
When does wilting occur? (1 mark)
When the rate of transpiration is higher than absorption of water.
Explain how a wilted seedling acquires an upright posture after irrigation. (3marks)
Roots absorb water by osmosis; water transported; to the cells, cells become turgid; making the plant to be upright. The cell sap of root hair is hypertonic;
The diagram
Name the structures labelled A and B. (2marks)
A Gills
B Other parts of the body. Eg. Tail, stomach, head
Give three reasons why animals have special excretory organs. (3marks)
The rate of formation of toxic wastes is high.
Do not store their wastes.
Apart from water as a waste product, animals do not recycle / re-use their wastes.
In relation to transport in animals, give a reason why carbohydrates are the best source ofenergy. Highly soluble water (1 mark)
Give reasons for the following

Veins have thin and less muscular walls. (1mark)
Transport blood under low pressure
Arteries lack valves. (1 mark)
Transport blood under high pressure/speed.

Explain why an amoeba does not need a transport system. (2marks)
Single celled/unicellular has large surface area to volume ratio; and therefore physiological processes; such as diffusion are enough alone to transport substances.
State two types of mechanical digestion along the digestive tract. (2marks)
Mustication
Emulsification
Churning
Name two organisms that exhibit symbiotic relationship and explain how each benefits from the association. (2marks)
coli and ruminant/ legume and Rhizobium/ Mycorrhiza fungi and Coniferous tree; OWTTE

Name two gaseous exchange structures in plants. (2marks)
Stomata; Lenticels;
How are pneumatophores adapted to their function? (2marks)
Contain numerous lenticels for efficient exchange of gases.
Emerges above the soil or water surface for exchange of gases.
Have pores for gaseous exchange
State the effects of the contraction of diaphragm muscles during inhalation in mammals. (3marks)
Diaphragm muscles contract; diaphragm flattens increasing the volume of thoracic cavity;
While pressure reduces than the atmospheric pressure; hence air rushes into the lungs;.
What is the role of blood clotting in homeostasis. (3marks)
When a blood vessel is cut, there is exposure of blood platelets to air; triggering soluble fibrinogen to be convered to fibrin; which forms a clot that prevents body fluids from being lost; hence the clot conserves water and salts in the body
Explain why lactic acid level reduces after strenous exercise. – More oxygen is taken; (2marks)
Lactic acid is oxidized to CO2 and water;
Some converted to glucose/ glycogen;

Give two reasons why accumulation of lactic acid during vigorous exercise leads to an increase in heart beat. (2mks)
Lactic acid is toxic to tissues and must be removed from muscles to liver.
To increase supply of blood rich in oxygen to tissues
The diagram below represents a stage in the development of human foetus

A – Has umbilical vein and artery to supply foetus with nutrients and removal of waste products; √
B – Protects embryo from shock/regulate temp. of developing embryo/ suspends and supports embryo;
Foetus head is turned towards the cervix;

Give two examples of adaptive radiation in animals. (2marks)
Pentadactyl limb structure of mammals; beaks of birds; feet of birds;
State two disadvantages of using fossils as evidence of evolution (2marks)
Missing links between fossils because some parts or whole organisms were not fossilized
Some parts were distorted during fossilization hence may give wrong impression of structures;
Some structures have been destructed by geological activities;
The cells shown below were obtained from different parts of a young root tip:
Give the name of the zone from which each cell was obtained A, B and C
– Cell elongation/expansion ;
– Cell division/multiplication ;
– Cell différentiation/maturation ;
A pure Red flowered plant was crossed with a pure white flowered plant. All the F1 generation plants had pink flowers.

Give an explanation for the absence of Red and white flowered plants in the F1 generation.
Incomplete dominance; (1mark)
If the F1 generation pea plants were selfed, state the phenotypic ratio of the F2 generation plants.