A pattern of a girl's skirt is provided. You are advised to study the sketches, instructions and layout carefully before you begin the test.
Materials provided
Pattern pieces

Skirt back
Front yoke
Lower front skirt
Pocket
Front waistband
Back waistband
Frill

Plain light weight cotton fabric 56cm by 90cm.
Sewing thread to match the fabric.
1 large envelope.
THE TEST
Using the materials provided, cut out and make up the LEFT HALF of the girl's skirt to show the following process.
Cutting out. (15mks)
Making the dart at the back skirt.(5 mks)
Joining the front yoke to the lower skirt front using an overlaid seam. (10½mks)
Attaching of the frill to the lower skirt front using plain seam. Leave the gathering stitches and do not trim the seam allowance. Neaten half the seam using loop stitches. (14mks)
Attaching the in-seam pocket (8mks)
Making of the skirts' side seam below and above the pocket using open seam.
NB: The seam above the pocket should start at the stitching line. (7mks)
Preparation and attachment of the interfaced front and back waistbands. (17mks)
Making the buttonhole. (8mks)
Presentation. (5½mks)
NB:
At the end of the examination, firmly sew on your work on single fabric a label bearing your name and index number. Remove the needles, pins and loose threads from your work. Fold your work neatly and place it in the envelope provided.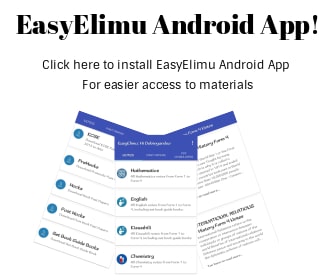 ---
DO NOT PUT SCRAPS OF FABRIC IN THE ENVELOPE AND DO NOT SEAL THE ENVELOPE.


Marking Scheme
TASKS
MAX. SCORE
ACTUAL SCORE
REMARKS
1.
PRESENTATION
(a)
Work well pressed and well folded
1
(b)
label stitched on a single fabric
1
(c)
Clearly written Name, Adm. No., Class
1½
(d)
Pins, unnecessary tacking and hanging threads removed
1½
(e)
Made up the left half of the skirt.
½
SUB TOTAL
5½
2.
CUTTING OUT
(a)
All the ten (10) pieces cut out .
5
(b)
Smooth cutting of the skirt back and on straight grain C.B
2
(c)
Smooth cutting of the front yoke and on straight grain at the C.F
2
(d)
Smooth cutting of the lower front skirt and on straight grain C.F
2
(e)
Smooth cutting of the front waist band and on straight grain C.F
2
(f)
Smooth cutting of the frill and on straight grain C.F and C.B
2
SUB TOTAL
15
3.
BACK DART (SINGLE POINTED)
(a)
Straight and firm stitchery of the dart.
1
(b)
Tapering to nothing at a point
1
(c)
Correct length and width of the dart to within 2mm
1
(d)
Well fastened at the tip.
1
(e)
Dart pressed to the C.B
1
SUBTOTAL
5
4.
FRONT YOKE TO LOWER FRONT SKIRT (OVERLAID SEAM if not give zero)
(a)
Overlay folded to the W.S at the stitching line.
1½
(b)
Overlay placed on the underlay's stitching line on the R.S
1
(c)
Seam stitched with straight and firm stitchery and close to the fold on the R.S
2
(d)
Seam turnings trimmed to 1cm and neatened together.
1½
(e)
Appropriate neatening stitches used ( if not give zero from (e-g))
½
(f)
Evenness and correct tension of stitches.
1
(g)
Firm and neat stitches.
1
(h)
Fastened on and off.
1
(i)
Seam well pressed and flat.
1
SUBTOTALS
10½
5.
ATTACHING THE FRILL TO THE LOWER SKIRT FRONT (PLAIN SEAM)
(i) Management of fullness
(a)
Gathering stitches done 0.6cm above and below the stitching line.
2
(b)
Gathering thread fastened using a knot on one end and a pin on the other end forming figure 8.
2
(c)
Gathers evenly distributed along the fullness
1
(d)
Gathers formes and not pleats
1
SUBTOTALS
6
(ii) Attachment (plain seam)
(a)
Seam done with firm and straight stitchery
1
(b)
Correct size of the seam allowance.
1
(c)
Seam neatened using loop stitches. (If not give zero
(d-g))
1
(d)
Evenness and correct tension of stitches.
1
(e)
Firm and neat stitches
1
(f)
Fastened on and off
1
(g)
Notches and raw edges matching.
2
SUBTOTAL
8
IN-SEAM POCKET
6.
(a)
Pocket bag made with smoothly curved stitchery.
1
(b)
The raw edges of the pocket trimmed to 1cm and neatened appropriately.
2
(c)
Correct size and shape of the pocket.
1
(d)
Attached to the skirt with straight and firm stitchery on both sides
2
(e)
Mouth pocket reinforced on R.S up and down
1
(f)
Correct positioning
½
(g)
Pocket upright
½
SUBTOTAL
8
7.
SIDE SEAM OPEN SEAM (If not give zero)
(a)
Seam done with firm and straight stitches.
1
(b)
Seam turning neatened separately and approriately.
2
(c)
Correct size of the neatened turnings -1cm to within 2 cm
1
(d)
Evenness of the neatened turnings.
1
(e)
Seam pressed open and flat at the waistband and at the frill.
2
SUBTOTAL
7
8.
PREPARATION AND THE ATTACHMENT OF THE WAISTBANDS
(i)
FRONT WAISTBAND
(a)
Front waistband interfaced.
½
(b)
Joined with straight and firm stitchery.
1
(c)
Seam allowance trimmed and corners clipped.
1
(d)
Well knife edged.
1
(e)
Attached to the front skirt with firm and straight stitchery.
1
(f)
Seam allowances trimmed.
1
(g)
Raw edges neatly tucked under and held using hemming stitches.
1
(h)
Flatness of the front waistband on W.S and R.S.
1
(i)
Correct width of the waistband.
½
(j)
Waistband and skirt flashing at the C.F to within 2mm.
½
SUBTOTAL
8½
(ii)
BACK WAISTBAND
(a)
Back waistband interfaced
½
(b)
Joined with firm and straight stitchery.
1
(c)
Seam allowance trimmed and corners clipped.
1
(d)
Well knife edged
1
(e)
Attached to the back skirt with firm and straight stitchery.
1
(f)
Seam allowance trimmed.
1
(g)
Raw edges neatly tucked under and held in place using hemming stitches.
1
(h)
Flatness of the back waistband on the W.S & R.S
1
(i)
Correct width of the back waistband.
½
(j)
Waistband skirt flashing at the C.B to within 2mm
½
SUBTOTAL
8½
9.
BUTTON HOLE
(a)
Correct positioning of the buttonhole
1
(b)
Correct size of the buttonhole.
1
(c)
Made buttonhole stitches
1
(d)
Eveness of the stitches
1
(e)
Correct tension
1
(f)
Equal number of stitches made on either side
1
(g)
Reinforced appropriately on both ends by round or square method.
2
SUBTOTAL
8
SUM TOTAL
90/X