INSTRUCTIONS TO CANDIDATES
Write your name and index number in the spaces provided at the top of this paper.
Sign and write the date of examination in the spaces provided above.
Answer all the questions.
You are required to spend the first 15 minutes of the 1% hours allowed for this paper reading the whole paper carefully before commencing your work.
Answers must be written in the spaces provided in the question paper.
Additional pages must not be inserted.
EXAMINER'S USE ONLY
| | | |
| --- | --- | --- |
| Question | Maximum score | Candidate's score |
| 1 | 15 | |
| 2 | 13 | |
| 3 | 12 | |
| TOTAL | 40 | |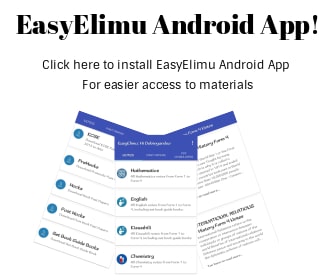 ---
QUESTIONS
You are provided with a specimen labelled KI.
Examine the specimen

Identify the specimen........ (1mark)
Give a reason for (i) above (1mark)
How does this specimen obtain oxygen from the soil for respiration? (1 mark)

Label the two petri-dishes P and Q. Pour the solutions P and provided into each petri dish accordingly.
Cut four rectangular strips of specimen K1 each strip should be of 5mm wide by 20mm long. Place two stripes into solution and another two into solution P. Allow the experimental set ups to stand for 10 minutes.

Using your fingers remove and feel the texture of the strips in each solution. Record your observations from each solution below
Solution P................................... (1 mark)
Solution Q...................................(1 mark)
Account for the observations in each of the solution above (4 marks)
Solution P...................................
Solution Q...................................
Measure the strips from each solution and record your measurement in the table below. (4 marks)


Initial length
Average final length
Average change in length
Solution P
Strip 1
Strip 2
Solution Q
Strip 1
Strip 2

Account for the average change in length of strips in each solution
Solution T...................................(1 mark)
Solution Q...................................(1 mark)

You are provided with a specimen labeled R2. Make a transverse section through specimen R2 and draw

labeled diagram. (3 marks)
Work out the magnification (1 mark)
State the type of placentation exhibited in the specimen above (1mark)
Name the part of plant the specimen R2 provided is (1 mark)
Give one reason for your answer in (d) above. (1 mark)
Squeeze the extract from specimen R2 into the beaker provided. Using the reagents provided determine the type of food substances present in specimen K2


| | | | |
| --- | --- | --- | --- |
| Food substance | Procedure | Observation | Conclusion |
| | | | |

Use the photographs below to answer the question which follow.



Identify types of joints found in the photographs named (4marks)
1...................................
2...................................
3...................................
Name the bones labeled A, B, C and D (4 marks)
A...................................
B...................................
C...................................
D...................................
Name the cavity where

bone B fits into bone A. (1 mark)
bone E fits into bone C (1 mark)

Name the fluid which is found in the joint area of bones A and B. (1 mark)