INSTRUCTIONS TO THE CANDIDATES
Sign and write your Name and Index Number in the spaces provided above.
Answer all the questions in the spaces provided.
You are required to spend the first 15 minutes of thel 3/4 hours allowed for this paper reading the whole paper carefully before commencing your work.
Additional pages must NOT be inserted.
Candidates may be penalized for recording irrelevant and incorrect spelling especially of technical terms.
For Examiner's Use Only
| | | |
| --- | --- | --- |
| QUESTION | MAXIMUM SCORE | CANDIDATE'S SCORE |
| 1 | 16 | |
| 2 | 12 | |
| 3 | 12 | |
| TOTAL | 40 | |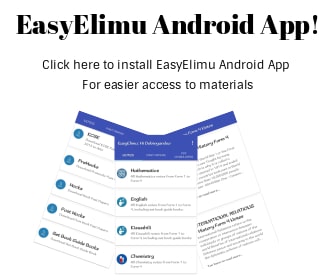 ---
QUESTIONS
You are provided with liquid X and substance Q.

Place three drops of liquid X onto a white tile. Add two drops of iodine solution. ...

Record your observation (1 mk)
Suggest the identity of liquid X(1 mk)

Pour 2ml of liquid X into a test-tube. Add equal amount of Benedict's solution and boil the mixture.
Record your observation (1 mk)
Label three test-tubes as set-ups A, B, and C. Place 3ml of liquid X into each of the setups.Divide substance Q into three equal portions.

To set-up A, add one portion of substance and shake.
Place the second portion of substance Q into a boiling tube. Add 2ml of water to it and boil for four minutes. Add it to set-up B and shake.
To set-up C, add the third portion of substance Q. Add 8 drops of 2M hydrochloric acid and shake.
Place the three set-ups in a warm water bath maintained at 37°C for 40 minutes.
Cool the set-ups by dipping the test-tubes in cold water in a small beaker.
Place 2ml of the contents of each set-up into three separate test tubes.
Add equal amount of Benedict's solution to each of the three test-tubes and boil.
Record your observations in the table below. (3 mks)


Account for your observations in the set-ups. (6 mks)
Set-up A.....................................................
Set-up B.....................................................
Set-up C.....................................................
Why was the water bath maintained at 37°C? (1 mk)

Give the most likely identity of substance Q. (1 mk)
Identify two regions in the human alimentary canal where substance Q works. (2 mks)

The photograph below is of a certain plant. Study it carefully and answer the questions that follow.



Giving a reason, classify the above plant into its sub-division. (2 mks)
Sub-division.....................................................
Reason...........................................................
Using observable feature only, state with a reason, the class of the plant above (2 mks)
Class...........................................................
Reason........................................................
Identify the parts labeled M & P (2 mks)
M............................................................
P.............................................................
Name the organism in the part labeled X and state its biological significance to the plant. (2 mks)
Organism...........................................................
Biological significance...........................................................
Identify the interrelationship between the organism named in (d) above and the plant. (1 mk)
Name three support tissues in the part labeled Q. (3 mks)

You are provided with two specimens labeled T and R. Study each of the specimens carefully and use them to give accurate responses to the questions and procedures below.

Take the whole of specimen T. Softly press it downwards on the petri dish using your first finger, then remove your finger. Observe and record what happens to the specimen.

Observation (1 mk)
Explain the observation recorded in a). i. above. (2 mks)

Specimens T and R perform some functions in the organisms from which they were removed from State one function common to both specimens T and R. (1 mk)
Using observable features only on specimen R, describe how it is adapted to the function named in b). i. above. (3 mks)

Explain the main features that adapts specimen T to the function named in b). i.above. (4 mks)
Identify the group of organisms that use specimen R (1 mk)
MARKING SCHEME
Colour changes to Blue-back V Blue-back colour is produced;
Starch solution;

Blue colour persists/no colour change
Set up-A; colour changes from blue to green to yellow to orange;
Set up B; Blue colour persists/no colour change
Set up C; Blue colour persists/no colour change
Set up-A; Enzyme amylase present in Q; breaks down / digests / hydrolyses/converts starch; into reducing sugar / maltose V; hence colour changes to orange
Set up B; Boiling denatured enzyme Amylase present in Q; hence Blue colour persists; starch not converted into reducing sugars Set up C; Acidic medium/HCL denatured enzyme/ Amylase present in Q; V hence Blue colour persists; starch not converted into reducing sugars
To provide an optimum temperature for enzyme activity

Amylase enzyme
Mouth
Duodenum

Angiospermaphyta; -presence of flowers
Dicotyledonae; - Presence of tap root system/network venation/broad leaves
M-Trifoliate leaf P-Legume
Rhizobium bacteria; Nitrogen fixation
Symbiotic

Sclerenchyma
Collenchyma
Parenchyma
Xylem

Spongy/loose/ soft; Specimen/T bounces/resumes its shape;
Has air sacs/ alveoli; which makes specimen T spongy

Gaseous exchange

Has a bony gill bar to support the rakers and gill filaments;
Has curved/pointed rakers to prevent solids from reaching the delicate gill filaments
have numerous gill filaments to increase surface area over which gaseous exchange occur,

Has numerous air sacs/alveoli to increase area over which gaseous exchange occur;
Supplied with a lot of blood/served by numerous capillaries/highly vascularised for transportation of blood to and from the structure in order to maintain a steep concentration gradient;
Has thin epithelia reduce distance covered by diffusing respiratory gases.
alveoli are lined with a film of moisture to dissolve the oxygen gas before it diffuses into the blood;

Fish