INSTRUCTIONS TO CANDIDATES
Answer all the questions in the spaces provided.
You are required to spend the first 15 minutes of 1 ¾ hours allowed for this paper reading the whole paper carefully before commencing your work.
Candidates may be penalized for recording irrelevant information and for incorrect spelling especially of technical terms.
You are provided with an unknown mixture labelled J
You are also provided with Benedict's solution, dilute hydrochloric acid solution, iodine solution, Dichlorophenol-Indophenol (DCPIP) solution. Sodium hydrogen-carbonate solution, means of heating, test tubes, test tube holder and a test tube rack.


Using the reagent provided only, test for the food substances in mixture J. Record in the table below the chemical test, the procedure of the test, your observations and conclusions. 8mks


| | | | |
| --- | --- | --- | --- |
| Chemical test | Procedure | Observations | Conclusions |
| | | | |
| | | | |

Which of the components of mixture J does not undergo digestion in the mammalian digestive system? 1mk
Name a deficiency disease that may result from a deficiency of the component identified in (b) above. 1mk
Name a common carbohydrate that could be present in mixture J. 1mk
State the role of hydrochloric acid and sodium hydrogen carbonate in the experiment. 2mks
Hydrochloric Acid
Sodium Hydrogen Carbonate

The photographs below show a flower specimen. Study it carefully and use to answer the questions that follow.



On the photograph, label the following parts 3mks


Stigma
Style
Staminal tube

Classify the plant from which the flower was picked into the taxonomic groups listed below. 4mks
Kingdom
Division
Sub division
Class
Name three observable features from the photograph of the class you named in (a) (i) above. 3mks

Suggest the pollination agent of this flower. Give reasons for your answer.
Pollinating agent 1mk
Reasons 2mks

Below are photographs of two specimens, J and K. Both of them belong to the same Phylum and Class. Observe them carefully before you answer the questions that follow.



Name the class to which J and K belong and support your answer with two reasons.
Class 1mk
Reasons 2mks
Suggest why the transport fluid in J and K has no haemoglobin. 2mks
The actual length of specimen K is 8cm, given that both J and K are under the same magnification, determine the actual length of J 3mks
Below is a diagram showing the life cycle of specimen J.


Identify the stage labeled D. 1mk
Name the hormone responsible for the change from D to A. 1mk
Explain the differences in the change from C2 to C3 and from C3 to D. 2mks
C2 to C3
C3 to D
State the importance of the process illustrated above in the life cycle of the organism 2mks
CONFIDENTIAL
Candidates require the following in the working bench
QUESTION 1
Mixture J: Solution containing a mixture of sucrose and vitamin C.
Benedict's solution,
Dilute hydrochloric acid solution.
Iodine solution
Dichlorophenol – indophenol (DCPIP) solution,
Sodium hydrogen – carbonate,
Means of heating,
5 test tubes,
Test tube holder
Test tube rack
QUESTION 2
Photograph Q: complete hibiscus flower (Each candidate should be provided with a real flower)
Photograph Q: Half flower of hibiscus
Scalpel / razor blade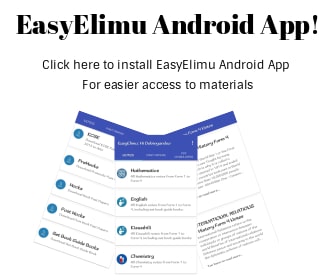 ---
MARKING SCHEME
Mixture J: Solution containing a mixture of sucrose and vitamin C
Benedict's solution, dilute hydrochloric acid solution. Iodine solution Dichlorophenol – Indophenol (DCPIP) solution, sodium hydrogen – carbonate, means of heating, 5 test tubes, test tube holder and a test tube rack
Photograph Q: complete hibiscus flower
Photograph Q: Half flower of hibiscus
Scarpel

You are provided with an unknown mixture labled J
You are also provided with Benedict's solution, dilute hydrochloric acid solution, iodine solution, dichlorophenol-indophenol (DCPIP) solution. Sodium hydrogen-carbonate solution means of heating, test tubes, test tube holder and a test tube rack.


Using the reagent provided only, test for the food substances in mixture J. Record the able below the food substance tested, the procedure of the test, your observations and conclusions. (12 mks)


| | | | |
| --- | --- | --- | --- |
| Food | Procedure | Observations | Conclusions |
| Starch | To about 2 ml of solution J add 3 drops of iodine and mix | Yellow / brown colour. Colour of iodine solution | Starch |
| Reducing sugar | To about 2 ml of solution J add an equal volume of Benedict's solution, shake to mix and heat to boil | Blue colour of Benedict's solution remains | Reducing sugar absent |
| Non reducing sugar | To about 2 ml of solution J add 6 drops dilute Hcl and heat. Cool and the add NaHCO3 solution drop wise until fizzing stops. Add about 2 ml Benedict's solution and heat to boil | Colour changes to yellow / orange / brown | Non – reducing sugar present |
| Vitamin C | To about 2 ml of DCPIP add solution J dropwise. | DCPIP is decourized | Vitamin C present |

Which of the components of mixture J does not undergo digestion in the mammalian digestive system. (1mk)
Vitamin C
Name a common carbohydrate that could be present in mixture J (1mk)
Sucrose
State the role of hydrochloric acid and sodium hydrogen carbonate in the experiment (2mks)
Hydrochloric acid hydrolyzes non-reducing sugar (s) into simple sugars / monosaccharides reducing sugars
Name a deficiency disease that may result from a deficiency of one of the substances present in mixture J. (1mk)
scurvy
Give one common symptoms of the disease you have stated in € (i) above.1mk)
bleeding gums

The photographs below show a flower specimen labelled M and a section of the same flower labelled M1.

Classify the plant from which the flower was picked into the taxonomic groups listed below. (4mks)
kingdom plantae
division spermatophyte
sub division angiospermae / angiospermatophyta
class dicotyledonae
Name three observable features from the photographs of the class you named in (a) (i) above. (3mks)
Five petals: five stigmas; petals have network veins
State the plane through which the flower has been cut to obtain M1. (1mk)
Longitudinal section
Suggest the pollination agent of this flower. Give reasons for your answer (3mks)
Pollinating agent insect
Reasons brightly colouored petals
Large / conspicuous petals
For parts (d) and € below, an actual specimen is required
Examine one flower and describe the following parts. (8mks)
Calyc: five green sepals, fused in the lower half but free at the upper half pointed tips
Corolla: five large, brightly coloured petals which are separate and overlapping/ polypetalours corolla, petals have rounded ends and prominent nectary guides
Androecium many anthers each of which is attached to a short filament. The filaments fuse to form a stamen tube that encloses the style. Anthers lie below the stigma
Gynoecium a green superior / hypognours and syncapous ovary with several ovules. A long, white style that branches near the tip. Each style branch to supports a red, round stgma
Below are photographs of two specimens, J and K. Both of them belong to the same phylum and class. Observe them carefully before you answer the questions that follow.


Name the class to which J and K belong and support your answer with two reasons.
Class Insecta; 1mk Rej. insect
Reasons 2mks


Six legs; three body parts; two antennae; two compound eyes;

Suggest why the circulatory fluid in J and K has no haemoglobin. 2mks
Haemoglobin used to transport oxygen/ carbon (IV) oxide in the body; oxygen is taken directly to tissues/ carbon (IV) oxide taken directly from tissues by tracheoles;
divergent evolution; 1mk
Reason one pair of wings in J reduced to halters/ are vestigial; but both are functional in K 2mks


pupa stage; 1mk
Ecdysone; accept Moulting hormone
4mks
C2 to C3 – moulting hormone / Ecdysone induce moulting; but presence of juvenile hormone prevent formation of pupa;
C3 to D – moulting hormone / Ecdysone induce moulting; but abscence of juvenile hormone lead to formation of pupa;