Instructions
Write your name and index number in the spaces provided above
Sign and write the date of the examination in the spaces provided above
Answer all questions in the spaces provided in the question paper
Candidate should answer the questions in English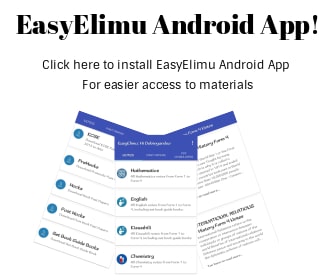 ---
QUESTIONS
Commerce is trade and aids to trade List four aids to trade (4 Mks)
State four objectives of a business (4 Mks)
Resources are categorized broadly into economic and free resources Identify any four free resources (4 Mks)
State four roles of an entrepreneur in production (4 Mks)
State four benefits of registering a company with the stock exchange market (4 Mks)
Highlight four ways in which consumers may protect themselves against exploitation by traders (4 Mks)
State four advantages of having a dry port or an inland container depot(4 Mks)
State four measures that the Kenyan government can take to solve unemployment problem (4 Mks)
Highlight four benefits that would accrue to a firm located near other existing firms (4 Mks)
The following information was extracted from the books of Turaga traders on 31st'Dec 2019
Shs
Turn over 608,000
Purchases 580,000
Opening stock 160,000
Closing stock 200,000
Prepare Turaga traders trading account (4 Mks)
State four objectives of product promotion (2 Mks)
Highlight four benefits of globalization to a business enterprise (4 Mks)
State four problems experienced by a trader who stores goods in a public warehouse (4 Mks)
State four factors that determine the amount of money held for transaction motive (4 Mks)
Outline four factors that may cause the supply curve to shift to the left(4 Mks)
Rahisi traders had the following information in its books of account on 1st'Jan 2019
Kshs
Machinery 500,000
Bank overdraft 38,000
Capital 620,000
Debtors 38,000
Cash in hand 100,000
Creditors 280,000
Stock 300,000
For the year ended 31st'2019, the following information was available;

Sold all the stock for Ksh 330,000 and received the amount by cheque
Brought into the business cash from a private source Kshs200,000
Required;
Draw a balance sheet as at 31st' Dec 2019 (4 Mks)

Outline four factors that affect the circular flow of income (4 Mks)
Outline four features of monopoly (4 Mks)
Given the following books of original entry, identify the source document used for each (4 Mks)
Book of original entry Source document

Purchases journal
Cash book
Sales return book
Sales journal

State four roles of the insurance industry in the Kenya's entrepreneurial development (4 Mks)
State four levels of inflation (4 Mks)
State four benefits enjoyed by a trader who does not sell on credit (4 Mks)
Highlight four factors that may determine the amount of revenue to be collected through taxation (4 Mks)
Outline four factors that hinder economic integration (4 Mks)
State four benefits of preparing a development plan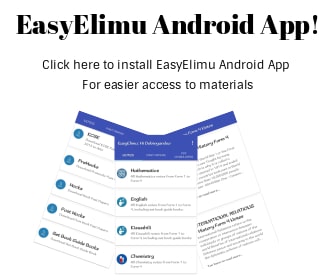 ---
MARKING SCHEME
Aids to trade. (4 Mks)

Warehousing
Banking
Transport
Communication
Insurance
Advertisement

Objectives of a business. (4 Mks)

Profit maximization
Growth and expansion
Provision of services to customers
Survival (beating competitors)
Creating employment

Free resources. (4 Mks)

Air
Sunlight
Rain
River/Lake/Ocean water

Roles of an entrepreneur in production. (4 Mks)

Starts the business/project
Controls the production process
Makes the decision on what to produce and when to produce
Acquires and pays for all the factors of production
Bears all the risks
Enjoys the profit
Pays for expenses
Owns the whole project

Benefits of registering a company with the stock exchange market. Advice on management

Sell shares
Performance barometer
Good management
Included in journals published by market
Facilitates raising of more funds.

Ways in which consumers may protect themselves against exploitation by traders. (4 Mks)

Checking goods e.g. prices, expiry dates, side effects
Enlightening themselves about their rights as consumers.
Forming consumer associations
Take the exploiter to court
Complain through the media
Peaceful demonstration against the exploiter
Avoid traders identified as exploiters

Advantages of having a dry port or an inland container depot. (4 Mks)

It reduces the cost of movement of cargo to the far away far ports
Solves the problem of congestion at the main port
The owners of the goods or exporters do not need to travel very far to the port
It makes it easier for handling of cargo by inland importers and exporters
It facilitates inspection of goods by the custom officials

Measures that the Kenyan government can take to solve unemployment problem. (4 Mks)

Control population growth
Encourage self-employment/educate people on self-employment
Encourage investment in the country
Encourage use of labour intensive methods of production
Encourage people to seek jobs outside
Provide capital for people to set up businesses.

Benefits that would accrue to a firm located near other existing firms.

Enjoy use of existing infrastructure
Access available labour
Collaboration with existing firms
Enjoy existing auxiliary services
Access available raw materials

Turaga traders
Trading Account
For the year ended 31st' Dec 2019√


Opening stock 160,000√

Add purchases 580,000√

COGAFS 740,000√

Less Closing stock 200,000√

COGS 540,000√

GP c/d 68,000√

608,000

Sales 608,000√

608,000

(8×1/2=4 Mks)
Objectives of product promotion. (4Mks)

Give information about a product.
Persuade to buy
Create public interest to buy
Sustain public interest to continue buying
Create sales
Launch a new product
Retain market

Benefits of globalization to a business enterprise. (4 Mks)

Provide a wide market.
Encourage collaboration among businesses from different countries.
Share technology
Access to resources like raw materials from other countries.
Facilitate sharing of research findings by businesses globally/sharing of information.

Problems experienced by a trader who stores goods in a public warehouse.

Charges levied are relatively high
Owner pays extra charges if goods overstay
Location may not suit the trader
Long procedure in documentation
Competition for space with other traders
Goods may get damaged
Trader may lose contact with customers since they get goods from rented warehouse.

Factors that determine the amount of money held for transaction motive.

The level of income
The frequency of payment of an individual
Individuals spending habits
Availability of spending habits
The rate of inflation/high price of commodities.

Outline four factors that may cause the supply curve to shift to the left.

Increase in cost of production
Lack of government incentives e.g. subsidies
Decrease in price of complementary goods
Withdrawal of firms from the market
Incidences of strikes
Inadequate factors of production.

Rahisi traders Balance Sheet.
RAHISI TRADERS
BALANCE SHEET
AS AT 31ST DEC 2019


Fixed Assets

Machinery 500,000√

Current Assets

Bank 292,000√

Debtors 38,000√

Cash 300,000 √

1,130,000

Capital 620,000√

Add profit 30,000√

Add investment 200,000√

850,000

Liabilities

Creditors 280,000√

1,130,000

Factors that affect the circular flow of income. (4 Mks)

Investment
Government expenditure
Savings
Foreign trade

Outline four features of monopoly. (4 Mks)

Single seller and many buyers
The commodity does not have close substitute
It is difficult for other firms to enter the market/restrictions to entry
Prices are usually fixed by the supplier
The firm controls the entire output

Source document used for each.


| | |
| --- | --- |
| Book of 0rinal entry | Source document |
| (a) Purchases journal | Incoming invoice |
| (b) Cash book | Receipt/Bank slip |
| (c) Sales return book | Credit note issued |
| (d) Sales journal | Outgoing invoice |

Roles of the insurance industry in the Kenya's entrepreneurial development.

It guarantees continuity of business
Mobilizes funds into investment project
Encourages business people to venture into risky projects
Insurance policy can be used as collateral/security for loans
Contributes to government revenue

Levels of inflation. (4 Mks)

Hyper/Run-away inflation
Stagflation
Creeping/moderate/gradual/mild inflation
Rapid inflation

Benefits enjoyed by a trader who does not sell on credit. (4 Mks)

Does not suffer from bad debts
Does not spend money on debt collection
Does not incur cost of keeping records of debtors
Does not suffer cash flow shortage/working capital is readily available
Does not waste time following customers to pay.

Factors that may determine the amount of revenue to be collected through taxation. (4 Mks)

Distribution of incomes
Social and political factors
Honesty and efficiency of tax authorities
Citizens level of real incomes
Economic structure of a country

Factors that hinder economic integration

Homogeneity of products
Lack of foreign exchange
Retrogressive political ideologies
Poor infrastructure
Political instability
Language barrier
Differences in levels of development

Benefits of preparing a development plan.

Enables mobilization and allocation of resources
Can be used to secure foreign aid
Used to evaluate projects at different stages of implementation to assess whether they are in line with expected income
It enables coordinated investment to prevent regional imbalances
It helps to minimize wastage or duplication of industries
It is used to increase the rate of capital formation.