QUESTIONS
SECTION A 30 MARKS.ANSWER ALL QUESTION
Differentiate between olericulture and pomoculture as used in crop production. (1mark)
Give two methods of farming (1marks)
Give two examples for each of the following types of cost incurred in broiler production.

Variable cost(1 mark)
fixed cost (1 mark)

Give four advantages of crop rotation. (2marks)
State four factors to consider when choosing seed rate. (2marks)

Give four reasons for using certified seeds for planting. (2marks)
Give four disadvantages of using non capped multiple stem pruning in coffee (2marks)

State two reasons why cassava should be grown as the last crop in crop rotation programme. (1mark)
State four importance of farm records. (2marks)
Name two aspects of light that affect crop production. (1mark)

What is tissue culture? (1mark)
State two importance of tissue culture in crop propagation. (1marks)

Apart from the identity of owner, title number and size of land, name other two essentials contained on a land title deed. (2marks)
Give four importance of a land title deed. (2marks)

List four methods of fertilizer application. ( 2marks)
State four advantages of growing maize in rows instead of broadcasting. (2marks)
Name four factors that determine the choice of a nursery site.(2marks)
Name two post-harvest practices in beans. (1marks)
Give four reasons why burning is discouraged as a method of land clearing. (2marks)
SECTION B 20 MARKS
The table below shows output of maize in response to increase in D.A.P fertilizers on one hectare of land.


Fixed input land (in ha)
Variable input D.A.P in 30kg-bag
Total product maize yield in 90-kg bag
Average product (AP) maize in 90kg bag
Marginal product (M.P) in 90kg bag
1
1
1
1
1
0
1
2
3
4
2
5
14
21
26

Fill in the table for average product (A.P) and marginal products (M.P) 5marks
The diagram below shows a structure used in crop production.



Identify the structure above. (1mark)
Give a reason for carrying out each of the following practices in the structure shown above

Pricking out. (1mark)
Hardening off. (1mark)

State two importance of the part labelled A in the above structure. (2marks)

Form two student put some soil sample in a measuring cylinder, added some water and sodium carbonate and then covered the cylinder with the hand and shook the cylinder for about two minutes. He left the cylinder on the bench for one hour. The result was as shown below.



Name the layers marked b,c, and d. (3marks)
What was the function of sodium carbonate in this experiment? (1mark)
What was the aim of this experiment ? (1mark)

Study the diagram below and answer the questions that follow.



Name the crop production practice illustrated above. (1mark)
Name a material that may be used as part B in the diagram (1mark)
State three reasons why the practice is done in crops. (3marks)
SECTION C 40 MARKS( ANSWER ONLY TWO QUESTIONS)
Outline any ten marketing functions (10marks)
Discuss any five problems in marketing of agricultural produce (10marks)

Describe the production of tomatoes (Lycoperiscon esculentum) under the following subheadings.

Ecological requirements (4marks)
Nursery establishment (4marks)
Transplanting (4marks)
Seed bed preparation (4marks)
Field management practices (4marks)

Explain eight factors that encourage soil erosion. (8marks)
Describe seven management practices that should be carried out on a vegetable nursery after sowing until the seedlings are ready for transplanting. (7marks)
Describe the harvesting of sugarcane. (5marks)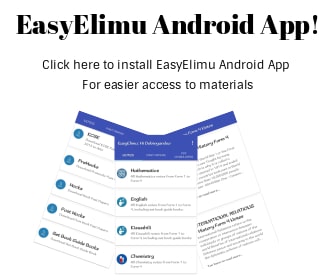 ---
MARKING SCHEME
Olericulture –Growing of flowers
Pomoculture –growing of fruits

mixed farming
Nomadic pastoralism
shifting farming
Organic farming
Agro-forestry

cost of the feed
cost of drug
cost of chick

cost of feeders and waterers
Cost of structure/Depreciation of poultry house

Improve soil structure
Control pest and diseases
Maximum utilization of nutrient
Aids in weed control
Control soil erosion
Add nitrogen through N-fixation by Rhizobium bacterial when legume are included

Seed purity
Germination percentage
Spacing
Number of seeds per hole
The purpose of the crop

For increased crop yields
Higher resistance to diseases
Good adaptation to recommended ecological zones
Reduced spread of pests and diseases

Rotting of stump with age
Difficult in spraying the tall bushes
Difficult in gathering the berries from top
Breaking of stem and branches

Less feeder
Require little cultivation after establishment

Show history of the farm
Compare performance in farm enterprises
Help in insurance claims
Show profit or loss in a farm
Help in planning and budgeting
Show farm assets and liabilities/ value for the farm

Light intensity
Light duration
Light wavelength

Biotechnology used to clone vegetatively propagated plants

Propagate pathogen free plants
Mass production of propagules
Fast and requires less space

Location/plot number
Serial no
The seal
Signature of issuing officer
Date of issue
Type of ownership i.e. leasehold, absolute or free hold
Conditions of ownership if any

It is a proof of ownership
Reduce land ownership disputes
Can be a security in acquisition of loan
It is an incentive for investment by the farmer on long-term project
The owner can courageously lease out whole or part of his land for income

Hole placement
Broad casting
Side dressing or banding
Foliar application
Top dressing
Drip method

Easy to establish plant population
Allow easy use of machines
Gives economical use of seeds i.e. Lower seed rate
Undertaking of management practices
Ensures uniformity of growth

Topography
Nearness to a reliable water source
Type of crop previously planted
Security
Well sheltered place
Type of soil
Nearness to the final field

Drying
Threshing
Winnowing
Dusting with suitable pesticides
Sorting out.
Packaging

Leads to destruction of organic matter or humus
Useful soil organisms may be killed.
Exposes the soil to agents of erosion
Release of potash raises the soil PH
Soil moisture is lost
Mineral salts may be lost through volatilization




Fixed input land (in ha)
Variable input D.A.P in 30kg-bag
Total product maize yield in 90-kg bag
Average product (AP) maize in 90kg bag
Marginal product (M.P) in 90kg bag
1
1
1
1
1
0
1
2
3
4
2
5
14
21
26
0
5
7
7
6.5
2
3
9
7
5

Nursery bed
Pricking out
To avoid overcrowding of the seedlings /allow seedling to grow strong and healthy
Hardening off
To prepare seedlings to the ecological conditions in the main field/ reduce transplanting shock.

To reduce the amount of water loss through vaporization/ evaporation / transpiration.
To modify nursery temperature.
To reduce the impact of rain drops / hailstones there by minimizing damage on the seedlings.
Reduce splash erosion.

b- Water with fine clay particles and dissolved mineral salts.
c- Sand
d- Gravel
It aids in the dispersion of the soil particles.
To show that soil is made up of different sized particles

Trellising
Wires
Twine/ sisal strings

Easy to carry out crop management practices/ weeding, spraying

Effective spray application
crop receives adequate light/ suitable micro-climate
Avoid contamination of fruits by soil

Buying and assembling
Transporting and distribution
Storage
Packing
Processing
Grading and standardization
Packaging
Collecting market information
Selling
Financing
Bearing risks

Perishability
Seasonality
Bulkiness
Poor storage facilities
Poor transport system
Changes in market demand
Limited elasticity of demand
Lack of market information
NB stating 1 mk Explanation 1 mark

rainfall – 760mm – 1300mm p.a, well distributed
Low rainfall requires surface irrigation to be done
Altitude – 0-2100m a.s.l
Temperature - 18ºc - 29ºc
Soil- deep well drained fertile soils
Soil pH = 6.0- 6.5
ANY FIGURE WITHIN GIVEN RANGE

Clear the vegetation
Dig deeply to achieve a fine tilth
Raise the soil slightly above the ground
Make drills and sow the seeds
Cover the seeds with a thin layer of the soil
Mulch and water

Done early in the morning or late in the evening
Dig holes 15cm deep
Spacing 90cm x 60cm or 100cm x 50cm
Put a handful of manure or a teaspoonful of D.S.P fertilizer per hole
Mix them well with the soil
Water nursery bed two hours before transplanting.
Transplant healthy and vigorously growing seedlings.
Use a garden trowel to lift seedling with a lump of soil.
Place each seedling in the hole at same depth as it was in nursery bed.
Cover and firm the soil around it
Mulch and shade it
Water

Done early during dry season
Plough deeply
Remove all weeds
Harrow the land to medium tilth

Top dress with C.A.N two times at 25cm height (100kg/ ha) and during fruiting (200kg/ ha)
Field should be weed free
Irrigation recommended where rainfall is inadequate
Staking
Prunning
Mulching
Pest control and Disease control

Lack of ground cover exposes soil to agents of soil erosion/ removal of cover crops.
Steep slopes increase the speed of surface run-off hence erosive power of water.
Light/ sandy soils are easily carried away by agents of soil erosion.
Shallow soils are easily saturated with water and carried away.
Frequent cultivation / over cultivation pulverizes the soil making it easy to detach and be carried away.
Overstocking leads to overgrazing which destroys ground cover exposing it to agents of erosion.
High amount of rainfall increases saturation of soil with water thus increasing soil erosion.
Cultivation of the river banks destroys river line vegetation exposing it to soil erosion agents.
Ploughing up and down the slopes creates water channels which encourage soil erosion.
High rainfall intensity increases impact of raindrop thus encouraging raindrop erosion.
Burning of vegetation leaves land bare exposing it to erosion agents.
Cultivating soil when too dry or too wet destroys soil structure making soil easily eroded.

Mulching to conserve moisture
Erection of a shade to minimize evapotranspiration.
Weed control to reduce competition with seedlings.
Pests and disease control to ensure healthy seedlings
Pricking out to minimise competition.
Watering to ensure adequate moisture supply.
Hardening off/ removing shade/ reducing watering to acclimitise the seedlings to conditions in the field

Sugarcane mature 18-20 months whereas ration take 16mths in western. In coast it takes 14months and ratoon crop take 12months.
Samples should be taken for quality testing in the factory.
If the quality is ok harvesting should start immediately.
Cut the cane at the ground level to avoid loss of the yield.
After cutting cane the green tops are removed immediately.
The leaves should be stripped.
Harvesting is done using a cane harvesting matchettes.
Harvested cane should be delivered to the factory within the first 24hrs.