QUESTIONS
Explain Five factors that one needs to consider when selecting an office layout. (10Mks)
Outline Five measures that may be taken by the Kenyan government to promote her exports. (10mks)

There has been a general rise in prices of consumer goods and services in Kenya. Explain Five negative effects of this trend. (10 Mks)
Highlight Five measures that the Kenyan government has put in place to facilitate an efficient road transport.(10Mks)

Explain Four ways in which the government may positively influence / attract business activities to a given area (8Mks)
The following trial balance was extracted from the books of Daisy Traders as at 31/12/2021.
Daisy Traders
Trial Balance
As at 31st December 2021


A/C NAME
DR (Shs)
CR (Shs)
Purchases & Sales
Stock (1/1/2021)
Debtors
Commission
Returns
Carriage inwards
Carriage outwards
Bad debts
Wages
Rates
Buildings
Furniture
Bank overdraft
Insurance
Discounts
Drawings
Creditors
Cash at bank
Cash in hand
Capital
275,000
30,000
47,000

10,000
16,000
8,000
3,000
20,000
12,000
450,000
180,000

19,000
5,000
25,000

250,00

40,000
390,000


36,000
6,000






210,000


7,000

52,000


689,000
1390000
1390000

Additional information:
Stock was valued at Sh.50,000 as at 31ST/12/2021.
Required:

Prepare Daisy Traders, Trading, profit and loss Account for the year ended 31/12/2021 (7Mks)
Balance sheet as at 31/12/2021. (5Mks)

Co-operative societies have become very popular today. Discuss Five features of a co-operative society. (10Mks)
With the aid of a diagram, explain the effect of an increase in consumers' level of income on the equilibrium price and quantity. (10Mks)

Explain Five circumstances under which a country may experience low levels of national income. 10Mks)
Explain Five ways in which insurance industry contributes to the development of a country's economy. (10Mks)

Explain Five measures that can be taken to reduce the level of unemployment. (10Mks)
Zakayo Traders had the following balances on 1st July 2012.
SHS.
Equipment 5,600
Bank 35,000
Debtors 28,000
Creditors 66,600
During the month the following transactions took place:
July 6TH – Purchased goods worth Sh.9,500 by cheque
July 7TH – Paid creditors, Sh. 10,600
July 23RD – Received a cheque of Sh.22,00 for goods sold.
July 28TH – Withdrew Sh. 5,000 from the bank to pay salaries.
Required:Open the relevant ledger accounts and extract a trial balance as at 30TH July, 2012. (10Mks)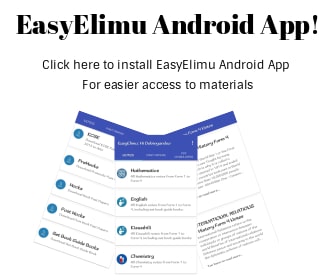 ---
MARKING SCHEME
Work flow – Work should flow smoothly with minimal interruptions.
Supervision – Easy/ quick monitoring of staff to discourage absenteeism.
Office appearance – should be attractive and pleasant conducive to boost workers morale/ enhance performance.
Working space – Workers should have adequate space to work from/ Enhance concentration.
Cost of construction – Office layout chosen should be relatively cheap/ affordable/cost effective.
Flow of workers/minimal movement – Should enhance reduce/ no staff movement/distractions (To enhance overall performances).
Ease of communication – Have easy passage of messages within the organization.
Legal requirements – Be according/compliance with laws of the land.
Nature of work – Confidential work require enclosed office layout.
Proximity to equipment/Accessibility of equipment number of equipment – Shared equipment require open office layout.
Mention – 1mks
Otherwise – 2mks

By entering bilateral trade agreements/ joining trading blocs to improve/encourage free flow of goods.
Organizing trade fairs and exhibition in foreign countries to create awareness.
Looking/searching for more markets abroad through KETA enabling more exports
Giving export subsidies making exports cheaper
Easy export licensing for exporters to encourage exports
Encouraging production of high quality goods and services to increase competitiveness
Diversifying her export commodities to cushion slump demand for market security.
Lowering duties on imported raw materials meant for producing goods for exportation.
Giving customs drawback to investors to produce goods for export.
Establishing export processing zones (EPZ) to enhance exports.
Diversifying markets/widening markets/venturing into hitherto unchartered markets.
2 x 5= 10mks
No splitting

Lower standards of living – As people can only manage to buy fewer goods/services.
Reduced savings – Much of income is used on goods/services, thus little investments/leading to poverty.
Reduced real value of money – People lose confidence in money/preference to hold wealth in form of assets other than money form/Banks is negatively affected.
Losses to creditors – Receive/get paid their debts when money value is eroded.
Reduced profits – Low sales volumes/products become unaffordable.
Conflicts between employers and employees – Due to demand for higher wages.
Emergence of black markets – Sneaking in of illegal/harmful goods.
Erosion of people's purchasing power - People become poorer.
Increase in interest rates/banks rates – Making borrowing/loans expensive.
Political unrest – People complain of too high cost of living.
Mention = 1mk
Otherwise = 2mks

Use of speed governors to reduce/moderate speed of vehicles to reduce accidents.
Introduction of safety belts to minimize injuries as a result of accidents.
Introduction of dual carriage roads to ease congestion
Advocacy/publicity campaigns on road safety (through mass media)
Refresher training to drivers to improve skills/efficiency
Good road signage to reduce accidents/confusion
Identification of black spots/accident prone areas and rectification/looking for remedies.
Use of uniforms/identification badges/photos for drivers and touts for easy identification.
Revival of railway transport/standard gauge railway to ease congestion.

Improving infrastructure – Thus creating enabling environment by building roads/supplying electricity/water
Providing/improving security – To safeguard investor's life/ their properties/create confidence in investors.
Giving/increasing subsidies – To enable producers to produce goods cheaply/lower cost of production.
Providing incentives like tax relief/tax holidays/Tax exemptions – To reduce cost of production.
Providing free land – To reduce cost of doing business.
Providing loans easily/cheaply/at low interest rates – to encourage entrepreneurship.
Starting major projects - Attracts other firms to the area.
Facilitate/provide auxiliary services e.eg Banking, insurance, transport – to attract investors.
Protect local investors – by establishing restricting imports.
Establishment of economic zones/export processing zones - To encourage establishment of firms.

Daisy Traders
Trading profit and Loss Account
For the year ending 31st December 2021
Dr Cr


Opening Stock 30,000
Purchases 275,000
Add: Carriage in 16,000
291,000
Less :Return out 6,000 285,000
G.A.F.S 315,000
Less: Closing Stock 50,000
C.O.G.S 265,000
Gross profit C/D 115,000
380,000
Carriage outwards 8,000
Bad debts 3,000
Wages 20,000
Rates 12,000
Insurance 19,000
Disc Allowed 5,000
Net profit C/D 91,000
158,000
Sales 390,000
Less: Return inwards 10,000
Net sales 380,000




380,000
Gross profit C/D 115,000
Commission received 36,000
Discount received 7,000





158,000
Net profit B/D 91,000

DAISY TRADERS
BALANCE SHEET
AS AT 31ST DECEMBER 2021√


FIXED ASSETS
Buildings 450,000√
Furniture 180,000√ 630,000√
CURRENT ASSETS
Stock 50,000√
Debtors 47,000√
C.A.B 250,000√
C.I.H 40,000√ 387,000√
1,017,000
CAPITAL 689, 000√
Add: Net profit 91,000√
780,000
Less: Drawings 25,000√
New capital 755,000√
S.T.L
Creditors 52,000√
Bank order draft 210,000√
1,017,000




The demand curve shifts to the right from DoDo to D1D1.
Equilibrium point shifts eo to e1
Equilibrium price increases from Pe0 to Pe1
Equilibrium quantity increases from Eq0 to Eq1

Democratic administration/management – Decisions are made as a one man vote basis/management committee elected on one man one vote basis.
Open and voluntary membership – Membership is free for those who qualify /above 18 years/ No forcing to join.
Promotion of education to members- Obliged/have duty to educate members/staff/management on co-operative activities/through seminars/workshops.
Political/religious neutrality- Not supposed to favour/identify with any political/religious group.
Co-operation with other co-operative- To share ideas/experiences/at regional/national/international level.
Payment of dividends – Based on contribution/on pro-rata basis.
Limited interest on share capital- Capital paid is meant for running the business not for generating interest.
Limit number of shares one can buy – to avoid control by one/a few members.
Non-profit motivated – Main aim is to assist members.
Individuals constitute members- No corporate membership.
Mention- 1 Mk
Otherwise – 2mks

Poor/inadequate/low human resource/labour/work force- a country with poorly skilled/untrained manpower will generate low income/produce low quality/quantity goods or services thus low income.
Poor natural resource endowment- Limiting the ability to create wealth /low quantity of low materials.
Low/poor technology- Leading to low quality/quantity goods and services.
Political instability/Insecurity- Leading to closure of firms/low productivity.
Inadequate capital/ Man-made resources- Making production difficult/low quantities produced.
Inadequate entrepreneurs/poor entrepreneurial cultures- Reducing levels of production.
Poor infrastructure eg. Road networks – making movement of factor services/finished goods/raw materials impossible/difficult.
NB THE CIRCUMSTANCE TO BE BROUGHT OUT

Creation of employment- For those who work in the insurance industry eg. Actuaries, brokers, underwriters, salespersons etc.
Continuity of business- By providing compensation in the event of loss.
Creating confidence in investors- Encouraging investment in risky areas.
Source of revenue to government- through taxes
Encourages saving- Life policies(endowment policies) enables people to save, which can be used for investment.
Life policies can be used as securities for borrowing loans- which can be used to expand businesses.
Employees feel secure/confident/comfortable when they have statutory schemes like NSSF/NHIF.
Money collected by insurance companies is invested in other ventures thus expanding economy.

Diversification of economy – Encouraging/establishing different industries to create employment.
Transforming/improving education system- to improve on skills/produce employable graduates.
Encouraging informal sector/Jua Kali sector- To promote self-employment.
Population control- To have labour force that the economy can absorb.
Exporting labour/Assisting people to acquire jobs abroad/to countries which labour force differences.
Reviving collapsed industries/projects- By injecting funds/selling them/privatizing them.
Improve infrastructure- To stimulate economic activities that create jobs.
Leading/setting up funds- to spur economic activities.
NB: Accept examples of funds as a mention.
Increase government expenditure- To expand the size of the economy/By financing development projects.
Establishment of employment policy- To make is easy for people to get jobs.
NB: Accept viable government policies as a mention.
Delocalization/Decentralization policy- For balanced regional development/ To curb rural –urban migration.