QUESTIONS
A pattern of a girl dress is provided. You are advised to study the sketches, instructions and the layout carefully before you begin the test.
MATERIALS PROVIDED


Dress front and back
Bodice front
Bodice back
sleeve

back neck facing
Plain lightweight cotton fabric 60cm long and 90 cm wide.
Sewing thread to match the fabric
One large envelope.
THE TEST
Using the materials provided, lay, cut out and make the left half of a girl's dress to show the following processes:
Cutting out. (14 marks)
Making of the shoulder seam using open seam. [8marks]
Joining the back neck facing to the extended front facing. Attaching the facing to finish the neckline. [16 marks]
Making the bodice side and underarm seam a French seam. [13 marks]
Preparing and attaching the sleeve to the armhole. Neaten a quarter of the armhole seam from the underarm seam using loop stitches. Manage the sleeve hem with tacking stitches. [17 marks]
Preparing the skirt using gathers and attaching it to the bodice. [11 marks]
Neatening the free-edge of the facings. [4 marks]
Overall presentation. [6 ½ marks]
At the end of the examination, firmly sew onto your work, on a single fabric a label bearing your name and index number. Remove the needle, pins and loose threads from your work.
Fold your work neatly and place it in the envelope provided. Do not put scarps of fabric in the envelope. Do not seal the envelope.

CONFIDENTIAL
INSTRUCTIONS TO SCHOOLS
The school should provide the following items:
Poplin light coloured fabric 60cm long and 90cm wide
Matching sewing thread
Pressing tools
Sewing machines
Patterns 2017 KCSE
Envelopes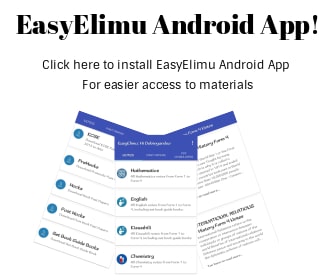 ---
MARKING SCHEME
PRESENTATION


Work well pressed (1) and folded (½)
Label ( ½ ) firmly sewn (1) without concealing details ( ½ ) and on a single fabric ( ½ ).
Pins/needles ( ½ ) unnecessary tacking threads ( ½ ) and loose threads ( ½ ) removed.
Made up for the left half ( 1)

CUTTING OUT


All five pieces' cut-out (5× ½].
Smooth cutting of the dress-skirt CB (2) and on straight grain (1) to within 3mm.
Smooth cutting of the front bodice (2) and on straight grain (1). Mark by impression.
Smooth cutting of bodice back (1) and on straight grain (1) to within 3mm
Sleeve cut on straight grain.
Smooth cutting of the back neck facing (1/2)and on straight grain ( ½ ) to within 2mm.
Smooth cutting of skirt lower edge.

Shoulder seam (open seam)
(if not open seam award Zero)

Seam joined with straight stitchery
Well neatened raw edges (1 x 2)
Evenness of seam allowance
Seam pressed open (½ x 2) and flat, R.S (½ X 2), W.S (½ X 2) at neckline and at armhole.
Correct size of seam-allowance ( 1cm) to within 2mm (0.8cm – 1.2cm) ( ½ x2 )

NECK FACING


Back and extended front facing joined with straight stitchery ( ½ ) seam trimmed ( ½ ) pressed open ( ½ ) and unneatened ( ½).
Facing attached to neckline with smooth stitchery.(2)
Seamed trimmed (1) snipped (2) and under stitched ( 2)
Facing seam and shoulder seam meeting to within 2 mm at neckline and shoulder seam (2) and held down with a catch stitch.(1)
Centre front of extended facing well pointed (1)
Extended facing well folded ( ½ ) and flat ( ½ ) at the centre front.
Flatness of neck-facing (front and back) (2)

FRENCH SEAM)
(if not French seam award zero) from B-H


Underarm seam and side seam made before sleeve is attached.(1)
Straight stitchery of seam ( 1 x2)
Seam well-trimmed ( ½ ) x2, no threads on RS ( ½ x 2)
Seam well-knife edged. (1/2×2)
Evenness of seam (½ x2)
Correct size (6mm) to within 2mm ( 4-8mm) (½ x2)
Seam pressed towards the back at armhole ( ½ x 2) and the waist line ( ½ x2)
Flatness of seam at the armhole ( ½ x2) and at the waistline ( ½ x2)
Side seam and underarm seam meeting to with 2mm

SLEEVE


Good hang (1)
Easing evenly distributed ( 1) around the crown (1)
Armhole seam made with smooth stitchery (2)
Correct positioning of sleeve i.e back to back (1) bodice and front on front bodice (1)
Armhole seam smoothly trimmed (1cm) ( ½ ) to within (2mm) (0.8 – 1.2cm) ( ½ )
A quarter of the armhole seam neatened with the loop stitches (1) using single thread ( ½ )
Sleeve hem managed by edge –stitching ( 1) turned (1) and held down with tacking (1) stitches only using single thread ( ½ )
Sleeve hem size 1.2 cm to within 2mm ( 1cm) to 1.4 cm) (1) 1

NEATENING OF THE ARMHOLE
If not loop stitches award zero


Loop stitches evenly spaced (1) and even in length (1)
Stitches securely fastened on ( ½ ) and off ( ½).

SKIRT


Gathers well distributed (2) and good hang (2).
Smooth (1) stitchery (1) of the waistline seam
Evenness of seam (2)
The space at the extended facing part of the waistline seam not gathered.(1)
Stitching line between the two gathering rows.(1)
Award marks if gathers are of good quality (1)
Sub- total 11

Facing


Free – edge facing smoothly neatened (2
Facing pressed flat
Sub-total 4
Total 90 /2
= 45