QUESTIONS

SECTION I
LISTENING COMPREHENSION (15 marks)
Passage 1

L'homme parle à ……………………………………………………………… ½ mark
Julien a reçu un pull pour son ………………………………………………... ½ mark
Donnez les couleurs favorites de Julien
Qu'est-ce qu'ils ont fait pour fêter cette occasion?

Passage 2

Michel parle des …………………………………………………………… ½ mark
Il a passé …………………………………… au Kenya du ………… au ……………… 1 ½ mark
Où a-t-il vu les origines de l'humanité? ……………………………………… ½ mark
Donnez le rêve de tous touristes qui visitent le Kenya.

Passage 3

On vend des ……………….…………dans le kiosque qui se situe ………………………1 mark.
Combien de shillings fallait-il payer pour ces objets qu'on cherchait? …………………………
La jeune fille a reçu ………………………….. de mille shillings et elle est partie chercher la ……………
Comment est-ce que l'homme s'est échappé après avoir volé? …………………………………

Passage 4

…………………………….… s'asseyent dans un salon. ½ mark
Quand font-ils la promenade? ………………………………………………… ½ mark
Sophie est …………….…………...…de Michel ……………………………..½ mark
Donnez deux choses que fait Michel pour aider à la maison.

Passage 5

Pourquoi l'homme conduisait trop vite?
L'agent de police lui demande ses ……………….. et il lui demande de ………………
Comment est le résultat à la fin? ……………
SECTION II:DICTATION (5 marks)
Write the dictation passage in the spaces provided.

SECTION III:CREATIVE COMPOSITION (15 marks)
Write your composition in the spaces provided. Indicate clearly whether your choice is 6a or 6b.
In 150-180 words, write in French on:
Either

Votre classe de géo avait organisé une excursion mais le jour de partir, quelque chose bizarre s'est passée. Rédigez la suite.
Or
Votre soeur /frère fêtait son vingtième anniversaire mais en le fêtant, quelque chose inattendue s'est passée. Rédigez la suite.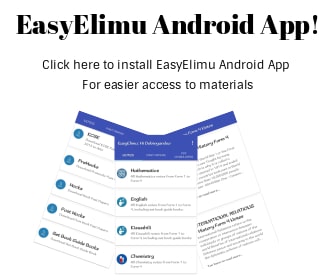 ---
MARKING SCHEME
Passage 1

Joséphine
Anniversaire
Blanc et bleu/e
Dîner et danser/ils ont diné/ils ont dansé

Passage 2

Vacances
Une semaine ,12,18 juillet
Au musée
Visiter les parcs nationaux

Passage 3

Tickets, près de la gare
200 shillings
Un billet,la monnaie
Dans un matatu

Passage 4

Catherine et Sophie
L'après-midi
La femme
Il s'occupe de la vaisselle,il travaille dans le jardin/il fait la vaisselle

Passage 5

Pour rentrer chez lui trop vite
Papiers, souffler
Négatif
Il y a quelques jours, Pauline a demandé à sa mère la permission de rentrer plus tard pour le dîner.Elle voulait aller à la bibliothèque avec son amie Sandra. Les deux jeunes filles se sont dirigées vers le centre-ville. Elles y sont arrivées dans dix minutes.
Conversion table

Number of errors committed
Marks

1-5 5
6-10
11-15
16-20
21-25
26-30
31-35
36-40
41-45
46+

5
4½
4
3½
3
2½
2
1½
1
½

MARKING SCHEME OF CREATIVE COMPOSITION.
Organization of essay
Marks range
Points of interpretation
Exemplary
10, 9 ½, 9
• Original approach in adapting given guidelines to articulate information and meaning coherently.
• A wide range of relevant and effective vocabulary used to express emotions tastes and opinions.
• Storyline very clear, well structured; use of complex sentences and apt error and apt idioms.
• Some minor errors and slips but in general, candidate has great grammatical accuracy and impressive command of the language.
Very well
8 ½ , 8, 7 ½
• Candidate has significant fluency and ease of expression
• the candidate communicates their ideas with ease
• Candidate adapts guideline to realistic situation but may lack imagination which provides the spark in the essay.
• Good linkage of ideas.
• Few gross errors as appropriate tenses, conjugation, spellings are used.
• Use of idioms and general vocabulary is effective.
Good
7, 6 ½ , 6
• Candidate sticks to the given guidelines and communicates clearly using simple sentence forms.
• Sentences are varied but not always well constructed.
• a number of error and slips in tenses and adjectival agreement
• The essay may have some merit tricks.
Quite good
5 ½ , 5, 4 ½

• The candidate communicates clearly but in a flat and sometime uncertain manner.
• The candidate writes simple and varied sentences that contain many errors, tenses, spelling and adjectival agreement.
• Storyline is relevant to given guideline.
• Attempts at complex sentences made (clichés, proverbs idioms) but these are often strained and sometimes abandoned altogether
• Storyline can be worked out but the flow is jerky.
• Few merit ticks if any

Rough text
4, 3 ½ , 3
• The candidate communicates with little consistency in clarity.
• Candidate respects guidelines provided.
• Limited linguistic ability in the French language resulting in occasional ambiguity.
• Candidate cannot avoid frequent errors in grammar, vocabulary and sentence structure.
• Basic storyline with little variety or originality even in correct sentences.
Poor/weak
2 ½ , 2, 1 ½
• The candidate's text communicates little consistent meaning
• Many gross errors make the flow of thoughts difficult to follow.
• Errors are continuous but one can at least guess what the candidate wants to say.
• The subject is undeveloped, arrangement weak and flow is jerky.
Very poor
1 ½ , 1, ½
• No Verifiable communication
• minimal linguistic ability, failure to fit independent French words into meaningful sentences
NOTE:
Divide the candidate's composition into two equal halves.
Mark each half out of 10.
Get the total mark then use the conversion table ABOVE to get what the candidate's final score will be.