QUESTIONS
A pattern of an Apron is provided. You are advised to study the sketches, the question paper and the layout carefully before you begin the test.
MATERIALS PROVIDED:
Pattern pieces.


Apron skirt
Bib
Waistband
Frill
Pocket

Plain light weight cotton fabric 80cm long by 114cm wide.
Sewing thread to match the fabric.
THE TEST:
Using the materials provided, cut out and make the apron to show the following.
The preparation of the bib.
The attachment of the bib to the waistband.
The preparation of the pleats on the frill.
Attaching the frill onto the skirt using an overlaid seam.
Starting from the right hand edge, neaten 8cm of the overlaid seam using loop stitches.
Machine hemming the right hand edge of the skirt.
Preparation of the pocket and attaching it on the skirt of apron.
Working of gathers on the skirt.
Machining the skirt onto the overlap of the waistband.
Holding the under lap onto the skirt using long and short tacking stitches.
Do not hem.
Working of buttonhole.
At the end of the examination, firmly sew onto your work, on a single fabric a label bearing your name and index number. Remove the needle and pins from your work, then fold your work neatly and place it in the envelope provided. Do not put scraps of fabric in the envelope.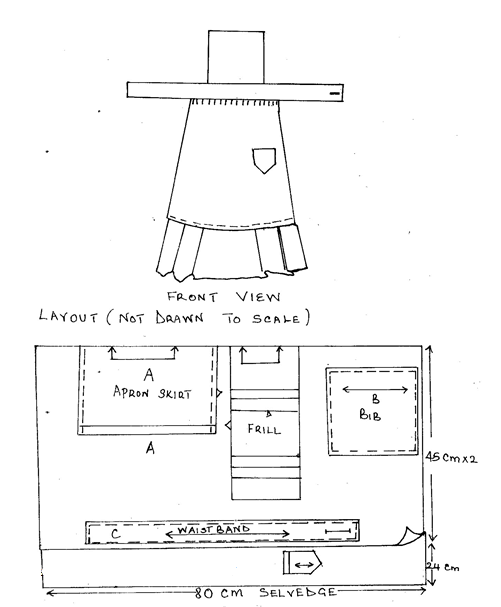 CONFIDENTIAL
The following materials will be provided by the school:
Plain light weight cotton fabric 80cm long by 114cm wide
Sewing thread to match the fabric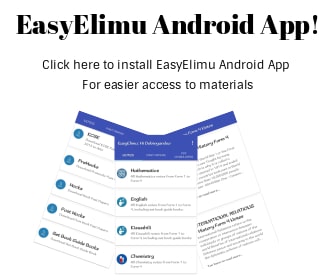 ---
MARKING SCHEME
PRESENTATION:

Work well pressed (½) and well folded (½) and neat ½
Label (½) firmly stitched (1) without concealing details (½) and on a single fabric (½).
Pins/needless (½) and unnecessary threads (tacking) (½), loose threads (½) removed.

CUTTING OUT :
Smooth cutting of:

Apron skirt cut along the grain (1 ) on fold(1)and smoothly(1)
Bib cut on the grain (1) and smooth(1)
Waistband cut on grain (1) and smoothly cut(1).
Frill cut on the grain (1) and smoothly cut(1)
Pocket cut on the gran and smoothly cut(1)

BIB


Double bib
Straight stitchery
Trimming of seam up to 3mm.
Good knife edge and lying flat.
Well pressed.

ATTACHING BIB TO WAISTBAND

Matching notches.
Sandwiching bib between the waistbands.
Trimming of raw edge.
Stitchery.
Stitching the belts; (2) knife edge (1)
Flatness of seam

FRILL




Knife pleats (½ each)
Pleats on straight grain.
Correct size of pleats.
All four pleats made.

OVERLAID SEAM:


Stitching close to the fold.
Straight stitchery.
Trimmed on raw edge to 3mm.
Matching the dots and notches to 3mm.
Neatening the raw edge using suitable loop stitches (2) (8cm from right) (½)
Flatness of seam.

HEMMING RIGHT HAND EDGE:


Folding along the fold line.
Fold line on skirt matching with fold line on frill.
Stitchery
Flatness

ATTACHING WAISTBAND TO SKIRT


Even distribution of gathers.
Matching dots on skirt with dots on waistband.
Stitchery.
Trimming the seam to 3mm.
Seam well pressed.
Short (1) and Long tacking (1) on underway (1)

BUTTON HOLE


Cutting on straight grain.
Correct size.
Use of button hole stitches.
Evenness of stitches.
Square end
Round end
Button hole not gaping

PATCH POCKET


Top correctly hemmed.
Raw edge well hidden
Pocket turnings well tucked under
Evenly trimmed
Straight stitches used
Stitching close to the fold
Pocket reinforced at the corners
Correct positioning
Correct size (½) and shape (½)
Flatness of pocket
Total marks 90/2 45