QUESTIONS
SECTION I
Listening Comprehension (15 marks)
Passage 1
Listen to the conversation carefully and answer the following questions.
Wo spielt die Szene?
Wer hat eine Bitte?
Was hat Baraka vergessen?
Was kann er in seiner Situation nicht machen?
Passage 2
Wo spielt die Szene?
Was macht der Arzt im Moment?
Wann kann dieser Patient den Arzt sehen?
Wo wartet der Patient?
Passage 3
Listen to the passage carefully and answer the following questions by indicating whether the statements are True (R) OR False (F)
Richtig R
Falsch F
9) Wir wollen unsere Umgebung akzeptieren.
10) Das ritchtige Image braucht keine Accessories.
11) Man kann nicht so tun, als ob man eine andere Person wäre.
12) Die richtigen Farben spielen eine wichtigen Rolle.
13) Man sollte harmonisch mit seiner Figur und seinem Körpertyp arbeiten
14) Bei Frauen ist Make-up nicht so wichtig
Passage 4
Hat Marias Mutter die beiden geschickt, für sie einzukaufen?
In welchem Geschäft kaufen die beiden ein?
Welche drei Sachen stehen auf der Einkaufsliste?
Aus welchen Ländern kommen die exotischen Früchte?
Wie viel Geld haben die beiden im ersten Laden ausgegeben?
Wie viel Geld erwartet der Verkäufer von Katanas Mutter?
SECTION II(20 marks)
Write a letter or an essay of about 220—250 words on ONE of the following topics in the pages provided.
Deine Freunde/deine Freundinnen in Deutschland interessieren sich für kenianische Musik.
Schreibe einen Brief und informiere sie über folgende Punkte:

Welche Musik hörst du gem und warum?
Was hältst du von deutscher Musik?
Welche kenianische Musikbands sind bei Jugendiichen beliebt?
Welches Musikinstrument spielst du oder würdest du gem lemen?
Welches Konzert würdest du unbedingt besuchen?

Schreibe einem deutsehen Brieffreund/einer deutschen Brieffreundin Uber Freizeitaktivitäten in deinem Heimatland und berucksichtige dabei folgendes:

Die beliebtesten Freizeitaktivitäten bei Jugendlichen in deinem Heimatland,
Unterschiede zwischen Freizeitaktivitäten in Deutschland und in deinem Land,
Vorteile und Nachteile der Freizeit unter Jugendlichen,
Deine Meinung über Freizeit in der Schule,
Deine Lieblingsfreizeitaktivität.

Kannst du dir vorstellen, einen wichtigen Preis zu gewinnen? Das ist mir passiert.
Schreibe die Geschichte zu Ende.
Schreibe einen Aufsatz über das Thema: ,, Die Zeit bedingt das Leben"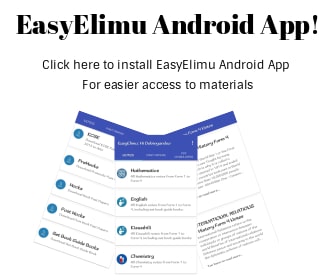 ---
MARKING SCHEME
In der Bibliothek
Baraka
den /seinen Ausweis
Bücher/ein Buch ausleihen
Im krakenhaus/an der Rezeptiohn/ bien Arzt
er besucht Patienten im krankenhaus
nach/in einer Stunde /nach 60 minuten /am nächsten Tag ab 11 uhr
Im Wartezimmer
Wir wollen unsere
F
R
F
R
R
F
F
nein
beim obsthändler
Obst, Gemuse,Milch
Israel/südàfrika, Uganda
890 schilling