QUESTIONS
STATION 1
INSTRUCTION
Figure below show parts of a single disc brake system.
In the space provided, sketch in good proportion assembled diagram of the system. (7marks)
Label six parts (3marks)

STATION 2
INSTRUCTIONS
Using the tools, equipment and material provided make the drive key as shown in figure 2. (10marks)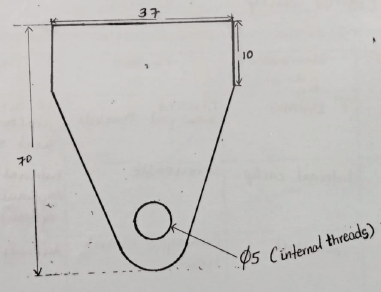 STATION 3
INSTRUCTIONS
Study and identify the components labelled as: (2marks)
Q, W, Z, O
Describe the condition of the component and state where its applicable. (4marks)


| | | | |
| --- | --- | --- | --- |
| Part | Identification | Condition | Application |
| Q | | | |
| W | | | |
| Z | | | |
| O | | | |

State the remedy action to be taken on component labeled: (2marks)

Sketch and label 2 parts of component O. (2marks)
STATION 4
INSTRUCTIONS
(REST STATION)
STATION 5
INSTRUCTIONS
Carry out visual inspection of the aircraft tyre provided and do the following:
Identify four manufacturers specification and state the meaning of each: (4marks)
Identify two rejection criteria of the aircraft tyre. (2marks)
Explain the cause of your answer in (b). (1mark)
State the type of material used to make the aircraft type. (1mark)
Name the two markings labeled as R and S and state the importance of each during aircraft maintenance. (2marks)
STATION 6
INSTRUCTIONS
The system components labelled M to Q are defective. in the table below record each component the name ,the defect and method of rectification (10marks)
| | | | |
| --- | --- | --- | --- |
| Item | Name | Defect | Method Of Rectification |
| M | | | |
| N | | | |
| O | | | |
| P | | | |
| Q | | | |

STATION 7
ISTRUCTIONS
Name the tools labeled as and P. (2marks)
State the maintenance practice to be carried out on the each of the tool named above. (2marks)
Identify the locking mechanism displayed in the picture below. (1mark)

Using the tools and materials provided practice the locking method illustrated in the picture above and let the examiner check your work. (5marks)
STATION 8
INSTRUCTIONS
Study the instruments and components provided and answer the questions below.
Make a well cross section labelled diagram of the instrument provided labelled as K. (4marks)
State the principle of operation of K. (1mark)

Identify the components labeled 1 and 2 then state the function of each. (2marks)
Sketch component 2 and label 2 parts. (2marks)
State the principle of operation of component labelled 2. (1mark).
STATION 9
INSTRUCTIONS
Identify the type of aircraft material labeled 1, 2, 3, 4: (4marks)
State where the material labelled as 3 and 4 are applied. (2marks)
On the aircraft model provided, identify the type of material suitable to construct the parts labeled as X, Y, Z, P: (4marks)
STATION 10
INSTRUCTIONS
Identify the type of tools labeled X and Y then state their functions. (2marks)
Using the tools and material provided strip the wire end labelled 1each part at 10mm. (3marks)
In the spaces provided below illustrate the drawing of the stripped end and label parts of the cable. (2marks)
Identify the type of cable. (1mark)
State the area of application of the cable. (2marks)