Click the link below to download as a full set with all the subjects.
https://downloads.easyelimu.com/details/32-Maranda_High_School_2018_Form_1_End_Term_1_Past_Papers
KISWAHILI
KARATASI MSETO
SAA 2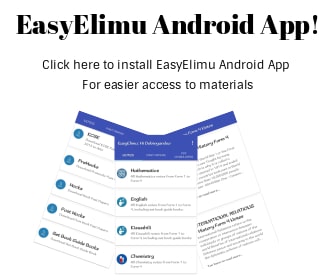 SHULE YA UPILI YA MARANDA
KISWAHILI KIDATO CHA KWANZA
MTIHANI WA MWISHO WA MUHULA 1, 2018
Maagizo
Jibu maswali yote katika nafasi zilizoachwa wazi kwa kutumia Kiswahili sanifu
Makosa ya tahajia na sarufi yataadhibiwa

1. MATUMIZI YA LUGHA (alama 40)
Tambua sauti zifuatazo: (alama 3)

Irabu ya nyuma wastani.
Irabu ya kati tandazwa.
Kikwamizo sighuna cha ufizi.

 

Huku ukitoa mfano mwafaka, eleza dhana silabi wazi. (alama 2)
Eleza muundo wa silabi katika neno tafrija. (alama 2)

Kanusha:
Mtoto anaimba na kucheza
 

 Eleza maana ya shadda. (alama 2)
Wekea shadda maneno yafuatayo: (alama 2)
Karatasi............
Nzi...................

Geuza kwa udogo: (alama 2)
Mti ule ulianguka baada ya mvua kubwa.
Andika sentensi ifuatayo katika hali ya wingi: (alama 2)
Popo aliruka akatua mgombani.
Sahihisha: (alama 2)
Tulipofika nyumbani tulimkuta hayuko.
Andika maana mbili tofauti za neno: panda. (alama 2)
Tunga sentensi kudhihirisha matumizi ya ngeli U-I (alama 2)
Bainisha maneno katika sentensi ifuatayo: (alama 2)
Msichana mrembo ataleta machache
Sabalkheri ni salamu za asubuhi. Jibu lake ni... (alama 1)
 

Eleza maana ya mzizi. .(alama 2)
Onyesha mizizi ya maneno yafuatayo:
Mdharaulifu..
Kuombea..

Eleza maana ya methali: mgaagaa na upwa, hali wali mkavu. (alama 2)
Bainisha viambishi katika neno: atampikia. (alama 3)
Tambua aina za sentensi zifuatazo kutokana na kiimbo: (alama 3)

Watu wanakula nyoka.
Watu wanakula nyoka?
Watu wanakula nyoka!

Kamilisha tanakali zifuatazo. (alama 2)
Shillingi huanguka mchangani......................na Tom amejifunika...........

2. FASIHI SIMULIZI (ALAMA 20)