SECTION A
What is fish farming? (2 marks)
State three ways in which the government of Kenya is encouraging fish farming. (3 marks)

Apart from biomass name two renewable sources of energy in Kenya. (2 marks)
Describe how biomass is used to produce energy. (3 marks)

Differentiate between bilateral trade and multilateral trade. (2marks)
Give three reasons why leading supermarkets in Kenya may have closed several branches. (3 marks)

Differentiate between environmental management and environmental conservation. (2 marks)
Give three reasons why human diseases are considered environmental hazards. (3 marks)

State five benefits of mining of soda ash to the Kenyan economy (5 marks)
Study the photograph below and use it to answer questions a (i)-(iii)



Identify the type of photograph shown above. (1 mark)
Name two counties in Kenya where the photograph could have been taken. (2 marks)
Draw a rectangle measuring 15cm by 10cm. On it sketch and label three features shown on the Photograph. (4 marks)

State three physical conditions that influence growing of wheat. (3 marks)
Give two industrial uses of wheat. (2 marks)

Describe the cultivation of wheat from land clearing to harvesting. (5 marks)
Compare wheat growing in Kenya and Canada under the following subheadings.


Marketing (2 marks)
Research (2 marks)

State four problems facing wheat farming in Kenya (4 marks)

The diagram below shows major highways in Africa. Use it to answer the questions below.



Name the highways marked S and T. (2marks)
Name the country marked A. (1 mark)

State three problems facing road transport in Kenya (3 marks)
Explain three benefits that will accrue to the Kenyan economy from many road construction projects going on in the country. (6 marks)

Give three reasons why there is limited use of Lake Victoria ports (3marks)

Name two canals on the St. Lawrence Seaway. (2marks)
Explain four roles of the Great Lakes and the St. Lawrence Seaway to the economies of USA and Canada. (8marks)

Name three types of settlement patterns. (3marks)
Explain three economic factors that influence the location of settlement (6marks)

State three factors which encourage the emergence of slums in urban areas in Kenya (3marks)

Give three examples of gap towns in East Africa. (3 marks)
Explain how the following factors influenced the growth of New York City.


United Nations Organisation Headquarters (2 marks)
Unique Street Designs (2 marks)

Explain three problems that are arising from rapid growth of Kenyan Cities. (6 marks)

State four physical factors that influenced the location of Mwea-Teberre irrigation scheme. (4 marks)
Explain two benefits of Perkerra irrigation scheme to the Kenyan economy (4 marks)
State five problems experienced in irrigation farming in Kenya. (5 marks)

Describe the stages in the reclamation of land from the sea in the Netherlands (6 marks)
State three uses of polders in Netherlands (3 marks)

Your class carried out a field study on reclaimed land on river Yala

State one type of hypothesis you formulated (1 mark)
Give two methods of data recording you may have used (2 marks)

What is population growth? (2 marks)
Explain three factors that have contributed to high population growth rate in Kenya. (6 marks)

State four reasons why it is important for a country to carry out a population census. (4 marks)
Explain how the following factors have influenced population distribution in East Africa.

Pests and diseases. (2 marks)
Government policy (2 marks)

State four problems of slow population growth in developed economies (4 marks)
Highlight the differences between population trends in Kenya and those of Sweden (5 marks)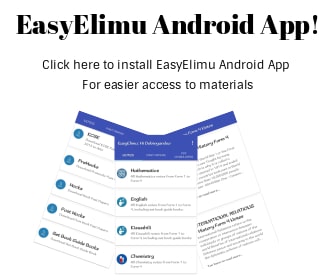 ---
Marking Scheme
SECTION A
What is fish farming? (2 marks)
✓ Fish farming is the keeping/rearing of fish in ponds for commercial purposes.
State three ways in which the government of Kenya is encouraging fish farming. (3 marks)
Provision of technical and financial assistance to fish farmers by the Ministry of Livestock
✓ Setting up demonstration farms/hatcheries to sensitize on proper management of fish farms through the Lake Basin Development Authority.
✓ Government's food policy encourages communities to set up fish farms as part of millennium development goals/embrace fish eating culture.

Apart from biomass name two renewable sources of energy in Kenya. (2 marks)

Sun
Wind
✓ Tides/wave
✓ Hydra
✓ Geothermal
✓ Fuel

Describe how biomass is used to produce energy. (3 marks)

✓ Plant and animal remains are burnt/fermented/decomposed to produce heat
The heat is then used to produce steam which is then used to turn turbines producing electric energy
✓ Alternatively animal manure can be decomposed to produce methane gas and biogas which is then used domestically for cooking

Differentiate between bilateral trade and multilateral trade. (2 marks)

✓ Bilateral trade is exchange of goods and services between two countries while multilateral involves an agreement between several countries involving exchange of goods and services

Give three reasons why leading supermarkets in Kenya may have closed several branches. (3 marks)

✓ Exorbitant fees/rent charged on businesses by counties/landowners that lowers profit margins
low purchasing power among citizens as a resuelt-of-powerly reduced-sales
✓ Increase in small retail shops/open air market/hawkers/dukas in estates that sell similar goods at cheaper prices/on credit
✓ High taxation on large scale retailers making their goods expensive hence low sales
✓ Mismanagement and corruption that leads to losses hence closure

Differentiate between environmental management and environmental conservation. (2 marks)

Environmental management is the planning and implementation of a plan to ensure effective and proper utilization of available resources in the environment while environmental conservation is the protection/preservation/proper utilization of available environmental resources for posterity

Give three reasons why human diseases are considered environmental hazards. (3 marks)

✓ Diseases may lead to death of human
declining productivity
✓ Diseases also increase expenditure of countries on medical care reducing resources for environmental issues
✓ Diseases increase food insecurity hence famine

State five benefits of mining of soda ash to the Kenyan economy (5 marks)

✓ It has contributed to the development of Magadi town and of social amenities such as hospitals and schools that have benefited the local people,
✓ It has stimulated the development of roads and rail transport e.g. the Konta- Magadi Railway, Nairobi-Magadi road, thus made movement of people and goods easy.
It has provided employment to many Kenyans, earning them income thus raising the living standards
It has promoted industrial growth by providing raw materials in the following industries: oil refining, paper making, glass making
✓ Earns foreign exchange-through exports of soda ash the country used in the development of other sectors of the economy
✓ Saving of foreign exchange/import expences by being available locally. The savings are then used to finance other developments
✓ Earning the government revenues through taxations and tarrifs - the money is used locally for the development of the country.

Study the photograph below and use it to answer questions a (1) - (iii)

Identify the type of photograph shown above.
✓ Ground close up
Name two counties in Kenya where the photograph could have been taken.

✓ Nakuru
Narok ✓
Trans Mara
✓ Laikipia
✓ Uasin Gishu
✓ Nyandarua
✓ Meru

✓ Rectangle drawn 15cm x 10 cm...... 1 mark
Combined harvester sketched and named .......... 1 mark
✓ Mature wheat plant wheat spikes sheatfield sketched and named ... 1 mark
Sky named..................l mark

State three physical conditions that influence growing of wheat. (3 marks)

✓ An open rolling topography provides adequate drainage and facilitates the use of machinery.
✓ Moderate to high rainfall ranging between 500mm - 1270mm during the growing period
✓ Warm temperatures of 150 C-20°C for at least three months-to-enable-maturity of wheat
✓ Warm and dry sunny period to enhance ripening and harvesting of wheat - Deep and fertile well drained volcanic soils - High altitude areas ranging between 1500 - 2900m above the sea level to reduce incidences of pests and diseases

Give two industrial uses of wheat. (2 marks)

✓ Wheat is a raw material for confectioneries/bakeries
✓ Wheat is used in alcohol based industries for production of starch/malt/

Describe the cultivation of wheat from land clearing to harvesting. (5 marks)

✓ The land is first cleared and ploughed using tractors
✓ The land is then harrowed to allow weeds and stray wheat grains to germinate and be killed during the next harrowing
✓ Fertilizers and manure are added to the land after the last harrowing
✓ Wheat seeds are then sown using drills pulled by tractors or broadcasting in case of small scale farmers
✓ Spraying the crop against weeds and weeding is done at regular intervals till it attains maturity
✓ Harvesting of Wheat - This is done manually by cutting the wheat heads using sharp knives/sickles for small scale holdings or using combine harvesters (reaps, threshes the wheat and bales the straw in a single operation) for large scale farmers

Compare wheat growing in Kenya and Canada under the following subheadings

Marketing (2 marks)
✓ In Kenya farmers sell wheat to Cereals Board (NCPB) or directly to private millers while in Canada wheat is sold by Canada wheat board
✓ In Kenya wheat is mainly produced for local market while in Canada wheat produced is for both local export market
Research (2 marks)
✓ In Kenya, little wheat research is carried by KARI and KARLO on improved varieties on while in Canada advanced wheat research is done by Canadian Wheat Research Coalition

State four problems facing wheat farming in Kenya (4 marks)

✓ Pests e.g. dusty brown beetle, cereal weevils, quelea birds reduce the quality and quantity of produced wheat
✓ Diseases e.g. stem rust, brown leaf rust that reduce the quality and quantity of produced wheat
✓ Price fluctuations in the domestic markets due to broking by middlemen; farmers get very low profits
✓ Inadequate capital/high costs for buying farm inputs (machinery and fertilizers) leads to marginal profits

Name the highways marked S and T.

S-Trans Africa Highway
T-Great North Road

Name the country marked A. (1mark)

State three problems facing road transport in Kenya (3 marks)

✓ Roads are expensive to maintain Kenya has inadequate capital for the same
✓ Many road accidents that lead to loss of life and property
✓ Traffic jams in urban areas
✓ Potholed roads due to substandard works
✓ Impassable roads especially murram roads during rainy seasons
✓ Reckless drivers/poorly trained drivers who do not obey traffic rules
Unroadworhty vehicles that ply on the roads

Explain three benefits that will accrue to the Kenyan economy from many road construction projects going on in the country (6 marks)

✓ Creation of employment e.g. construction workers thus improving their living standard
✓ Enhanced movement of goods and services thus promoting trade
✓ Increased accessibility of healthcare/education improving living standards
Promotes growth of new housing units thus growth of urban centres
✓ Promotion of national image as good roads improve the standing of the country e.g thika superhighway
✓ Reduced traffic jams will lead to reduced usage of fuel saving on foreign exchange
✓ Reduced road accidents due to poor roads will save lives and property

Give three reasons why there is limited use of Lake Victoria ports (3marks)

✓ Presence of water hyacinth that limits movement of water vessels
✓ Underdeveloped/ dilapidated port infrastructure
✓ Collapse of the east Africa community reduced trade between the EAfrican ccountries thus reduced demand of the waterway
Production of similar goods among the east African countries limiting use of the ports
Lack of proper linkages with railwas or roads that feed the ports
Low/lack of industrial output
Mistrust between east African countries limiting full tapping of the waterway potential

Name two canals on the St. Lawrence Seaway. (2 marks)

✓ Welland canal
Soo canal
Sault st. marie canal
✓ Rudeau canal

Explain four roles of the Great Lakes and the St. Lawrence Seaway to the economies of USA and Canada. (8marks)

✓ Ease of movement of goods and services has boosted trade between the two countries
✓ Creation of employment opportunities has improved living standards
✓ The seaway has many waterfalls eg niagara is a tourist attraction thus promoting tourism
Towns such as montreal have developed leading to more urbanization
✓ Industries like pulp/grain. have developed promoting industrialisation
✓ Improved accessibility has boosted trade
✓ Water from the reservoirs along the seaway is used for irrigation
✓ The waterfalls have been tapped to produce HEP that provides energy to industries

Name three types of settlement patterns (3marks)

✓ nucleated settlement pattern
dispersed settlement pattern
linear settlement pattern

Explain three economic factors that influence the location of settlement (6 marks)

✓ Settlement of nomadic pastoralists are temporary, scattered and at times moveable
Permanent settlements are found in areas where people are engaged in arable farming and form specific pattern
✓Concentrated settlements are found in mining and fishing areas as people settle around to provide labour
Establishment of manufacturing processing industries lead to growth of settlement to provide labour to the industries

State three factors which encourage the emergence of slums in urban areas in Kenya (3marks)


Increased Rural-urban migration leading inadequate housing
Poor house planning in many urban centers in Kenya
✓ Colonialism and segregation that led to some sections of urban centers not having basic amenities
✓ Poor infrastructure, social exclusion and economic stagnation.
✓ Informal economy in low income areas
✓ Poverty among the residents
Political reasons especially politicians fight to maintain status quo
Short sighted economic rent seekers

Give three examples of gap towns in East Africa. (3 marks)

✓ Voi in Kenya
✓ Moshi/Tabora in Tanzania
✓ Hoima in Uganda

Explain how the following factors influenced the growth of New York City

United Nations Organisation Headquarters (2 marks)
✓ The headquarters hosts hundreds of thousands of UN staff who work and live in the city and whose numbers continue to increase every year thus supporting its growth
Unique Street Designs (2 marks)
It has many, well numbered and organised streets/ right angled avenues/manhattan distance that makes movement in and out of the city very easy thus making it attractive and thus its growth.

Explain three problems that are arising from rapid growth of Kenyan Cities. (6 marks)

Traffic congestion leading to traffic jam during rush hours leading to loss of time/delays
Unemployment due to rapid rural urban migration
Inadequate housing due to rapid population growth results to increased rents/development of slums.
Uncontrolled disposal of liquid/solid wastes lead to water and land pollution
Inadequate public utilities/social amenities... acute water shortage power rationing their prouision doesn't match population increase
Criminal activities eg. mugging prostitution, drug trafficking, etc. due to high rates of unemployment and slow economic growth

State four physical factors that influenced the location of Mwea-Teberre irrigation scheme. (4 marks)

✓ Presence of perennial riwers; Thiba, Nyamindi and Murubara that provided adeguate water for irrigation
The Mwea plains have black cotton soils, with high water retention capacity, that are suitable for rice farming/ growing
The area around Mwea experiences low, unreliable and poorly distributed rainfall hence not suitable for rain fed agriculture thus the need for irrigation
Presence of loamy soils ensured cultivation of other crops to support families settled
Presence of gently sloping land which made it possible for irrigation farming,

Explain two benefits of Perkerra irrigation scheme to the Kenyan economy. (4 marks)

✓ Offers employment opportunities to many people in the farms/mills earning them income hence improving their living standards.
✓ Increased food production: The scheme contributes to the bulk of Kenya's rice thus saving some foreign exchange that would have otherwise-been used to import rice
✓ Settlement: the scheme has provided land for settling the landless who lacked farms before
✓ Successful control of floods that were a menace before through construction of dams/reservoirs
✓ Led to effective use of land that was initially barren hence enhancing food security and eradicating poverty
✓ Creation of social amenities such as schools, churches, hospitals that have been provided thus improving the living standards
✓ Infrastructural improvement: as roads have been built linking the farms to the markets which have in turn opened up the otherwise remote areas for development.

State five problems experienced in irrigation farming in Kenya. (5 marks)

Stagnant waters in the plots and canals encourage the breeding of snails and mosquitoes that spread diseases (bilharzia and malaria) that weaken the farmers hence causing low output
Some irrigation schemes are located in sparsely populated areas/far from urban centres where there is ready market e.g. Perkerra, Hola, Katilu, etc.
Mismanagement that has led to the collapse of some irrigation schemes e.g. Hola, Bura, Ahero, West Kano
Some irrigation schemes eg. Hola/Bunyala are affected by floods during the rainy season that destroy the crops grown and infrastructure
Crops planted in the schemes are often attacked by pests and diseases e.g. Quelea birds, root rot, etc. destroy the crops in the fields thus lowering their quality
Inadequate capital to hire labour for planting, weeding and harvesting/purchase equipment/meet operational costs
Siltaion of the canals requiring frequent dredging: expensive thus reducing the price margins and reduces the capacities of the dams

Describe the stages in the reclamation of land from the sea in the Netherlands (6 marks)

✓ Protective dykes were constructed to enclose the part of the sea to be reclaimed. The dykes were to protect the land from getting flooded during high tide.
Ring canals were constructed to carry water from the areas to be reclaimed.
Pumping stations were installed sea water was pumped out of the area enclosed by the dykes.
Reeds were sown to prevent weeds from growing and to utilize excess water in the area so that the soil could dry.
✓ The area was divided into rectangular portions using inner dykes and ring canals.
✓ The soils were treated with chemicals to lower their salinity.
✓ The drained land was flushed with chemicals to remove salts from the soil.
✓ Pumping out water from the polders was a continuous process to prevent the water from accumulation in the reclaimed land.

State three uses of polders in Netherlands (3 marks)

✓ Reclaimed areas have provided land for settlement/towns and establishing social public utilities e.g. schools, hospitals, etc.
✓ Reclaimed land fertile and suitable for growing of crops e.g. fruits, vegetable, oats, beetroot, potatoes, barley, wheat, etc.
Success story of the project attracted tourist thus earned Holland foreign exchange which is used for developing other sector of the economy.
✓ The fresh water from lake Yssel/Ijssel seeps underground reducing the salt content in the neighbouringregions, more land has now become available for grazing and farming with better yields

Your class carried out a field study on reclaimed land on river Yala

State one type of hypothesis you formulated (1 mark)

A question form hypothesis e. g is there a relationship between crops grown on reclaimed land and increased food security
✓ An alternative hypothesis (Ha)e.g. there is a strong relationship between crops grown on reclaimed land and increased food security
Null hypothesis (Ho) e.g. there is no relationship between crops grown on reclaimed land and increased food security
(note: accept any relevant formulated hypothesis)

Give two methods of data recording you may have used

Filling in questionnaires
Labelling samples
Mapping
Note taking/writing short notes
Taking photographs/recording videos
Tallying

What is population growth?(2 marks)
✓ This refers to (a positive or negative) change that occurs in the number of people in a population over a given period.
Explain three factors that have contributed to high population growth rate in Kenya. (6 marks)

High birth rates among many Kenyan communities as a result of improved nutrition/better medical care/low uptake of family planning has led to increase in the number of people
✓ Rapidly declining death rates because of improved medical care/improved nutrition has increased life expectancy leading to increased population
✓ Increased migration especially from war torn Somalia who have decided to settle has increased the population of Kenya tremendously

State four reasons why it is important for a country to carry out a population census.(4.marks)

It gives the characteristic features of a population in terms of age, sex, ethnicity, education and occupation
✓ Provides information on trends and levels of fertility and mortality thus helping the government in the provision of basic amenities
helps the government in division of administrative units e.g. sub counties, wards, constituencies

Explain how the following factors have influenced population distribution in East Africa.

Pests and diseases. (2 marks)

✓ Lambwe valley in Kenya is sparsely populated due to tsetse fly infestation that cause diseases to humans
Some coastal areas in Kenya like Lamu/Bagamoyo in Tanzania are sparsely populated due to tsetse fly infestation
Some areas in central Nyanza near the shores of lake Victoria e.g Bondo are sparsely populated due to high prevalence of malaria and typhoid

Government policy. (2 marks)

✓ Government initiated settlements like Lugari/Mwea/Laikipia that were once sparsely populated now have dense-settlements
Ujamaa villages in Tanzania set up by the governments are densely settled while other villages have sparse population

State four problems of slow population growth in developed economies (4 marks)

Small labour force may lead to importation of foreigners to provide labour to their economies.
✓ Underutilization of existing resources such as schools, hospitals
Slow growth of industries due to the small market and shortage of labour force.
Un even distribution of population causes regional imbalance in a country
✓ Rural depopulation caused by high influx to urban areas lead to abandonment of same areas of farms.

Highlight the differences between population trends in Kenya and those of Sweden (5 marks)

✓ Kenya has a relatively high population (about 40 million) while Sweden has low population (about 9 million)
Kenya has a high rate of natural population increase (high population growth rate) while Sweden has a low rate of natural population increase (low population growth rate)
✓ Kenya experiences low life expectancy while Sweden experiences high life expectancy
✓ In Kenya, the population disregards high use of birth control measures while in Sweden population embraces use of birth control measures
✓ In Kenya, most of the population is in the rural areas while in Sweden the majority is in urban.
✓ Kenya population has many young people aged below 20yrs while Sweden has an aging population.
✓ In Kenya, the dependency ratio is high while in Sweden, the dependency ratio is low.