INSTRUCTIONS TO CANDIDATES
Answer ALL the questions in this paper in the spaces provided
Question 1
FUNCTIONAL WRITING(20 MARKS)
A friend has written to say that he will be traveling to another country via Kenya. He hopes that you can host him for a day in your house. However, something very important comes up the material day and you have to be away. You leave the key to your house with a neighbour who will give it to your visitor.
Write a letter to that friend explaining the situation. Also assist him prepare dinner in your absence.
Question 2
CLOZE TEST (10 MARKS)
The African business climate (1)………. unpredictable. Many contracts are difficult(2) ……….. enforce due to inefficient judiciary(3) ……….. high level corruption. Africa is(4)……………... by aid money from wealthy nations. To cover(5) ……..for this fact, developed countries media address the corruption issue by implying that African leadership is(6) ……..….. corrupt! Corruption is not an individual(7) …………….…. It is a process; a systematic issue that can only(8) ……... addressed by discouraging the incentive behind it. Part of the (9)………………. is the developed nation willingness to bank all the stolen(10) ……………..….. from Africa.
Question 3
ORAL SKILLS (30 MARKS)
Read the following poem and then answer the questions that follow
Happy Baby
Her lips suckle the nipples
Milk bubbles, foams and ripples
Little hands up in the air
Catch on the mother's hair
Sweet sensation rises in pressure
Tiny legs kick pleasure
Sleep comes gently and strong
Sleep whispers softly and long

Describe the rhyme scheme of the poem. (2 Marks)
Give and illustrate two oral features of style. (4 Marks)
Which two words would you stress in line 2, and why? (2 Marks)

For each of the following words, construct two sentences to bring out the difference in meaning. Do not change the form of the word. (4 Marks)

Produce
Beat

Suppose you are reciting a solo verse to a big audience, what problems are you likely to encounter?
(3 Marks)
Identify and underline the word that is pronounced different in each of the following set. (5 Marks)

Sew Sue Sow
Hair Air Heir
Hard Heard Herd
Fort Forty Fought
Cause Coarse Course

Complete the following dialogue with the most suitable expressions. (10 Marks)
You just witnessed an accident. A matatu rammed into a lorry. Many passengers have been seriously injured.
Matatu driver: Is there anyone here with a mobile phone? We have to call the police immediately.
You: ………………………………………………………………………………………………(1 Mark)
Matatu driver: Can you please call the police station and inform them about the accident?
You:………………………………………………………………………………………………(1 Mark)
Police officer: Yes. This is Pangani Police Station. Constable Mwania speaking. CanI help you?
You: Yes please. There has been a terrible accident.
Police officer: May I know who is calling please?
You:…………………………………………………………………………………………………………(2 marks)
Police officer: Where has the accident taken place?
You: On Gen. Waruinge Street, at the bumps next to Pumwani SecondarySchool.
Police officer: What happened?
You:………………………………………………………………………………………………………… (3 Marks)
Police officer: Really? Are there any casualties?You:………………………………………………………………………………………………………… (2 Marks)
Police officer: Don't worry, we will be there as soon as possible. Meanwhile, I will call the ambulance and also alert Kenyatta Hospital to be ready for casualties. Thank you very much master Leon for calling.
You: ………………………………………………………………………………………………………... (1 Mark)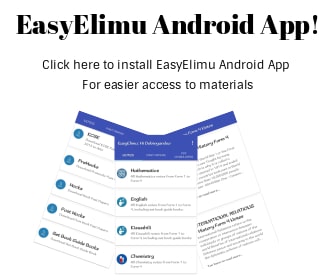 ---
MARKING SCHEME
Question 1
FUNCTIONAL WRITING(20 MARKS)
FRIENDLY LETTER
Format (6 Marks)
Address - 1 Mark
Date - 1 Mark
Salutation - 1 Mark
Complementary close i.e. Your friend -1 Mark
Signature -1 Mark
Writers name - 1 MarK
The body (9 Marks)
Introduction - 1 Mark (e.g. greetings)
Conclusion – 1 Mark (e.g. Apology)
The body should include the following information:
Reason for being away 1 Mark
Details on where and how to get the key. 2 Mark
What and how to prepare in brief (dinner)

What – 1 Mark
How – 3 Marks
Language (5 Marks)
A – Excellent, competent, apt vocabulary, appropriate tense, correct punctuation/spellings. (5 Marks)
B – Good, certain, candidate communicates with ease. (4 Marks)
C – Average, candidate not at ease with language. (3 Marks)
D - Poor, broken language (1 – 2 Marks)
Question 2
CLOZE TEST (10 MARKS)
is
to
and
assisted/helped
up
very
affair / issue
be
problems
money.
Question 3
ORAL SKILLS (30 MARKS)
poetry

Rhyme schemes – aabbccdd√1 Mark
Regular √1 Mark 2 Marks
Features of style

Repetition - sleep
Alliteration - Sweet sensation
Onomatopoeia - bubbles
Personification - sleep comes gently
sleep whispers softly
Rhyme - nipples and ripple
Air and hai
Pressure and pleasure
Strong and long
(Mark any two identified and illustrated styles)
1 Mark identification;1 mark illustration.
No mark for illustration without identification. 2 x 2 = 4 marks.

Stressed words

Milk, bubbles, foams, ripples (Any 2 words ½ each) – 1mark
Reason – they are content words. 1 Mark

The produce was poor (noun)
I will produce the book (verb) 1 Mark
or How man does produce!(verb)

I like the beat of that music (noun) 1 Mark
I will beat you now (verb) 1 Mark
NB the difference should come out for the candidate to score

Stage fright.
Not being audible.
Capturing the audience's attention fully
Maintaining eye contact.
Maintaining logical flow of ideas. (Any 3 x 1 = 3 Marks)

Saw.
Hair.
Hard.
Forty.
Cause. 5 x 1 = 5 Marks

Dialogue (10 Marks)
You: Yes. I do 1 Mark
You: Ok. Let me try ½ mark Hello ……………………½ mark
You: I am Leon; an eyewitness to the accident 1 Mark
You: There was a head on collision 1 mark. The matatu driver was trying to overtake a stationary lorry before it rammed onto the on coming bus. 2 Marks
You: Yes. (1 mark) Several people have sustained serious injuries, 2 Marks
You: Welcome. 1 Mark
(Accept any other relevant response)