Instructions to Candidates
Write your name and index number in the spaces provided above
Sign and write the date of examination in the spaces provided.
Answer all questions in this paper
In question 4 choose any two of the questions numbered (a), (b), (c) and (d)
DO NOT remove any pages.
Candidates should check the question paper to ensure that all the pages are printed as indicated and no questions are missing.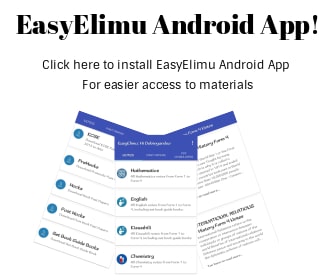 ---
QUESTIONS
SECTION A: BASIC SKILLS
Starting with the given opening, compose a melody of 16 bars for voice, modulating to the relative minor before returning to the tonic. Incorporate a duplet. (9marks)

Using staff notations compose a tune to suite the following lyrics. Add phrase marks. (6 marks)
Utu ni kitu adimu
Kipawa chake manani


Harmonize the following Soprano melody by adding Alto, Tenor and Bass. Use the following chords: I, ii, IV, V and vi. Incorporate passing 6 . (15 marks)

SECTION B: HISTORY AND ANALYSIS (48 marks)
3.AFRICAN MUSIC
Identify any two African ostinato chordophone (2 marks)
State one method of playing ostinato chordophone (1 mark)

Mwomboko is a dance from Kenyan community

Name the community that performs the dance. ( 1 mark)
Name the composition of the performers.( 1 mark)
Name the occasion in which the dance is performed.( 1 mark)
Identify two accompanying instruments.( 2 marks)

Mention any three function of lullabies in African societies.(3 marks)
Explain three qualities of good soloist. ( 3 marks)
4. WESTERN MUSIC
Answer any two of the questions (a), (b), (c) and (d).
William Byrd

Name any two of Byrd contemporaries. (2 mark)
Outline two aspects that show how Byrd worked together with his teacher. (2marks)
Give three features that characterized byrd sacred music ( 3 mark)

franz joseph haydn

Hydn is one of the musicians who are known as the Vienna 4 name the other three (3 marks)
Outline two ways in which Haydn developed as a composer, as a result of working for prince Esterhazy in the country side. (2marks)
Identify the following works ( 2 marks)

London……………………………………………………………………….
Symphony…………………………………………………………………….

franz liszt

Outline any three distinctive features that characterized liszt symphonic poems (3 marks)
In which period of music history was Liszt a composer? (1 marks)
Mention any three sources that influenced Liszt to be a reknown music composer (3marks)

Bella Bartok

Name any two composition by Bartok during the outbreak of world war one (2 marks)
Outline any three characteristics of Bella Bartok music (3 marks)
In which period did Bella Bartok live? ( 1 mark)
Identify the virtuosity of Bella Bartok ( 1 mark)
5. Prescribed Traditional African Music
Chiviti by diwani nzaro.
Briefly describe the ending section of this recording. (2 marks)
Outline three various musical elements which describe the main section. (3 marks)
Name the members of the media in this performance. ( 3 marks)
State any two common musical ideas that all the instrument share ( 2 marks)
6. Prescribed Western Music
Too much I once lamented
Analyze this music in terms of the following: (3 marks)

Harmony. …………………………………………………………………….
Dynamics.…………………………………………………………………..
Tonality……………………………………………………………………..

Identify three features of madrigals music used in this score. (3 marks)
State three compositional devices used in lyricism of the melodic passages in this score. (3 marks)
Describe the tempo of the music. (1 mark)
7. Unprepared Analysis
Study the music extract below and answer the questions that follow.

In which form is the melody written? (1 mark)
Identify two devices used to create rhythmic variety in the melody. (2 marks)

State the tonality of the melody. (1 mark)
In which key does the melody modulate before returning to the tonic? (1 mark)

State the texture of this melody. (1 mark)
SECTION C: GENERAL MUSIC KNOWLEDGE (16 marks)
8.
The following melody is written for clarinet in B flat .Write it in its concert pitch. (5 marks)

Differentiate between African harp and western harp ( 4 marks)

State three possible related keys when modulating from key of D major (3 marks)
Outline three differences between modulation and transposition. (3 marks)
State the role of a metronome ( 1mark)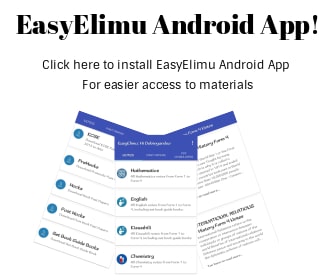 ---
MARKING SCHEME
Question 1
16 bars (1 mark)
Cadences (any 2 final inclusive) (2 marks)
Modulation (2 marks)
Lyricism (1 marks)
Duplet (1 mark)
Melodic Shape and curve (0.5 mark)
Rhythm (0.5 mark)
Phrase Marks (1 mark)
Total 9 marks

Syllabic division (1 marks)
Text setting to music (1 marks)
Rhythm (0.5 marks)
Melodic shape and curve (1 marks)
Lyricism (1 marks)
Cadences (1 marks)
Musicianship (0.5 marks)
Total 6 marks
Question 2
1marks for each correct chord (7.5 marks)
0.5 mark for each cadence (1 marks)
1.5 mark Voice leading (0.5 mark for each voice (ATB) 1.5 marks)
Range (mark as a whole) (1.5 mark)
Progression (4.5 marks)
Total 15 marks
Deduct marks (maximum 4.5 marks) for the following faults
Consecutive 5ths and parallel 8ves (0.5 mark each)
Overlapping of parts (0.5 mark each)
Crossing of parts (0.5 mark each)
Spacing in inner parts (0.5 mark each)
Exposed 5ths or 8ves (0.5 mark each)
Doubled 3rds in primary triads (0.5 mark each)
Wrong use of 2nd inversion chords (0.5 mark each)
Wrong note values (0.5 mark each)
Stems (mark as a whole) (0.5 mark each)
Question 3
(2 marks)

Obokano Nyatiti
Plucking (1 marks)

Kikuyu (1 marks)
Old men and women (1 marks)
Entertainment (1 marks)
Drum (3 marks
A chordion
Karingaringa

Functions of lullaby (3 marks)

To lull a baby
To soothe a baby
To express mothers love to the baby
To assure the baby of emotional security
For entertainment

(4 marks)

Audible
Courageous
Have a strong voice
Has strong language commands
Leadership ability
4. WESTERN MUSIC.
Answer any two of the following questions (a), (b), (c) and (d)
William Byrd 1543 – 1623

Name any two of Byrd's contemporaries ( 2 marks )

Orlando Di Lassus Weelkes
Thomas Tallis Wilbye
Thomas Morley Gibbons
Palestrina Dowland

Outline two aspects that show how Byrd worked together with his teacher ( 2 marks)

Joint organist at chapel royal
Granted monopoly to print and import foreign publications by Queen Elizabeth
Jointly composed a set of motets "cantiounessacrae"

Give three features that characterize Byrd's sacred music ( 2 marks )

Contrapuntal
Flexible rhythm/free rhythm
Rich complex imitative style
Used Cantus firmus
Polyphonic texture
Based on modes
Was melismati

Franz Joseph Haydn ( 1732 – 1809 )

Haydn is one of the musicians who are known as "The Vienna Four". Name the other three (3 marks)

Amedeus Morzart
Ludwig Van Beethoven
Franz Schubert

Outline two ways in which Haydn developed as a composer; as a result of working for Prince Esterhazy in the country side (2 marks)

Inculcation of originality in Haydns Compositions
Readily Available instruments for which he experimented for symphonic Orchestration
The high demand by the prince for new music motivated Haydn as a composer to compose more

Identify the following works (2 marks)

The London -Symphony
The Emperor -String Quartet

Franz Lists

(3 marks)

Used idee fixe( Leite motive
Personalise ( no traditional Hungarian hero)
Linked with some mood
Make the piano the equal of the orchestra

(1 marks)
(3 marks)

The father was a piano violin cello and guitar player
The symphony and song of Beethoven and Schurbert
Influenced by Nicola Paganini

Bella Bertok

2 marks

Ballet
String quartet
Opera
Iii 20th Centuary 1 mark

3 marks

All his music coloured with Hungarian folksong
Composed music using elements of Romantic period
His voice works had programmatic styles

Piano Virtuoso
5. PRESCRIBED TRADITIONAL AFRICAN MUSIC
Chivoti
Glissando (2 marks
Abrupt ending

Polyrhythmic (3 marks
Highly pitched
Monophonic

(3 marks)

Chivoti Aerophone
Shaken idiophone
Struck idiophone

They share tempo (2 marks
Community
Mark different sections
6. PRESCRIBED WESTERN MUSIC
Too much I once Lamented
(3 marks)

Harmony Five voice part
Dynamics p to f
Tonality Modal tonality

(3 marks)

Word devices
Melisma
Canonic imitations

Word painting (3 marks
Melisma
Canonic imitation
(1 marks)
Slow tempo
7. SECTION C: UNPREPARED ANALYSIS
Ternary form *1 mark
(2 marks)

Triplet
Dotted quaver and semiquaver

(1 marks)
Monophonic texture (1marks)
8. GENERAL MUSIC KNOWLEDGE
Concert pitch for a clarinet in B flat is F major ( 5 marks)

Western has metallic strings while African has synthetic strings 4 marks
Western has two arms while African has one
Western has a crossbar while African has one
Western has no resonator while African has it

G major
F major
B minor

modulation for a section while transposition for the whole piece 3 marks
modulation returns the tonic while transposition does not
modulation is for related keys alone while transposition can be done to any key

To count the number of beats in a performance 1 mark