HOME SCIENCE −
PAPER 2
INSTRUCTIONS TO THE CANDIDATES
Candidates must use machine stiches appropriately in the construction of the garment hand
stitches used instead of machines stitches will not be marked.
Hand stitches will only be allowed where specified.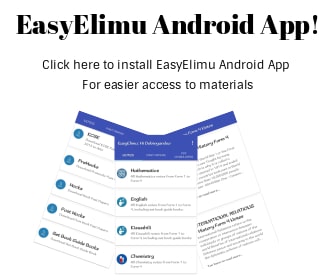 ---
Questions
A pattern of a girl's dress is provided.
You are advised to study sketches, instructions and the layout carefully before you begin the test.
MATERIALS PROVIDED
Pattern pieces


- Bodice Front
- Bodice Back
- Skirt Front
- Skirt Back
- Frill

Plain weight cotton fabric 73 cm long by 90 cm wide
Cotton sewing thread to match the fabric.
1 cm button
One large envelope
TEST
Using the materials provided cut out and make the LEFT HALF of the child's dress to show the
following processes;
Presentation and cutting out. (22mks)
Making of the front dart. (7mks)
The neatening of the free edge of the facing (5mks)
The folding of front facing and using it to neaten the front neckline (7mks)
Working of the shoulder seam using double stitched seam. (8mks)

The joining of the bodice front to the skirt front using a plain seam.
The joining of the bodice back to the skirt back using a plain seam. Neaten the seam using loop stitch 10cm from CF. (11mks)

Joining of both the bodice and the skirt side seams by use of an open seam. (8mks)
Preparing the gathers on the frill and attaching to the lower skirt using an overlaid seam. Neaten the seam using overcasting stitches 10 cm from Centre Front. (10mks)
Managing the hem on the lower side and holding it using long and short tackings. (7mks)
Attaching the button. (5mks)
At the end of the examination, firmly sew onto your work, on a single fabric, a label bearing your name and index number. Remove needles and pins from your work, fold your work neatly and place it in the envelope provided. Don't put scraps of fabric in the envelope.
LAYOUT (NOT DRAWN TO SCALE)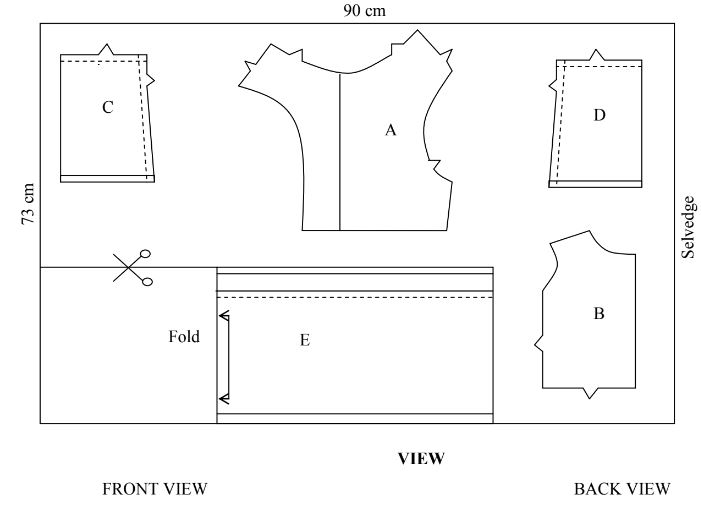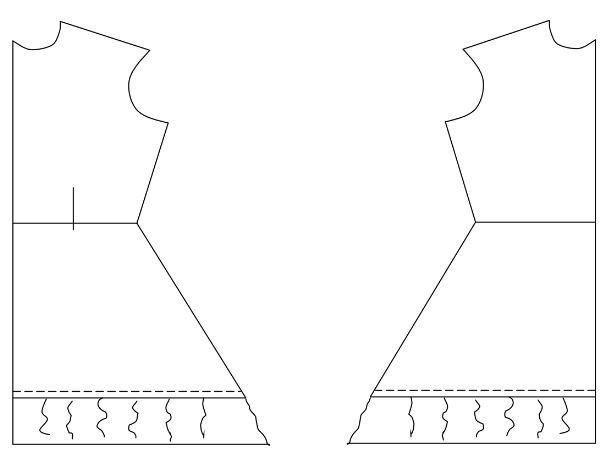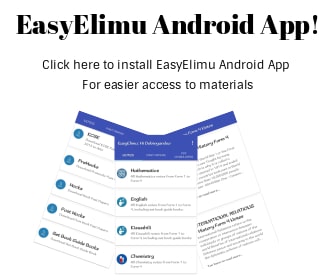 ---
Marking Scheme
TASK
MAXIMUM
SCORE
SCORE
REMARKS
1
PRESENTATION
a
b
c
d
Work well pressesd and folded.
Pins and unnnecessary tacking and hanging threads removed.
Clearly written label, firmly fixed on single fabric without concealing details
Made the left half
2
2
4
1
Sub total
9
2
CUTTING OUT
a
b
c
d
e
All five pieces cut out
The back bodice cut smoothly and on grain at CB
Skirt back cut smoothly and on grain at CB
Skirt front cut smoothly and on grain at CF
Frill cut on grain and smoothly at both CF and CB
5
2
2
2
2
Sub total
13
3
THE MAKING OF THE DART
a
B
c
d
e
f
Straight and firm stitchery
Dart tapering to a point without pocket
Secured at the point firmly
Correct width of dart 1cm to within 2mm
Correct length of the dart 6cm to within 2mm
Dart pressed to the CB and flat
1
1
1
1
1
2
Sub total
13
4
NEATENING OF THE FREE EDGE OF THE FACING
a
b
Free edge folded 0.5cm from the edge to
Smoothly and firmly stitched close to the edge
2
3
Sub total
5
5
NEATENING OF NECKLINE USING THE FRONT FACING
a
b
c
d
Front facing folded at the fold line
Neckline seam stitched smoothly and firmly
Neckline seam trimmed and snipped
Neckline flat and well knife edged
1
2
2
2
Sub total
7
6
SHOULDER SEAM (Double stitched seam if not give zero)
a
b
c
d
e
f
g
1st line done with firm and straight stitchery
Seam fell folded to the back
Raw edge neatly tucked in to conceal raw edge
2nd line done with firm and staight stitchery
Correct size of complete seam (0.6cm to within 2mm)
Eveness of the seam
Seam well pressed and flat on W.S and RS.
1
1
1
1
1
1
2
Sub total
8
7
JOINING BODICES TO SKIRTS USING PLAIN SEAMS (If not give zero)
a
b
c


d
e
f
g
h
i
j
Front bodice and front skirt joint with straight and firm stitchery
Back bodice and back skirt joined with straight and firm stitchery
Bodices and skirts flashing at CF and CB to within 2mm
NEANITENING using loop stitches.
(If not loop stitches, give zero g to j)
Seam turnings trimmed to 1cm
Both seams turnings neatened together
Neatening stitches reinforced firmly on and nd off
Used loop stitches to neaten
Made with correct tension of stitches
Eveness of the stiches
Neatened 10 cm from CF
1
1
2


1
1
1
1
1
1
1
Sub total
11
8
MAKING OF SIDE SEAM USING OPEN SEAM (If not give zero)
a
b
c
d
e
f
g
Firm and straight stitchery
Fastened at upper edge
Pressed open
Both seam turnings appropriately neatened
Correct size of the neatened seam turnings
Eveness of the seam turnings
Flat
1
1
1
2
1
1
1
Sub total
8
9
THE FRILL
i
THE PREPARATION OF GATHERS
a
b
Gathers made within the dots
Gathers evenly distributed
1
2
ii
ATTACHING THE FRILL USING OVERLAID SEAM (If not overlaid give zero)
a
b
c
d
e
f

g
h
Used staight and firm stitchery
Stitched close to the fold
Seam well trimmed to 1 cm to within 2mm
Both seam turnings neatened together
Neatening stitches fastened on anf off
Used overcasting stitches
(If not overcasting give zero to the end of this section)
Good tension
Eveness of the stitches
1
1
1
1
1
1

1
1
Sub total
10
10
HEM MANAGEMENT (using long and short tackings)
a
b
c
d
e
f
g
Eveness of the hem depth
Raw edges concealed
Correct depth of finished hem -1.5cm to within 2mm
Lying flat at the side seam
Used long and short tackings (If not give zero to the end of this section).
Correct tension of the stitch
Fastened on and off
1
1
1
1
1
1
1
Sub total
7
11
ATTACHMENT OF THE BUTTON
a
b
c
d
e
Correct positining of the button
Button firmly fixed
Made a shank
Loop stitches or buttonhole stitches made around the shank threads
Thread finished appropriately on the WS
1
1
1
1
1
Sub total
5
SUM TOTAL
90
x/2