SECTION A: (25 Marks)
Answer ALL questions
Name the main source of historical information used in grouping the language groups in Kenya
Name two communities that make up Western Bantu. 2mks
State two reasons why the Omani rulers were interested in establishing their control over the Kenyan coast. 2mks
State two ways in which Kenyan Communities interacted in the pre-colonial period. 2mks
Identify two ways in which the Maasai benefitted from their collaboration with the British. 2mks
Name two treaties that were used to partition East Africa. 2mks
Give one peaceful method of resolving conflicts in Kenya. 1mk
State two ways in which direct democracy is exercised in Kenya. 2mks
Name one development right of children. 1mk
Apart from Agikuyu give one community that practised mixed reaction to establishment of colonial rule by the British. 1mk
Give two ways in which education system in Kenya promotes National Unity . 2mks
State two characteristics of early political organization established in Kenya before 1932. 2mks
Give two members of the County Executive Committee 2mks
Give the main function of the parliament. 1mk
Identify one type of government expenditure in Kenya. 1mk
State one pillar of Nyayoism 1mk
What is the main challenge of Free Day Secondary Education? 1mk
SECTION B: (45 Marks)
Answer any THREE questions
Three communities in Kenya who belong to the Coastal Bantu. 3mks
Six results of the migration and settlement of the Agikuyu in Kenya during the pre-colonial period. 12mks
State three reasons why Seyyid Said transferred his capital from Muscat to Zanzibar. 3mks
Six effects of missionary activities in Kenya. 12mks
Give five reasons for the construction of the Uganda Railway. 5mks
Explain five problems encountered during the construction of Uganda railway. 10mks

State five factors that facilitated Mau Mau movement. 5mks
Explain five roles played by the trade union movement in the struggle for independence in Kenya. 10mks
SECTION C: ( 30 Marks)
Answer any TWO questions in this section
Mention five values of a good Kenyan citizen. 5mks
Explain five social-economic rights of a Kenyan citizen 5mks
Give three principles guiding public revenue and expenditure in Kenya. 3mks
Explain six reasons why the Kenyan government prepares national budget annually? 12 mks
State the composition of the supreme court. 3mks
Explain the concept of natural justice. 12mks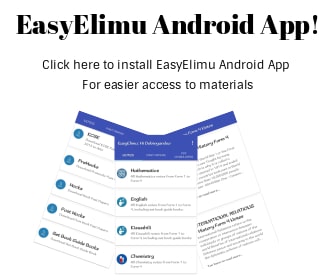 ---
MARKING SCHEME
SECTION A:
Name the main source of historical information used in grouping the language groups in Kenya 1mk
Linguistic
Name two communities that make up Western Bantu. 2mks
Abaluhya
Abakuria
Abagusii
State two reasons why the Omani rulers were interested in establishing their control over the Kenyan coast. 2mks
To expand their commercial empire
To establish political control over the Kenyan coast
To assist the ending the Portuguese rule. 2 x 1 = 2mks
State two ways in which Kenyan Communities interacted in the pre-colonial period. 2mks

War/raid
Trade
Internarriage
Sports and games 2 x 1 = 2mks

Identify two ways in which the Maasai benefitted from their collaboration with the British.

Lenana was made paramount chief
British supported Lenana against Sendeya in the succession dispute
Maasai were rewarded the cattle acquired from unco-operative communities e.g Nandi
Maasai protected against raids by their neighbours. 2 x 1 = 2mks
Name two treaties that were used to partition East Africa.

Anglo-Germany agreement of 1886 between British and Germans
Heligoland Treaty of 1890 between British and Germans
Give one peaceful method of resolving conflicts in Kenya. 1mk

Mediation
Negotiation
Litigation
Arbitration
Conciliation (Reconciliation) 1 x 1 =1mk
State two ways in which direct democracy is exercised in Kenya. 2mks

Through referendum
Through consensus/pleas cite
Through peoples initiative
Exercising right to recall a non-performing member of parliament 2 x 1 = 2mks
Name one development right of children. 1mk
Right to free and compulsory basic education
Right to parental care and protection.
Apart from Agikuyu give one community that practised mixed reaction to establishment of colonial rule by the British.
Give two ways in which education system in Kenya promotes National Unity . 2mks

Use of ome curriculum in all public schools.
Use of one medium of instructions
Common national examinations
Existence of national schools
State two characteristics of early political organization established in Kenya before 2mks

They were led t mission-educated e.g Harry Thuku
They were ethnic/tribal based
They addressed similar grievances e.g land alienation, forced labour, taxation
They demanded for better living conditions
They demanded for better living conditions for Africans rather than demand for political independence
2 x 1 = 2mks
Give two members of the County Executive Committee 2mks

County Governor
Deputy County Governor
Members appointed by the county governor with teh approval of the assembly.
2 x 1 = 2mks
Give the main function of the parliament. 1mk
Identify one type of government expenditure in Kenya.
Capital expenditure
Recurrent expenditure
State one pillar of Nyayoism 1mk
Peace
Love
Unity
What is the main challenge of Free Day Secondary Education. 1mk
Over Enrolment
SECTION B: (45 Marks)
Answer any THREE questions
Three communities in Kenya who belong to the Coastal Bantu.

Mijikenda
Taita Taveta
Pokoma
3 x 1 = 3mks

Six results of the migration and settlement of the Agikuyu in Kenya during the pre-colonial period

Led to population increase in the regions where they settled
They spread the idea/knowledge of iron working to other parts of Kenya
There was increased intercommunity conflict between them and thegroups they came across.
Intensified trading activities wth the communities they met e.g exchanged iton tools.
Increased cultural interaction/exchange with other communities
Led to the spread of agricultural practices to other communities
They displaced some of the communities they came across.
They intermarried with the communities they came across e.g Maasai
6 x 2 = 12mks
State three reasons why Seyyid Said transferred his capital from Muscat to Zanzibar

.

Need to control E./ African Coast and Zanzibar effectively.
Zanzibar had good climate
Zanzibar had fresh water
Zanzibar had fertile soils for the growth of cloves
Zanzibar was defensible as an Island
Zanzibar had deep natural harbours which favoured international trade.
Zanzibar was loyal to Oman. 3 x 1 = 3mks

Six effects of missionary activities in Kenya. 12mks

They converted Africans to Christianity
They built schools where Africans were et aught how to read and write
They introduced new crops and new farming methods in Kenya.
They built hospital which helped to improve the health standards of the people.
They translated the Bible into local languages.
They draw a map of the interior of the Great Lakes region which inspired many explorers to come to Africa.
They influenced their home governments to take interest in the region which later led to colonization.
They introduced Western culture which undermined the African culture.
They established centres for freed slaves.
They introduced new vocational skills e.g masonry and carpentry.
Some missionaries represented African interests in Kenya like Dr. John Arthur represented African interest in the legislative council. 6 x 2 = 12mks
Give five reasons for the construction of the Uganda Railway. 5mks

To facilitate movement of troops into the interior
To ensure effective administration /control over British protectorate
To facilitate abolition of slave trade/promotion of legitimate trade
To link the land locked Uganda with the coast/outside world
To enable British to protect her strategic interest in the regions
Top facilitate exploitation of resources in the region. 5 x 1 = 5mks

Explain five problems encountered during the construction of Uganda railway.

There was shortage of labour as most of th Africans were not willing to provide labour/not skilled.
Adverse climatic conditions/dry condition/heavy rains delayed the construction work.
Attacks by tropical diseases weakened the workers/loss of life slowing down the work/paste
There was scarcity of essential supplies which made the workers less productive.
There was hostility/resistance from African communities who were against the construction of the railway through their land.
The terrain/escarpment posed engineering challenges which slowed down the construction work.
Attack by man eaters of Tsavo/lions caused loss of lives, desertions leading to delays/stoppage for some time.
There were delays in delivery of construction materials which delayed the construction/raised the cost of construction.
Transportation of some construction materials was difficult die to their bulkiness.
5 x 2 = 10mks
State five factors that facilitated Mau Mau movement. 5mks

The oathing activities which united the nationalism
Availability of homemade guns/ammunition
Hilly terrain existence of forest provided hideouts for the nationalists
Regular food supply/information provided to the fighters
Availability of able skilful leaders
Use of guerrilla tactics to fight the colonialists. 5 x 1 = 5mks

Explain five roles played by the trade union movement in the struggle for independence in Kenya. 10mks

It motivated the workers against oppressive colonial government policies thereby promoting anti-government sentiments
It served as a platform/fora for airing African grievances against the colonial government in the absence of poltical organisations which had been banned
It educated the workers on their rights hence made them agitate for political independence.
It organized demonstrations/strikes/boycotts against the colonial government thereby promoting nationalists activities.
It provided training grounds for the leaders who led in the nationalist struggle
It exposes the plight of African workers to the international community leading to the condemnation of the colonial government .
It demanded for the release of political prisoners/detainees which boosted the struggle for independence.
Any 5 x 2 = 10mks
SECTION C: ( 30 Marks)
Answer any TWO questions in this section
Mention five values of a good Kenyan citizen. 5mks

Nationalism/love for country – defend
Patriotism/ones seek to promote country's well being.
Molarity/holds good morals
Integrity/obey the law at all times
Thrift/prudent use of resources
Ethics/good relations e.g transparent, hardwork no corruption, personal initiative.
5 x 1 = 5mks

Explain five social-economic rights of a Kenyan citizen 5mks

High standards of health to emergency treatment
Adequate housing and sanitation
Adequate food of acceptable quality
Clean and safe drinking water in adequate quantities
Education
Social security 5 x 1 = 5mks

Give three principles guiding public revenue and expenditure in Kenya. 3mks

Openness and accountability including public participation
Sharing of the burden of taxation fairly
Sharing the revenue raised nationally equitably among the National and county governments
Using public money in a prudent and responsible way.
Having a clear responsible method of financial management and a clear way of fiscal reporting
Sharing the burden and the benefits of the use of resources and public borrowing equitably between present and future generations.

Explain six reasons why the Kenyan government prepares national budget annually?12 mks

It enables the government to source for revenue for its activities and programmes.
Enables the government to identify ways in which to spend its revenue without any wastage.
Enables the government to prioritize development needs in the country
Enables the government to assess its performance in the previous year and improve where necessary
Enhances accountability and transparency on the side of the government in the eyes of the public
Ensures there is a balance in the country's revenue and expenditure hence avoiding budget deficits
Provides valuable information to people interested in investing in the country i.e NGOs
Creates confidence among foreign countries i.e Donors, World financial institutions e.g IMF
6 x 2 = 12mks
State the composition of the supreme court. 3mks

The chief justice who is the president of the court
Deputy chief justice
5 other judges 3 x 1 = 3mks

Explain the concept of natural justice. 12mks

The accused person is given a fair hearing
Suspects are innocent until proven guilty by a court of law
Discourages mob justice
Accused person is entitled to legal representation
A suspect is given a chance to defend him/herself and call witnesses
Judges and magistrates carry out their functions without interference on their decisions and operations.
An accused person is notified in advance of the impending trial and the charges that one is facing.
Justice should be done and be seen to be done.
If judges and magistrates have an interest in a case they should disqualify themselves before the trial.
On reaching a decision, the accused person should be informed of the decision and the reason for the decision.
A judge cannot judge him/herself.
6 x 2 = 12mks