Instruction to the students
This paper consists of 3 printed pages.
Candidates should check the question paper to ascertain that all the pages printed as indicated and that no questions are missing.
A pattern of girl's skirt is provided. You are advised to study the sketches, the question paper and the layout carefully before you begin the test.
MATERIALS PROVIDED
Skirt front
Skirt back
Pocket
Front yoke

Light weight plain cotton fabric 50cm long by 90cm wide.
Sewing thread to match the fabric.
THE TEST
Using the materials provided, cut out and make up the RIGHT HALF of the skirt to show the following process.
Making of the back dart
The preparation of the gathers on the skirt front piece
Attachment of the yoke piece to the skirt front piece using a neatened open seam.
Attachment of front pocket piece to the skirt front and back pocket to the skirt back.
The making of a neatened open seam at the side above and below pocket mouth.
The joining of the bag seam ( do not neaten)
The preparations of the skirt hem and slip hemming it.
At the end of the test, firmly, sew onto your work, a single fabric a label bearing your name and number.
Remove the needle and pins from your work, then fold your carefully and present it for assessment.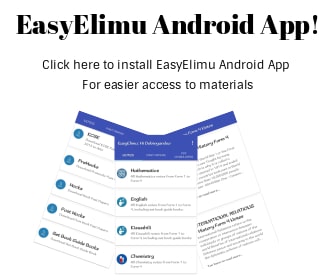 ---
MARKING SCHEME
AREA OF ASSESSMENT

MAXIMUM SCORE

ACTUAL SCORE

REMARKS

1. PRESENTATION.

Work well pressed (½ ) and folded ( ½ )
Label firmly (½) on a single fabric (½ )
Pins( ½) threads( ½) unnecessary stiches removed( ½ )
Made up the right half

1

1

1 ½

1

4 ½

2.CUTTING OUT

All pieces cut out (5 x ½ )
Smooth cutting of skirt C.F( ½) on straight grain to within 3 mm( ½)
Smooth cutting of yoke CF( ½ )on a straight grain to within 3mm( ½)
Smooth cutting of skirt CB( ½) on straight grain to within 3mm ( ½ )
Smooth cutting of pocket pieces (½ x2)
Smooth cutting of skirt waist bands (½ x2)

2 ½

1

1

1

1

1

7 ½

3. BACK DART

Made with straight stitchery( ½ ) tapering to a point( ½)
Correct length of dart (9cm) 1 from cutting line to within 5mm (1) (8.5cm -- 9.5cm)
Correct width of the dart (1.2 mm) 1 measured along the cutting line to within 2mm (1 – 1.4) (1)
Thread ends well fastened at the point (1)

1

2

2

1

6

4.YOKE ATTACHMENT

Gathers evenly distributed(1)
Gathers confined between the two dots( 1)
Seam made with straight stitchery (1) close to the fold(1) within 2mm ( if not overlaid seam give zero from c-g)
Raw edges well neatened (1)using blanket stitches(1)
Evenness of the neatened seam allowance.(1)
Correct width of seam allowance 1cm to within 2mm (0.8 -1.2)(1)
Yoke CF flash with skirt CF to within 2mm(1mk)
Correct shape( ½) and size (½) to within 5mm

1

1

2

1

1

1

1

1

10

Superimpose
Don't award for the shape unless center front are matching. If side seam is not made, no marks for shaping and size.

5.POCKET

Pocket pieces attached with straight stitchery( 2x ½ )
Notches matching( ½ x2). Note, if trimmed give zero 1
Pocket pieces appropriately placed (½ x 2)
Smooth stitchery round the pocket bag(1)
Correct shape( ½ ) and size( ½) of the pocket ( superimpose) within 5mm
Pocket mouth reinforced at the base (½ ) to lie on the front piece( ½ )

1

1

1

1

1

1

6

6.SIDE SEAM - OPEN SEAM
NB. If not open seam, give zero

Seam joined with straight stitchery above ( ½ ) and below( ½) the pocket
Pocket mouth left un stitched( ½ )
Raw edges well neatened below( ½) and above( ½) the pocket
Evenness of neatened seam allowance below(½ ) and above( ½) the pocket.
Correct size of neatened seam allowance to within 2mm above( ½) and below ½ the pocket
Back seam allowance snipped( ½) and neatened above (½ )and below (½ )the pocket
Seam pressed open( ½) and flat (½) at the hem
Back and front skirt piece flash at the waist within 2mm( 1)

1

½

1

1

1

1

1

1

7 ½

7. HEM

Raw edges concealed ( ½ )
Hem even (½ ) and flat( ½)
slip hemming ½
side seam matching with hem to within 2mm ( ½ )
hem flash at CF (½) and CB( ½ )to within 2mm

½

1

½

½

1

3 ½

TOTAL MARKS

45 MARKS