Instructions to Candidates
The paper consists of Six questions
Answer five questions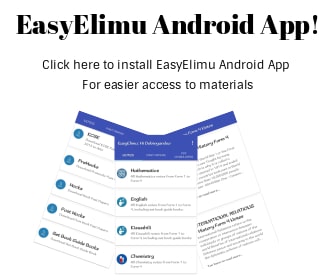 ---
QUESTIONS
Outline the Psalmist's prophecy about the Messiah (6marks)
State seven activities that took place during the birth of john the Baptist (8 marks)
How should a Christian couple deal with childlessness? (6 marks)

Narrate the healing of the Gerasene demoniac (Luke 8:26-39) (8 marks)
Identify seven methods used by Jesus to spread the gospel. (7 marks)
State five lessons that Christians learn about Jesus from the healing of the demon Possessed man. (5 marks)

State seven instructions that Jesus gave to the seventy-two disciples when he sent them on a mission. (7mks)
The areas of conflict between Jesus and the religious leaders in His ministry in Jerusalem (Luke 22:39-53) (7mks)
Explain ways in which church leaders should respond to members who oppose them in their work. (6mks)

State seven reasons why Jesus sent the Holy spirit to the disciples after his ascension (7mks)
Explain the teachings of Peter concerning the people of God (1st Peter 2: 9 - 10). (7mks)
Give ways in which Christians identify those who posse the gift of the Holy Spirit. (6mks)

Identify six sources of Christian ethics (6mks).
State seven problems faced by a family living with a person who is suffering from H.I.V/A.I.D.S (7mks).
What are the causes of premarital sex among the youth? (7mks).

Outline various approaches used in choosing a marriage partner in Traditional African Societies (7mks).
Identify seven reasons why some young people today may choose to remain unmarried (7mks).
Give six moral values that are inculcated during marriage in Traditional African Societies (6mks).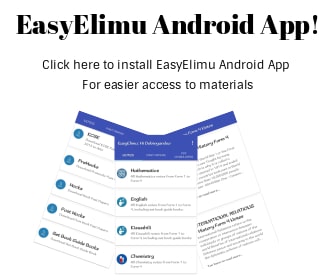 ---
MARKING SCHEME
Outline the Psalmist's prophecy about the Messiah

He will be the lord
He will sit in the right hand side of God/honoured/exalted
Defeat his enemies
He will rule from Zion
He will rule in the midst of his enemies
Betrayed by a close friend
He would rule as a Gods representative on earth
((6x1=6 marks)

State seven activities that took place during the birth of john the Baptist

Elizabeth gave birth to a son
The birth of john the Baptist brought joy to many/ the friends and relatives came to celebrate
As was the custom the baby was circumcised according to the Jewish custom
Relatives were about to give him the name john/ the boy was to be named Zachariah after his father
Elizabeth refused and said will be called john
The people wondered because no one was named john in their family
They made signs to the father enquiring what he would have him called.
He asked for a stone tablet and wrote his name as john
All the people marveled
Zachariah was able to speak and wrote the name john
Relatives were amused after was able to speak/ the friends and relatives were filled with fear
Zachariah was filled with Holy Spirit and sung a song for God the Benedictus.
((8x1=8 marks)

How should a Christian couple deal with childlessness.

Accept that children are gift from God
Accept that a Christian marriage is complete with or without children/companionship
Acknowledge that marriage is for mutual helpfulness and companionship
The couple should seek medical advice
They should acknowledge that marriage is ordained by God and is based on love
They should have tolerance to each other/remain faithful/no devorce
They should seek guidance and counseling from experts
Pray and believe that God will answer their prayers
Opt for adoption in case they want heirs
Help the orphans in the society
(6x1=6 marks)

Narrate the healing of the Gerasene demoniac Luke 8:26-39

Jesus entered a Gentile city of Gerasa.
He met a man who was demon possessed and lived among the tombs
The man fell down and told Jesus not to torment him because Jesus had commanded the unclean spirits out of the man
Jesus asked the man his name
The man said Legion because he had many demons
The demons begged Jesus not to let them go into the abyss but into the swine
Jesus commanded the demons into the swine
The swine went and drown in to the nearby lake
The herdsmen who witnessed this fled and went to tell people in the city concerning what had happened
People came and found the man sitting at Jesus feet, healed, dressed and in his right mind
The people got afraid and asked Jesus to leave their territory
The healed man asked Jesus if he could accompany him
Jesus told him to go and tell people what God had done for him.
The man went through the town proclaiming the good news about Jesus
(8x1=8marks)

Identify methods used by Jesus to spread the gospel.

He used parables
He used miracles
He used narratives and stories
He used real life situation
He showed his disciples how to pray/ demonstrations
He met urgent needs of the people ie when he fed the five thousand men
He used question and answer method
He quoted the Old Testament scriptures
He commissioned or delegated
He participated in people's daily life activities like dinning with them
He cleansed the temple, which was to show the people the importance of the temple
He taught by example and was a great role model
Through visitations where he visited Mary and Martha
Through casting out demons
Through preaching the good news in the synagogue
(7x1=7marks)

State five lessons that Christians learn about Jesus from the healing of the demon possessed man

Christians learn that Jesus as the son of God
Christians learn that Jesus can liberate us from the powers of satan like he liberated the man from satan
Jesus came to destroy the kingdom of Satan
Jesus is able to heal a person whole both the physical and spiritual being
Christians learn that has a universal mission of Jesus
(5x1=5marks

The instructions that Jesus gave to the seventy-two disciples when he sent them on a mission.

The disciples were to pray for more laborers to be sent for the harvest,
The disciples were not to carry any purse / bag / sandals.
They were not to salute anyone on the road.
They were to say peace in any house they entered.
They were to remain in the same house / NOT to go from house to house.
They were to eat / drink whatever was provided.
They were to heal the sick
They were, to tell the people that the kingdom of God was near
They were to wipe off the dust on their feet against the people if not received.
(6×1=6 Marks)

Identify the areas of conflict between Jesus and the religious leaders in His ministry in Jerusalem

The question about Jesus' authority to teach
the question about the resurrection
The question about the messiah / his identity
The attitude of Jesus concerning the widow's offering
The question payment of taxes
Jesus' direct attack on the religious leaders/ denouncing the scribes
The parable of the wicked tenants
(6×1=6 Marks)

Explain ways in which church leaders should respond to members who oppose them in their work. (6 marks)

Ways in which church leaders should respond to members who oppose them in their work.
The church leaders should find out/investigate the reason for their opposition.
They should forgive them/seek reconciliation.
The leaders should pray for those who oppose them. welcome their contributions.
Include them in fellowships/church activities.
Look for opportunities to assist them especially when in problems.
Review/change their approach to issues.
(6 x1 = 6 marks)

Reasons why Jesus sent the Holy spirit to the disciples after his ascension

The Holy Spirit would comfort the disciples
He was to council the disciples
He would guide the disciples on what is right/god's righteousness
He was to convict people of their sins
He will teach the disciples on what is right/God's righteousness/ truth concerning God
He was to reveal the future/enable the disciples to prophesy /God's will
He would glorify Jesus through the work of the disciples
He would enable the disciples to witness Christ throughout the world.
He would replace the physical presence of Jesus/stay with the disciple forever
He would empower the disciples to be able to speak with courage /authority.
(6×1=6 Marks)

The teachings of Peter concerning the people of God (1st Peter 2:9-10)

The believers are chosen people/race/they have been selected.
They are a royal priesthood/they are to serve the greatest King/God.
They are Holy nation/expected to lead holy/righteous lives
They belong to God/they form a family of God's own possession.
They are to declare wonderful deeds of God/that is to lead a life of worshipping God/testifying about God.
They were called from darkness to light/their lives had been transformed and should not be dominated by evil.
They were once not a people/they were outside the covenant way of life.
They are led by the mercies of God/have received God's grace/ mercy
(7×1=7 Marks)

Ways in which Christians identify those who posse the gift of the Holy Spirit.

By listening to their confession. They should confess Jesus as Lord.
By analyzing the kind of teaching they profess.
The teaching should be about Jesus Christ/Christian doctrine
By examining their life so as to know whether they possess/show the fruit of Holy Spirit. (Love, joy, peace, patience, kindness, self-control, goodness, faithfulness/gentleness.)
By observing their behavior. The behavior should not contradict the teaching of Jesus Christ/ be role models
When the Christians notice the victorious life of such people over temptations/works of the flesh.
If such persons do not use the gift of the Holy spirit for selfish gains/enrich themselves
When such believers give glory to God/Jesus after performing miracles.
(6×1=6 Marks)

Identify six sources of Christian ethics (6mks).

Sacred scriptures/the bible
The Christian community/church laws
Natural law
Conscience
Knowledge and freewill
Situation ethics
Secular laws
Compatible cultural values
Church rituals/sacraments
Authoritative Christian literature
6x1mk=6mks

State seven problems faced by a family living with a person who is suffering from H.I.V/A.I.D.S (7mks).

Stigma/isolation
Economic crisis due high expenditure
Poverty
Depression
Condemning/judging the person as a sinner
Fear of transmission
Occupation drawbacks due to taking time off
Struggle to provide proper diet
Pretense to show love though bitter inside
Quarells/misunderstandings
7x1mk=7mks

What are the causes of premarital sex among the youth? (7mks)

To prove one's manhood/womanhood
To test one's fertility
fear of being jilted
Poverty and unemployment
Availability of contraceptives
Peer pressure
Negative influence of the media on matters of sex.
Frustrations in life
Decline in traditional African values
Drug and alcohol abuse
Lack of self-control/ sexual curiosity
7x1mk=7mks

Outline various approaches used in choosing a marriage partner in Traditional African Societies (7mks).

Arrangement by parents
Choice by partners themselves but it is subject to parental approval
A senior wife chooses others for the husband
One inherits a wife from a late relative
A debtor gives a wife to his creditor as payment
A rich ruler receives a wife as a gift
A relative/ mediator identifies a girl and suggests to the family
The young man and his age mates waylay a girl and take her home
Bride price is paid in advance
Exchange of girls between two families takes place
7x1mk=7mks

Identify seven reasons why some young people today may choose to remain unmarried (7mks).

To pursue education
Career demands
Lack of guidance and counseling on marriage and family
Discouragement from failing marriages
Economic reasons
Poor health
Economic independence
Poor health
Economic independence
Parental interference
Disappointing relationships
7x1mk=7mks

Give six moral values that are inculcated during marriage in Traditional African Societies (6mks).

Faithfulness/loyalty
Obedience
Respect/courtesy
Responsibility/hard work
Tolerance/perseverance/endurance
Love
Cooperation/unity
Humility
Honesty
Integrity
Courage
6x1mk=mks