Instructions to candidates
Answer all questions in this paper in the spaces provided after each question.
You are required to spend the first 15 minutes reading the whole paper carefully before commencing your work.
This paper consists of 4 printed pages. Candidates should check the question paper to ensure all pages are printed as indicated and that no questions are missing.
Candidates should answer the questions in correct English. Incorrect spellings of especially technical terms may be penalized.
You are provided with cooking oil, liquids H and E and an Irish potato.

Label two test tubes A and B. Place 2cm3 of water into each test tube. Add 8 drops of the cooking oil into each test tube. To the test tube labelled A, add 8 drops of liquid H. Shake both test tubes. Allow to stand for 2 minutes.


Record your observations. (2marks)
Test tube A .........................................
Test tube B ………………………
Name the process that has taken place in test tube A. (1mark)
State the significance of the process named in (a) (ii) above. (1mark)
Name;
The digestive juice in humans that has the same effect on oil as liquid L. (1mark)
The region of the alimentary canal into which the juice named in (a) (iv) above is secreted(1mark)

Label one test tube C.
Place 2cm3 of liquid E into the test tube. Add a drop of iodine solution into the test tube.


Record your observation (1mark)
Suggest the identity of E (1mark)

Cut out a cube whose sides are about 2cm from the Irish potato provided.Crush the cube to obtain a paste. Place the paste into the test tube labelled C containing E and iodine solution from (b) above. Leave the set up for at least 30 minutes.


Record your observations. (1mark)
Account for the results in (c) (i) above. (3marks)

Cut out another cube whose sides are 1cm from the Irish potato provided. Crush the cube to obtain a paste. Use the paste to carry out food test with Benedict`s solution and record the results. (1mark)
Account for the results in (d) (i) above. (2marks)

The diagrams below represents plants , K,L and M. study them carefully and answer the questions that follow




Giving a reason in each case, classify each plant into its division.
Plant K (2mks)
Division...............................................................
Reason............................................................
Plant L (2mks)
Division.............................................................
Reason.............................................................
Using observable features only, state the subdivision of plant M (2marks)
Sub-division.......................................................................
Reason.............................................................................
Identify the parts labeled P,U,V & Y(4mks)
P ………………………………………………………………………………………………
U ………………………………………………………………………………………………
V ………………………………………………………………………………………………
Y ………………………………………………………………………………………………
State the functions of part T and state why (d) grows in wet areas. (2 marks)
Function of T........................................................................................................
Reason why (d) grows in wet areas ...........................................................................................................................

Below are diagrams of part of the urinary system. Examine them



Name the parts labeled A and B in figure 1 (2mks)
A………………………………………………………………………..
B………………………………………………………………………..
Name the parts labeled V, W, X and Y in figure 11. (4mks)
V…………………………………………….
W…………………………………………….
X…………………………………………….
Y…………………………………………….

State two adaptations of part labeled W to its function (2mks)
In the diagram, name the part where;


Counter current flow occurs (1mks)
Reabsorption of water occurs (1mks)

Explain what would happen to the process of urine formation in absence of anti-duiretic hormone (ADH) (3mks)
CONFIDENTIAL
Each student will require;
Scalpel
Means of timing
5ml of Sodium hydrogen carbonate solution labelled H
5ml of 10% Starch solution labelled E
Four labels
Four clean dry test tubes.
4ml of cooking oil in a test tube
One Irish potato tuber, Solanum tuberosum
10ml measuring cylinder
A dropper
Ruler
Spatula
Each student will require access to the following;
Mortar and pestle
Iodine solution supplied in a dropper bottle
Distilled water in a wash bottle
Benedict`s solution in a dropper bottle
Source of heat
The photographs should be coloured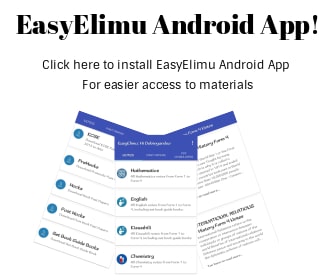 ---
MARKING SCHEME
QUESTION 1
Test tube A (1mk)
Oil broken into small/tiny droplets/globules; which are dispersed/spread throughout the liquid//Oil became emusified; Rej. White solution/white ppt/suspension alone
Test tube B (1mk)
Two separate/immiscible layers//oil floats on water/no mixing occured;
Emulsification; (1mk)
To increases the surface area of fats/lipids for digestion; (1mk)
Bile (juice); Rej. Pancreatic juice (1mk)
Duodenum; (1mk)

Blue black; Acc. Black (1mk)
Starch solution;(1mk)

Blue black colour in C fades/disappeared; Acc. Colour change to light orange/yellow/orange/ brown/purple (1mk)
Enzyme/amylase; in the potato tissue breaks down/hydrolysed starch; into sugars/maltose; which do not give blue black colour with iodine;(3mks)

Turns from blue to green/yellow/orange/brown colour;(1mk)
Starch in potato is converted/changed; to maltose/reducing sugar/simple sugar; by enzyme/amylase/maltase;(2mks) OWTTE
QUESTION 2
K- Pteridophyta; rej wrong spelling (2mks)
Reason - presence of sori
- Leaf modified to a frond
L - Bryophyta (2mks)
Reason - presence of capsules
- Presence of seta
- Presence of rhizoids
Gymnospermatophyta;rej Gymnospermae (2mks)
Reasons -presence of cones (male and female-palm - like leaves
P –sorus; rej sori (1mk)
U- Archegonium; rej Archegonia (1mk)
V-male cone; (s) (1mk)
Y- Seta. (1mk)
T –produce male gametes; sperms /antherozoids (1mk) why D –grows in wet areas to provide moisture for antherozoids to swim to archegonia (to cause fertilisation) (1mk)
QUESTION 3
A-Renal vein (2mks)
B-ureter
V-Glomerulus;
W-Proximal convoluted tubule
X-distal convoluted tubule
Y-Blood capillaries (4mks)

coiled to increase S.A for reabsorption of substance (ii)The tubule is supplied with blood capillaries to transport reabsorbed substances;

Loop of Henle
Collecting duct/Distal convoluted tubule

Kidney tubule becomes less permeable to water;les water reabsorbed into blood stream;production of large amounts of dilute urine (thus diuresis)