INSTRUCTIONS TO CANDIDATES.
This paper consist of five questions
Answer all questions in this paper
QUESTIONS
Describe the incident when Jesus accompanied his parents to Jerusalem for Passover feast(Luke 2:41-52) (8mks)
State seven lessons that Christians learn about Jesus from the occasion when he accompanied his Parents to Jerusalem for Passover feast. (7marks)
Give five reasons why children should take part in church activities. (5marks)

What was the importance of the transfiguration of Jesus? (8marks)
Identify six occasions when Jesus prayed. (6marks)
Give the lessons that Christians learn about Jesus from the transfiguration. (6marks)

State six teachings of Jesus on the duties of discipleship. (6marks)
Narrate the parable of a friend at mid-night (Luke 11:5-13) (7marks)
What is the importance of prayer in a Christian life? (7marks)

Describe how the theme of the unity of believers is expressed in the image of body of Christ.(1 cor 12:12-27) (8marks)
Give six teachings of peter concerning the people of God (1 peter 2:9-10) (6marks)
Outline six ways by which Christian's promote unity in the society. (6marks)

Give seven advantages of a monogamous marriage. (7marks)
Outline the importance of children in both Christianity and traditional African Communities. (6marks)
Identify ways through which Christians help to minimize conflicts between parents and their Children in Kenya today. (7marks)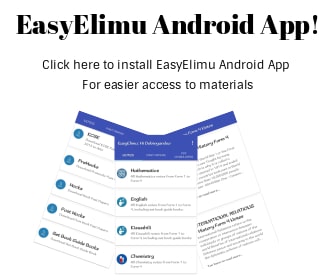 ---
MARKING SCHEME
Describe the incidence when Jesus accompanied his parent to Jerusalem for the Passover feast.(Luke 2:41-52(8mks)

His parents went to Jerusalem every year for Passover feast.
When he was 12 years old, they went as was custom.
When the feast ended they returned/the boy Jesus stayed behind in Jerusalem.
His parents did not know/they thought he was in their company.
They sought him among their kinsfolk and acquaintances /they returned to Jerusalem seeking him.
After three days, they found him in the temple in Jerusalem sitting among the teachers/listening to them and asking them questions.
All who were listening to him were amazed at his understanding and his answers.
When the parents saw him, they were astonished/his mother asked him why he had treated them so.
He answered them and asked why they sought him/asked them why they did not know he should be in his father's house.
They did not understand what he spoke to them.
He went back with his parents/his mother kept all these things in her heart.
And Jesus increased in wisdom and in stature and in favour with God and man.

State seven lessons that Christians learn about Jesus from the occasion when he accompanied his parents to Jerusalem for Passover feast.

Jesus was obedient.
He was courageous.
He was knowledgeable and wise.
He was respectful
He was cooperative
He was patient.
He was honest
He was assertive and made independent decisions.
He was social and outgoing
He was inquisitive.

Give five reasons why children should take part in church activities. (5mks)

To follow the example of Jesus who went to the synagogue.
To teach them religious beliefs /practices.
They are made in the image of God.
To lay foundation for Christian morals at an early age.
Jesus taught that the kingdom of God belongs to them/he blessed children.
For the continued growth of church.
To help develop/improve their talents.
To give them an opportunity to socialize with others.
To help them spent their leisure time positively.

importance of the transfiguration of Jesus .

It gave Jesus encouragement and assurance that his coming suffering was according to God's will.
Moses and Elijah's appearance represented the law and the prophets respectively.
Appearance of Moses and Elijah showed that Jesus had fulfilled what was prophesied about in the scriptures.
Moses and Elijah reassured Jesus of his mission of death for the redemption of human kind.
It confirmed for the second time that Jesus was the son of God.
Appearance of Moses and Elijah showed that there is life after death.
It took place when Jesus was praying hence prayer is emphasized.
God's presence was felt at the transfiguration.The cloud.
It showed that Jesus mission was not a secret any more.
It strengthened the faith of the apostles to continue with the mission of Jesus after his death.
Jesus dazzling brilliance confirmed his holiness and glory.

Occasions when Jesus prayed.

In the wilderness before temptations.
Before breaking the bread during the last supper.
At the garden of Gethsemane.
At the cross before he died.
When he was teaching his disciples how to pray.
During his baptism.
During transfiguration
During feeding of 5000 people.

Lessons that Christians learn about Jesus from his transfiguration.

Jesus is prayerful.
Jesus mission was to suffer and die in order to reconcile human being with God.
Jesus came to fulfill the Old Testament prophesies and mosaic law.
Jesus is holy.
Jesus is the son of God.
Jesus had his authority from God.

Teaching of Jesus on the duties of discipleship.

One should be ready to fore go some comforts in life.
One should be willing to sacrifice the things that are dear in order to spread the gospel.
One should not look back and desire his or past life.
One should forsake any commitment that can be an obstacle to the work of God.
One has to accept suffering. Persecution and even death.
One must be ready to let go of family ties.

the parable of a friend at midnight. Luke 11: 5-13

The person had a friend's visit at mid-night.
The friend told the person to lend him three loaves of bread for he had a friend that had arrived from a journey and had nothing to Give him.
The friend told the person not to bother him for the doors are shut and the children are sleeping.
He finally woke up to give what he wanted not because of their friendship but because of his insistence.
Jesus then said, ask and it shall be given top you, seek and you will find, knock and the door will be opened for you.
Everyone who seeks finds, who asks receives and he who knocks the door is opened.
What father would give his son a snake instead of a fish or a scorpion for an egg when the some asks.

Importance of prayer in a Christian's life.

It brings people closer to God.
Prayer helps Christians to overcome temptations.
It strengthens Christian's faith.
One is able to give thanks to God for blessings.
It gives an opportunity to ask for forgiveness from God.
It allows one to intercede for others.
It enables Christians to exalt or glorify God.
It is a means of communication with God.
It gives an opportunity to worship God.

Describe how the theme of the unity of believers is expressed in the image of body of Christ.(1st cor.12:12-27) (8mks)

Paul described the believers as the body of Christ.
Christ is the head of the church.
The believers form part of the body.
The body has different organs the same way church has different members.
All members need to work together for the well being of the church.
Every part of the body is needed to make whole/all parts of the body are interdependent/one part cannot be without the other.
The different members of the church are given spiritual gifts to carry out Gods work.
There should be no divisions in the church since all believers are members of the body of Christ.
Believers are united through baptism in the Holy Spirit.

Give six teachings of peter concerning the people of God (1st peter 2:9-10)

They are a chosen race.
They are a royal priesthood.
They are a holy nation.
They belong to God.
They were called to declare the wonderful deeds of god.
They were called from darkness to light.
They were once not considered people but now they are people of the light.
They are led by means of hope/have grace.

Outline six ways by which Christians promote unity in the society.

They hold interdenominational prayers.
They can take a joint stand against injustice/problems of the society.
They work together to promote educational activities in the society.
They respect each others doctrine positions.
They work together in provision of medical services.
They employ Christians from different denominations.
They join hands in training of clergy/parts from different denominations.
They co-operate in the translation process.

Advantages of monogamous marriage.

It enhances rights in the family
It upholds the dignity of family members.
Security is enhanced.
Love is un divided.
It eases wrangles on property ownership.
It is a covenant protected by God.
Laws and order prevails in the family/there is unity.
It reduces the chances of being infected with HIV/AIDs.
It is easier to develop mutual confidence and trust among the family members.
It reduces delinquency among children.
The woman takes pride in the marriage.
Providing for the family is easier.

Importance of Christians in both Christianity and Traditional African society.

In both children take care of their parents in old age.
In both children ensure the continuity of the community.
In both children inherit their parent's property.
In both children's are a sign of God's blessings.
In both children is a source of labour.
In both children cement the relationship /stabilize marriage.
In both children are source of wealth.
In both they are a source of joy/happiness.

Ways through which Christians help to minimize conflicts between parents and children in Kenya.

Guidance and counseling/advising them.
By praying for families.
Making fair judgment when solving conflicts.
Christians setting a good example to others in the society.
Teaching/preaching the word of God concerning family life.
Organizing seminars/workshops where parents/children's are taught their roles/responsibilities.
Airing programmes on family life on television/Radio.
By assisting needy families with finances/materials so as to minimize conflicts.