BIOLOGY
PAPER 2: THEORY

INSTRUCTIONS TO CANDIDATES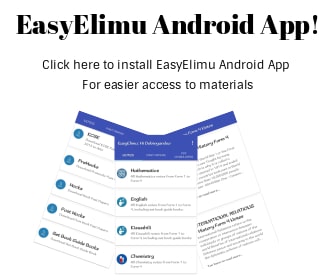 This paper consists of two sections; A and B.
Answer ALL the questions in section A in the spaces provided.
In section B answer question 6 (compulsory) and either question 7 or 8
SECTION A (40 Marks)
An analysis was done on the contents of faeces of a cow. The results are as shown in the table below.


Content
Percentage
Carbohydrates
Proteins
Fiber
Fats
12
0.8
14
1




Name the other component that makes up the faeces of a cow and give its percentage. (1 mark)
Name the substance that contributes the fiber in the faeces. (1 mark)
Cow faeces are normally used as fertilizer that increases nitrates in the soil.

State the component in the faeces that yield nitrates. (1 mark)
Describe how the component named in (c)(i) above is converted into nitrates (4 marks)

Explain why the manure would be better if the cows urine was added to the faeces. (2 marks)

In an experiment to investigate a plant response, the set up in the diagram below was used.



Name the type of response that was being investigated. (1 mark)
If the Klinostat was not rotating.

State the observation that was made on the seedlings after three days. (2 marks)
Explain the observations in (b) (i) above. (3 marks)

If the experiment was repeated with the Klinostat rotating;

State the observation that was made on the seedling after three days. (1 mark)
Give a reason for the observation made on the seedling. (1 mark)

         

In an experiment, plants with red flowers were crossed with plants having white flowers. All the F 1 plants had pink flowers. Using R to represent the gene for red flowers and W to represent the gene for white flowers, work out the genotypic ratio and phenotypic ratio of the offspring if the F 1 plants were crossed with white flowered plants. (5 marks)
Give two reasons why Drosophila melanogaster is a suitable organism for genetic studies. (2 marks)
What is genetic engineering? (1 mark)

The diagram below shows two cells, X and Y from the same organism. Study the diagrams and answer the questions that follow.



Name the parts labelled A, B and C . (3 marks)
       

Which cell is diving by meiosis? (1 mark)
Give two reasons for your answer in (b) (i) above (2 marks)

The diagram below represents a flower.

On the diagram, name two structures where meiosis occurs (2 marks)
How is the flower adapted to prevent self-pollination? (2 marks)

               

State the meaning of the term adaptive radiation. (1 mark)
Explain how continental drift is an evidence for organic evolution (3 marks)
State two disadvantages of natural selection to organisms (2 marks)
SECTION B (40 Marks)
Answer question 6 (Compulsory) and either question 7 or 8 in the spaces provided after question 8.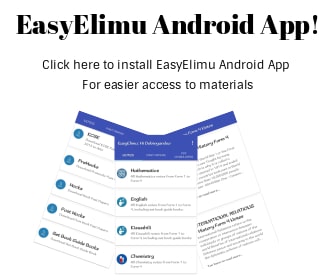 In an experiment carried out in a tropical country, carbon (IV) oxide concentration was measured
around a plant in an open air at two hour intervals for a period of 24 hours. The results are as in the table
below.


Time
Percentage of carbon (IV) oxide
concentration ( x10-2 )
3a.m
5a.m
7a.m
9a.m
11a.m
1p.m
3p.m
5p.m
7p.m
9p.m
11p.m
1a.m
3a.m
 3.40
3.62
3.90
3.20
2.95
2.90
2.90
2.92
3.02
3.10
3.20
3.30
3.40




Using the data, plot a graph of carbon (IV) oxide concentration against time in the grid provided (6 Marks)
Calculate the rate of change in carbon (IV) oxide concentration between 4a.m and 7a.m (3 marks)
Account for the shape of the graph between the following times:

7a.m to 11a.m . (2 marks)
12 noon to 4p.m . (2 marks)
5p.m to 5a.m. (3 marks)

The experiment was repeated on another day and the results were different.

Name two environmental factors that were likely to have affected the results (2 marks)
State how each of the factor named in (d) (i) above could have affected the results (2 marks)

                

Describe how excretion occurs in plants. (4 marks)
Explain how the osmotic pressure in the human blood is maintained at normal level (16 marks)

        

Describe how reproduction occurs in yeast (5 marks)
Describe secondary thickening in flowering plants (15 marks)
MARKING SCHEME
          

Water
Cellulose
          

Proteins
        

Proteins are converted to ammonia
By saprophytes/ bacteria and fungi
ammonia is converted to nitrites by nitrifying bacteria Acc: Nitrococcus & nitrosomes
Nitrites are converted to nitrates by nitrifying bacteria/ nitrobacter

Urine contains more proteins/ nitrogenous compounds which yield more nitrates.

                

Geotropism; Rej wrong spelling +ve, -ve geotropism
     

The shoot tip/ plumule curved upwards root tip/ radicle curved downwards
Acc bending rej growing
Auxins migrated downwards/ to the lower side; caused more growth on the lower side than on the lower side than upper side in roots

          

The seedling will continue growing horizontally; rej laterally
There was even distribution of auxins to the tip

              

          

genotype ratio ; rej 2:2
RW:WW
phenotype ratio
1 pink flowered: 1 white flowered
         

Produces large number of offspring
Has many observable contrasting characteristsics
short life cycle
offspring can be crossed with parents

          

        

Chromatid; Acc chromosome rej plural
Spindle fibres
Homologous chromosomes Acc, Bivalent

          

Cell Y
    

Homologous chromosomes have paired
Chiasmata have been formed

         

Anther
Ovary
(should be labelled on diagram 
rej - plural, wrong spelling) 
         

Large petals to attract insects
Stigma located above the anthers

              

   A situation where organisms have homologous structures with a common embronic origin which are modified to perform different functions
Continents existed as one large land mass (Acc; pangea)
The current continents drifted leading to isolation/ separation of organisms; organisms in each continent evolved along different lines
               

Assists to eliminate disadvantages characteristics/ perpetuate advantageous characteristics



            


         



 Carbon (IV) oxide concentration at 4:am = 3.5 x 10-2%
Acc 3.48 - 3.52
rate of change 


(3.9 - 3.5) x 10

-2
       3
= 1.33 x 10-2 / hour
Acc 0.0013%/hr
rej; without units
      

Rapid decrease in CO2 concentration due to utilisation of CO2 in photosynthesis due to increase in light intensity.
CO2 conc remains almost constant; photosynthesis rate is equal to respiration rate;
Increase in CO2 conc; rate of photosynthesis drops due to decrease in light intensity respiration produces CO2 which accumulates;

               

       

Wind/ air currents
Light intesity
Temperature
Soil water

           

Wind blows CO2 avoiding its accumulation around the plant
Light intensity affects rate of photosynthesis hence rate of CO2 assumption
Temperature affects rate of photosynthesis hence CO2 around the plant
Water affects rate of photosynthesis hence accumulation of CO2 around the plant

           

          

CO2/O2 / Water vapour diffuse through the stomata/ lenticels
Some toxics wastes are converted to non-toxic substances and deposited in certain tissues of the plant/ stored in ageing structures
Resins/ tanins are exuded through the bark of the stem/ lost during leaf fall

         

When osmotic pressure is high 

When the op(osmotic pressure) of blood rises increases beyond the normal range/ level the (osmoreceptors in) hypothalamus; detects and stimulates the pituitary gland.
To secrete more ADH/ wasopressin which makes the kidney tubules more permeable to water and more water reabsorbed into the blood stream reducing the op to the normal level
When there is too much sodium ions in the blood adrenal cortex responds by secreting less alodsterone which causes less Na+ to be reabsorbed from the kidney tubules in to blood of lowering the OP to normal level

When OP is low

When op is low ( the osmoreceptors) the hypothalamus defect and the pituitary gland is less stimulated
And  secrets less ADh/ vasopressin which makes the kidney tubules less permeable to water ; less water is re-absorebed into the blood stream.
When there is too little Na+ ions in the blood, adrenal cortex responds by secreting more adosterone.

          

            

Reproduces asexually by budding;
(under favourable conditions) a small area of the cell wall of the parent cell softens and forms a projection of bud
The nucleus divides by mitosis into two
One of the daughter nucleus moves into the new bud
The bud increases in size and forms new organelles then detaches from the parent cell.

          

Secondary thickening is facilitated by meristematic cells known as cambium located between phloem and xylem in vascular bundles of plants
(vascular cambium divides radially to form a ring of cambium tissue) With the xylem inside the ring and the phloem outside the ring.
Cells of cambium ring divide to form secondary xylem on the inside.
Interfascicular cambium/ cambium between vascular bundles divides to form secondary parenchyma which becomes medullary rays
Much more xylem is formed than the phloem, thus pushing the phloem outwards. 
Cork cambium is a layer of meristematic cells beneath the epidermis
Division of cork cambium cells forms secondary cortex on the inside and cork cells on the outside
The walls of the cork cells become coated with suberin and die( they increase in number and become the bark of the stem)
The bark prevents water loss, inecftion from fungi and damage by insects.
In some areas, the cork cells form a loose mass known as lenticels for gaseous exchange.
Rate of secondary growth in stems varies with seasonal changes resulting in annual rings.