INSTRUCTIONS TO CANDIDATES
Write your name and index number in the spaces provided
This paper consists of two sections: A and B. Answer all questions in section A and in Section B,Answer qn 11 and any other three in the spaces provided.
All dimensions are in millimeters unless otherwise stated.
For examiner's use only
Section

Question

Maximum score

Candidates score

A

1-10

40

B

11

15

12

15

13

15

14

15

15

15

Total score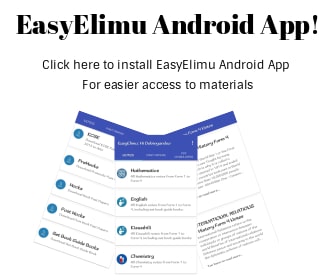 ---
Questions
Give two reasons why one should study metalwork in high school. (2 marks)

Give four factors influencing the choice of career of an individual. (2 marks)

Give the three aspects of safety. (1 ½ marks)
State one use of each of the following safety devices. (1 ½ marks)

Leather gloves
Clear goggles
Helmet

Give three differences between high carbon steels and high speed steels. (3 marks)
Define the following mechanical properties of metals and give one example of a metal having such property . (6 marks)

Hardness
Malleability
Toughness
Plasticity

Give two uses of screw threads. (2 marks)
Give four points to observe in care for taps and dies. (2 marks)

Give the steps followed when carrying out the following finishing processes. (4 marks)

Bluing
Oil blacking

Define the term soft soldering. (1 mark)
Name the following in soft soldering and give the use of each in order to obtain a sound soldered joint. (3 marks)

Filler metal
Flux
Heat source

What causes the following defects during riveting? (4 marks)

Rivet bends
Loose riveted joint
Plate split
Gap left between plates

Give two uses of a pair of dividers as a metalworking tool. (2 marks)
What type of hacksaw blade is recommended for a school workshop? Give a reason for your choice. (2 marks)

State two uses of a cutting fluid in metal cutting. (2 marks)
What is used for marking the following in sheet metalwork? (2 marks)

Folding lines
Cutting lines
SECTION B
This section consists of four questions, attempt question 11 and any other three questions
The fig below shows a machined block drawn in first angle orthographic projection, draw full size the block isometric ( 15 marks)


Explain the following heat treatment processes (6 marks)

Hardening
….………………………………………………………………………………………………
Tempering
….………………………………………………………………………………………………
Annealing
….………………………………………………………………………………………………

Use a graph to explain the behavior of steel when heated. (6 marks)
List three methods of checking furnace temperatures when carrying out heat treatment (3 marks)

Outline the procedure of lighting a blow pipe. (5 marks)
Give four functions of flux in brazing (4 marks)
Use labelled sketches to show the difference between rightward and leftward welding technique. (4 marks)
List four factors that affects the quality of a brazed joint (2 marks)

State and explain four parts of a combination set (4 marks)
Use sketches to show four uses of a combination set. (6 marks)
Below is a diagram of a tool used in measuring, give the reading shown in the instrument. (2marks)

State three care for each of the following (3 marks)

Micrometer screw gauge
Vernier caliper

Figure 4 shows a diagram of a lathe machine

Name the parts labelled A, B, C, D, E, F, G and H. (3 marks)


……..................................
……..................................
……..................................
……..................................
……..................................
……..................................

Explain the procedure of making the component shown (12 marks)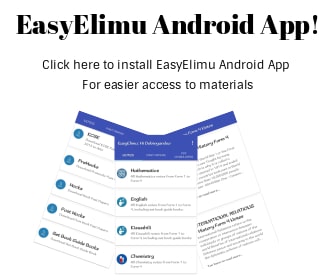 ---
MARKING SCHEME
Two reasons why one should study metalwork in high school. (2mks)

Get an understanding of the place of metalworking industries which contribute to the growth of our nation.
Develop skills in the safe use and care of materials.
Apply skills learned in other subjects.
Learn to work and live with others.
Acquire information to assist one to explore careers.
Make functional articles of one's interest and appreciate them.

Four factors influencing the choice of career of an individual. (2mks)

Dictates of the environmental conditions where one lives
Career inclination
Educational background
Availability of training opportunities
Availability of jobs

The three aspects of safety. (1 ½ mks)

Personal safety
Tool and equipment safety
Environmental safety

Use of each of the following safety devices. (1 ½ mks)

Leather gloves
Protect the hands when handling rough or hot workpieces.
Clear goggles
Protect the eyes from flying chips.
Helmet
Protect the head from being hit by falling objects.

Give three differences between high carbon steels and high speed steels. (3mks)


| | |
| --- | --- |
| High carbon steel | High speed steel |
| Not resistant to corrosion | Resistant to corrosion |
| Cheaper | More expensive |
| Cannot retain hardness at high temp | Retain hardness at high temp |

Define the following mechanical properties of metals and give one example of a metal having such property . (6mks)

Hardness
It is the ability of a metal to resist scratching,indentation or wear by abrasion by other hard bodies.e.g high carbon steel,high speed steel,cast iron
Malleability
It is the property of a metal that allows it to be hammered or rolled without cracking e.g aluminium,brass,copper,mild steel.
Toughness
It is the ability of a metal to resist fracture or deformation when subjected to blows. e.gmedium carbon steel
Plasticity
It is the property that makes a metal to remain deformed after the load has been removed e.g lead,copper,gold.

Two uses of screw threads. (2mks)

Transmission of motion
Joining parts together.

Give four points to observe in care for taps and dies. (2mks)

They should not be given undue pressure.
High temp may make the tools soft and useless.
They must be lubricated when in use.
The correct sizes of tap wrenches and diestock should be used.
The correct sizes of holes and rods to be threaded are essential.
Taps and dies should be cleaned,oiled and kept in the screw plate after use.

Give the steps followed when carrying out the following finishing processes. (4mks)

Bluing

Clean with an abrasive cloth
Heat with a clean flame until it turns blue
Dip in clean light oil
Wipe with a clean cloth after it has cooled.

Oil blacking

Clean with an abrasive material
Heat to red hot
Coat with clean heavy lubricating oil or linseed oil
Heat for 5-10 mins to about 200°c to burn off excess oil.
Wipe clean with cotton waste.

Define the term soft soldering. (1mk)

It is a low temp thermal joining process.

Name the following in soft soldering and give the use of each in order to obtain a sound soldered joint. (3mks)

Filler metal

Soft solder-joining the metals.

Flux

Resin,zinc chloride-cleaning agent

Heat source

Jiko/stove,electricity-heating the metals and solder.

What causes the following defects during riveting? (4mks)

Rivet bends

Too large hole,too much shank projection

Loose riveted joint
Plate split

Rivets not spaced well on the plate.

Gap left between plates

Drilling burrs not removed.

Two uses of a pair of dividers as a metalworking tool. (2mks)

Transferring measurements from a steel rule to a workpiece and vice versa.
Drawing arcs and circles on metals.

What type of hacksaw blade is recommended for a school workshop? Give a reason for your choice. (2mks)

Flexible because it cannot break easily.

State two uses of a cutting fluid in metal cutting. (2mks)

Cooling the work and the tool.
Lubricating the tool.

What is used for marking the following in sheet metalwork? (2mks)

Folding lines
Cutting lines





heat treatment process

Hardening-this is heat treatment process which makes steels with sufficient carbon content harder by heating uniformly to temperature above upper critical temperature and then cooling suddenly
Tempering -this is a heat treatment process carried out on hardened steels to remove excess hardness and relief stress by heating it to temp below critical point and cooling in water
Annealing-this is a heat treatment process carried out to relieve internal stress caused by work hardening .its carried out by reheating steel to temperature above the critical temperature and then allow it to cool slowly in a closed furnace
Correct stating 3×1/2=21/2mrks
Correct explanation 3×1=3MRKS

Behavior of steel when heated

When steel is heated temperature raises uniformly to 7250c and then remains stationary for a while, it then raises at a slower rate to 8000c.
On cooling the temperature drops to 725 and then remains stationary for a while then continues to drop uniformly

Correct explanation 2×1/2=1MRKS
Correct curves 2×2=4MRKS
Correct critical temp points 2×1=2mrks

methods of checking furnace temperature

By use of pyrometers
By use oh ceger cones
By observing temperate changes 3×1=3mrks

lighting a blow pipe

Open the acetylene valve half turn and oxygen valve full turn,ensure needle valves are closed
open the acetylene needle valve and using acetylene regulators set the required working pressure then close
Open oxygen needle valve an using oxygen regulators set the required working pressure then close
Open acetylene needle valve slightly and light the torch,increase the amount of gas until the flame is clear of soot
Open the oxygen needle valve and set the required flame Correct statement of point
5×1=5mrks

Functions of flux

To make the filler metal flow easily in to the joint
Remove oxides
Prevent further oxidation 3×1=3mrks

Rightward welding technique
Leftward welding technique
Correct diagram 2×2=4mrks
Factors affecting the quality of a brazed joint

The joint design
Type of filler rod used
Amount of heat supplied
Types of flux used
The gap left between plates 4×1=4mrks

parts of a combination set

Steel rule- its is made of hardened steel and has a groove along one side to accommodate various heads
Centre head- has two arms which forms angles of 450 on either sides of the steel rule, it is used to locate the center of round bar
Square head-the head makes an angle of 90 and 45 on either sides to the steel rule, it is used to check angles of 90 and 45
Protractor heads-has a protractor dial which measures angles from 0-180 to the steel rule
Correct stating 3×1/2=11/2mrks
Correct explanation 3×1=3mrks

uses of a combination set


Correct diagram 3×1=3mrks
Correct naming 3×1/2=11/2mrks
Vernier caliper reading
MSR=5.00
VSR=5×0.02
=0.1
ADD 5.00 ± 0.1
=5.1cm
Correct MSR 1/2mrk
Correct VSR 1MRK
Correct addition 11/2mrk
Care of micrometer screw gauge

It should not be dropped
It should not be held in the hand for along time
It should be stored in its case after use
It should be cleaned and oiled after use
Care of vernier calipers
It should not be dropped
It should be cleaned and oiled after use
They should not be piled together
The clamping screw should always be in position
3×1/2=11/2
3×1/2=11/2

parts of lathe

A-Head
B-Speed change gear levers
C-Chuck
D-Tool post
E-Tail stock
F-Tail stock hand wheel
G-Carriage hand wheel
H-Feed shaft 8×1/2=4mrks

Procedure of making component



| | | |
| --- | --- | --- |
| step | procedure | illustration |
| 1 | Cut the round bar required | |
| 2 | Hold the round bar in the three jaw chuck and set it to run true | |
| 3 | Face the end | |
| 4 | Parallel turn the work piece to diameter 50 | |
| 5 | Part off slightly 70mm from the end for 15mm to diameter 30mm | |
| 6 | Parallel turn a length of 63mm from the end to diameter 30mm | |
| 7 | Taper turn a distance of 28mm from the end to diameter 25 | |
| 8 | Cut threads from 28mm 60 63mm | |
| 9 | Drill a hole of diameter 20mm and bore it to diameter 23mm | |
| 10 | Part off the work piece | |
| 11 | Set the work piece on the lathe machine and chamfer the other end | |