INSTRUCTIONS TO CANDIDATES
This paper consists of two sections: A and B.
Answer ALL the questions in section A. in section B, answer question 6 and any two other questions.
All answers must be written in the answer booklet provided.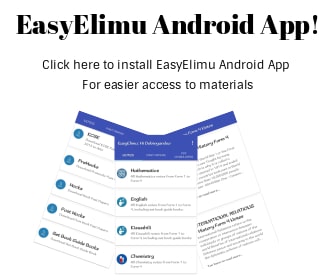 ---
QUESTIONS
SECTION A: 25 MARKS
Answer all the questions
Distinguish between forest and forestry. (2 mks)
State three factors favouring growth of Mt. Kenya forest. (3 mks)

Name three middle east countries that are oil producers. (3 mks)
Give three by products obtained when crude oil is refined. (2 mks)

Name two counties in Kenya where wheat is grown on large scale. (2 mks)
Give three physical conditions that favor large scale wheat farming in the Prairies provinces of Canada. (3mks)

Define the term nomadic pastoralism. (2 mks)
Give three breeds of beef cattle reared in Kenya. (3 mks)

A photograph is divided into 3 parts. Name them. (3 mks)
State two limitations of using photographs. (2 mks)
SECTION B: 75 MARKS.
Differentiate between secondary and primary data. (2 marks)
Use the table below to answer the questions that follow.
Number of dairy animals in division X on the Kenyan highlands in 1992.


| | | |
| --- | --- | --- |
| TYPE | NUMBER | |
| Guernsey | 8400 | |
| Ayrshire | 7200 | |
| Jersey | 10800 | |
| Freshian | 16400 | |
| Shahiwal | 5200 | |

Using a scale of 1cm to represent 4000 animals, represent the above data using a divided rectangle. (6mks)
State two advantages of using a divided rectangle to represent data. (2mks)
Name three other ways through which the data above can be statistically presented. (3 mks)

State three physical factors that favour dairy farming in the Kenya highlands (3mks)

Explain three ways in which dairy farming in Kenya is different from dairy farming in Denmark. (6mks)
State three by-products of milk. (3 mks)

Name two indigenous softwood trees in Kenya. (2 mks)
State five factors that favour the development of softwoods in Kenya. (5 mks)

Explain four problems experienced in commercial exploitation of tropical rain forests in Africa. (8 mks)
Give four protective roles of forests in a country (4 mks)

Explain three problems Canada experiences in exploiting her forests. (6 mks)

Name two major counties in Kenya known for high maize production. (2 mks)
What is the importance of maize production to Kenya's economy. (6 mks)
Name the Board that is known for buying and selling of maize in Kenya. (1 mks)

What are the problems facing the maize farming in Kenya. (8 mks)
Explain four physical conditions that favour maize growing in Kenya. (8 mks)

Define the term mineral (2mks)

Name two areas in South Africa where diamond is mined. (2mks)
Give four ways in which minerals occur. (4 mks)

Explain three negative effects of mining on the environment. (6mks)
Identify any two methods of mining. (2mks)
Name a port through which minerals in East Africa are exported. (1 mk)
Explain four ways in which soda ash contributes to the economy of Kenya (8mks)

Differentiate between market gardening and floriculture. (2mks)
State four features of horticulture. (4mks)

State three physical factors that favour development of horticulture in Kenya. (3mks)
Explain why horticulture is more developed in Netherlands than in Kenya. (8mks)

State and explain four contributions of horticulture to the economy of Kenya. (8mks)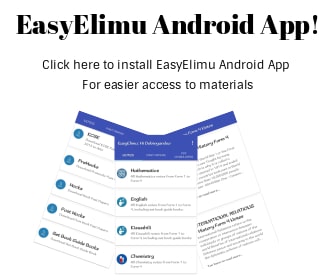 ---
MARKING SCHEME
Distinguish between forest and forestry.

Forest is a continous and extensive land covered with a closed stand of tall trees usually of commercial value, while forestry is the science of developing or cultivating forests. (2 mks) (2x1)

State three factors favouring growth of Mt. Kenya forest. (3 mks)

The area receives high rainfall throughout the year which encourages continous growth of trees.
The area has deep fertile volcanic soil that allow the roots to penetrate deep hence able to hold trees. prohibiting cultivation and settlement hence allowing growth
The area is a gazette reserve trees.
The steep slopes discourage settlement thus forests thrive.

Name three middle east countries that are oil producers. (3 mks)

Iraq
Saudi Arabia
Iran
Kuwait
United Arab Emirates

Give three by products obtained when crude oil is refined. (3 mks)

Wax Bitumen/peat/asphalt Grease/lubricants Resin/petrol chemicals

Name two counties in Kenya where wheat is grown on large scale(2mks)

Uasin Gishu, Narok, Nyandarua, Meru and Nakuru

Give three physical conditions that favor large scale wheat farming in Prairies provinces of Canada (3mks)

Extensive land
Fertile Prairies soils
Undulating landscape
Warm summer/ frost free
Moderate rainfall

Define the term nomadic pastoralism. (2 mks)

It is the seasonal movement of herders and their livestock from one place to another in search of waterand pasture.

Give three breeds of beef cattle reared in Kenya. (3 mks)

Galloway
Boran
Short horn zebu
Charolais
Angus

A photograph is divided into 3 parts. Name them. (3 mks)

Foreground
Middle ground
Background

State two limitations of using photographs. (3 mks)

Expensive it require a camera or a photographic device/must travel to where the feature is.
May not be useful to visually impaired persons
Blurred images may not be clear hence can lead to wrong interpretation
Black and white photograph of some features may give wrong impression of a different feature eg wheat and oats/grass
Requires a skilled person who knows how to capture photographs using devices such as video cameras

Differentiate between secondary and primary data. (2 marks)

Primary data are facts and figures collected from the field as first hand/ original information while secondary data is information that is available in stored sources such as Text books, magazines etc.

Use the table below to answer the questions that follow.
Number of dairy animals in division X on the Kenyan highlands in 1992.


| | | |
| --- | --- | --- |
| TYPE | NUMBER | |
| Guernsey | 8400 | 8400/48000x12=2.1 (8400/4000=2.1) |
| Ayrshire | 7200 | 7200/48000x12=1.8 (7200/4000=1.8) |
| Jersey | 10800 | 10800/48000x12=2.7 (10800/4000=2.7) |
| Friesian | 16400 | 16400/48000x12=4.1 (16400/4000=4.1) |
| Shahiwal | 5200 | 5200/48000x12=1.3 (5200/4000=1.3) |

Using a scale of 1cm to represent 4000 animals, represent the above data using a divided rectangle. (6mks)
A divided rectangle showing the number of dairy animals in division x on the Kenyan highlands in 1992


| | | | | |
| --- | --- | --- | --- | --- |
| friesian | jersey | guernse | ayrshir | sahi |

Calculations 2 ½ mks
Rectangle 2 ½ mks
Title 1 mk
Total 6mks

State two advantages of using a divided rectangle to represent data. (2mks)

Each individual component is clearly seen
It allows for comparison of quantities of the various components
It can be used to represent a wide range of data

Name three other ways through which the data above can be statistically presented. (3 mks)

Pie charts/ proportional circles
Bar graphs
Simple line graphs

State three physical factors that favour dairy farming in the Kenya highlands (3mks)

sufficient and reliable rainfall ensures continuous growth of fodder and constant supply of water for animals
availability of well drained fertile soils ensure growth of good quality feeds
Low temperatures of between 16°C-20°C are conducive for the survival of the exotic breed
humid conditions favor breed of dairy animal.

Explain three ways in which dairy farming in Kenya is different from dairy farming in Denmark. (6mks)

in Kenya cattle mainly depend on naturally growing grass while in Denmark the cattle is feed on fodder and commercial feeds
in Kenya mechanization is limited while in Denmark mechanization is widely used
in Kenya most farmers practice mixed farming while in Denmark dairy farming is highly specialized
in Kenya most of the dairy products are consumed by the domestic market while in Denmark the products are mainly exported
In Kenya dairy production is affected by variation in climate while in Denmark dairy farming is least affected by variation in climate
in Kenya animals graze outdoors throughout the year while in Denmark animals are kept indoors during the winter
in Kenya dairy co-operative movement is less developed while in Denmark cooperative movement is highly developed.
In Kenya artificial insemination/ extension services is limited to a few firms while in Denmark artificial insemination/ extension are widely used
In Kenya research is limited while in Denmark research is extensive
in Kenya dairy farming is mainly practiced in the highlands while in Denmark it is found throughout the country

State three by-products of milk. (3 mks)

Name two indigenous softwood trees in Kenya. (2 mks)

Cedar
Podo
African pencil 2x1-2 mks

State five factors that favour the development of softwoods in Kenya. (5 mks).

Cool climate that enables coniferous trees to grow/flourish.
Highlands receive high amounts of rainfall.
Rugged highlands discourage settlement and agricultural activities leaving forestry as the alternative.
High demand for the soft woods products encourage tree planting
Deep soils favour forest growth.
Softwoods grow quite first due to warm temperatures. 5x1 5 mks

Explain four problems experienced in commercial exploitation of tropical rain forests in Africa. (8 mks)

Wide variety of trees species hence exploitation of the required species difficult.
Valuable tree widely scattered hence difficult and expensive to exploit.
Thick/dense undergrowth hinder accessibility/exploitation.
Dangerous wild animals/insecurity
Humid climate-malaria conditions.
Heavy rainfall all year round impassable roads.
Low demand-markets are far away.
Bulkiness of logs- transportation is difficult. 2x4 8mks

Give four protective roles of forests in a country .

Protect water resources/catchment areas.
Protect and improve climate by preventing excessive evaporation from bare ground.
Control/reduce soil erosion by breaking force of falling raindrops/bind soil particles
Act as wind breakers.
Provide humus to soil which absorb most of the moisture 4X1 4 mks

Explain three problems Canada experiences in exploiting her forests.

Cold climate means trees take long period to mature hence delaying harvesting.
Accidents/fire destroys large tracts of forests reducing area of forests
Rugged landscape hinder smooth exploitation of forests.
Northern part experiences very cold conditions making the area inaccessible. (6 mks) 3x2 6 mks

Name two major counties in Kenya known for high maize production. (2 mks)
What is the importance of maize production to Kenya's economy. (6 mks)

Maize production is consumed as food when processed it produces flour which makes posho
maize is valuable as animal feeds
Maize is used to make industrial products such as salad oil for cooking and alcohol for consumption
maize has led to development of livestock industries by providing feeds for animals

Name the Board that is known for buying and selling of maize in Kenya. (1 mks)

National Cereals and produce board

What are the problems facing the maize farming in Kenya. (8 mks)

Maize is attacked by pests eg stalkborer, armyworms, ampides etc
maize is affected by deceases eg white leaf blight
Price fluctuations especially low prices discourage farmers. This is due to importation of cheap maize that flood the market killing the morale of farmers.
Inadequate capital by farmers to buy farm inputs eg fertilizers and high quality seeds
Unfavorable climatic conditions eg draught or frost.
Poor transport and communication eg poor roads

Explain four physical conditions that favour maize growing in Kenya. (8 mks)

Temparature- maize requires moderate to high temperature ranging between 18°C- 30°C and should not fall below 10°C, different varieties of maize thrive at different temperatures but within the range of 18°C- 30°C/ moderate to high
Rainfall- rainfall requirement depend on different varieties of maize crop. It varies from moderate to high rainfall that is from 300mm- 1800mm. there should be a dry period for the crop to ripen.
Soils- Maize does well in a wide range of soils. The soil should be deep rich with abundant amount of Nitrogen content, it should be well drained and not water logged. It should be aerated.
Altitude- different types of maize are suitable for different altitudes, however the best ideal condition is around 1800m above sea level
Topography- Maize grows very well on gently sloping or undulating plains and plateaus

Define the term mineral (2mks)

A mineral is a naturally crystalline inorganic substance with a definite chemical compasition and physical properties (2mks)

Name two areas in South Africa where diamond is mined (2mks)

Kimberly
Orange free state
pretoria

Give four ways in which minerals occur (4mks)

veins and lodes
beds and seams
weathering products
Alluvial deposits

Explain Three negative effects of mining on the environment (6mks)

Waste of agricultural land
mines and their associated tip
heaps may occupy land otherwise suitable for farming
Waste of industrial land
where derelict land is in or near towns it may occupy industrial land which could be used for industries
Open cast mines may be filled with water and create deep pools thus accidents are likely to occur. Such pools are also breeding grounds for mosquitoes and other water borne discases
Pollution- during mining toxic gases may be emitted from the mimes leading to air pollution

Identify any two methods of mining (2mks)

Open cast mining -Underground mining -Alluvial mining/ placer method

Name a port through which minerals in East Africa are exported (Imk)

Explain four ways in which soda ash contributes to the economy of Kenya) (8mks)

it has led to the growth of magadi township -it has led to the development of social amenities such as hospitals, schools, social elubs, electricity that have benefited the local maasai community it has stimulated the development of infrastructure. For example the F1Okm tarmac road and railway line from konza to magadi in an otherwise remote region -The company provides employment to many Kenyans improving their living standards -Through exports of soda ash the country carns a substantial amount of foreign exchange. (2x4) 8mks

Differentiate between market gardening and floriculture. (2mks)

Market gardening is the intensive cultivation of vegetables and fruits for sale in the nearest urban center while floriculture is the cultivation of flowers for sale

State four features of horticulture. (4mks)

Small firms
Located near communication lines.
Land is intensively firmed
continuous application of manure and fertilizers
Located near urban centers
Are scientifically managed

State three physical factors that favour development of horticulture in Kenya. (3mks)

Abundant supply of water from lakes and rivers
Gentle slopes to facilitate construction of green houses
Warm temperatures that favor growing of horticulture products
Well drained soils
Volcanic soils/ deep soils

Explain why horticulture is more developed in Netherlands than in Kenya. (8mks)

Netherlands Kenya

Has higher demands for horticultural products Has low demand for horticulture products
Farmers have access to capital needed for horticulture farming Farmers have low capital for horticulture farming
Very high technology Poor technology
Well developed transport network Underdeveloped transport network
Has highly skilled labor Inadequate skilled labor in production
There is more research into suitable methods for horticulture farming Inadequate research
Has well organized marketing systems/ cooperatives which are favorable for horticulture farming Has underdeveloped marketing systems/ cooperatives which are not favorable for horticulture farming
(4x2=8)

State and explain four contributions of horticulture to the economy of Kenya. (8mks)

Earns foreign exchange from exports
Creation of employment
Raw materials for industries eg processing of fruits
Enhances development of roads
Source of food to the population
Provision of social amenities in the growing areas
Source of income to the farmers when sold
encourages land reclamation (4x2=8)