Instructions To Candidates
Candidates should have the following for this exam:.

drawing paper size A3
drawing instruments
Scientific calculator

This paper consists of two sections; A and B.
Answer all questions in section A in the spaces provided.
From section B, answer question 11 on A3 paper and any other three questions in the spaces provided.
All dimensions are in millimeters unless otherwise stated.
Candidates should answer the questions in English.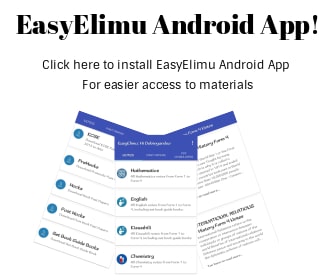 ---
Questions
SECTION A (40 marks)
Answer all the questions in this section in the spaces provided.
Explain the term 'peat ground' (1 mark)
Explain the meaning of "Building Construction." (1 mark)

state the appropriate protective wear for each of the following parts of the body: (2 marks)


Head
Feet
Eyes
Hands

State three advantages of using PVC pipes for drainage works. (3 marks)

State four factors that affect the type of trench support adopted. (2 marks)
Sketch and label a vertical section through a manhole. (4 marks)

List four factors to consider before a system of painting is selected.(2 marks)
List four welfare services provided on a building site. (2 marks)

List two methods of storing masonry tools. (1 mark)
Complete the following abbreviations as used in building. (2 marks)

HC-………………………………………………………………………………………
DPM-………………………………………………………………………………………
RC- ………………………………………………………………………………………
GCI-………………………………………………………………………………………

Name two occupational hazards that a mason may be exposed to. (2 marks)
State four regulations governing site investigation. (2 marks)

State why sub-soil drainage is necessary in a building site (give 4). (2 marks)
State two functions of a road kerb. (2 marks)

Briefly explain four methods of curing freshly laid concrete. (2 marks)
State two advantages of short bore pile foundation. (2 marks)

State three steps in stone dressing. (2 marks)
State four places where vertical damp-proof courses are used. (2marks)

State any two defaults of a ball-valve that would necessitate continuous flow of water. (2 marks)
State any four barriers to the trenches. (2 marks)
SECTION B (60 marks)
Answer question 11 on the A3 paper provided and any other three questions from this section in the space provided. Candidates are advised to spend not more than 25 minutes on question 11.
Figure 4 shows a pictorial drawing of a shaped block.
Fig. 4

To a scale of 1:1, draw three orthographic views of the block in 3rd angle projection. Insert six
dimensions. (15 marks)

Using a labeled vertical cross sectional sketch, show the damp proof details provided on a parapet wall and roof covered with iron sheets. (8 marks)
State four factors to be considered when choosing a type of floor finish. (4 marks)
Outline three basic water treatment stages. (3 marks)

Outline the procedure of fixing tresses into position to form a roof. (5 marks)
Sketch a putlog scaffold and explain how it is assembled. (10 marks)

State five functional requirements of masonry walls in a building.(5 marks)
Outline the procedure for the construction of timber wall framing. (5 marks)
Sketch and label a raft foundation. (5 marks)

Sketch a longitudinal section through reinforced concrete lintel. (5 marks)
State three properties (qualities) of good building mortar. (3 marks)
Give four functional requirements of foundations. (4 marks)
State three advantages of air seasoning. (3 marks)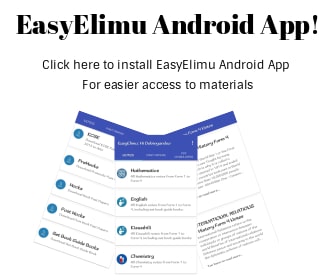 ---
Marking Scheme
Explain the term 'peat ground' (1 mark)

This is a type of ground that is made of decomposed vegetation.

Explain the meaning of "Building Construction"

state the appropriate protective wear for each of the following parts of the body: (2 marks)


Head
Feet
Eyes
Hands
(Any 4 x ½ =2 marks)

State three advantages of using PVC pipes for drainage works. (3 marks)
(3x 1 =3 marks)

State four factors that affect the type of trench support adopted. (2 marks)


Safety of the workers.
Type of work to be carried out.
Prevailing weather conditions.
Presence of ground water.
Vibrations from traffic, railways.
Length of time trench is likely to remain open.
The nature of the ground – angle of repose
(Any 4 x ½ =2marks)

Sketch and label a vertical section through a manhole. (4 marks)

Sketch=2marks
Labels 4x ½ =2marks
Total=4marks

List four factors to consider before a system of painting is selected.(2 marks)

Cost
Type of surface to be painted
Type of finish desired.
Area to be painted (exposed or covered)
(Any 4x ½ = 2 marks)

List four welfare services provided on a building site. (2 marks)

Security
Insurance
First aid / medical /health
Safety (personal)
Transport
Communication
(Any 4 x ½ = 2 marks)

List two methods of storing masonry tools. (2marks)

Use of tool crib
Use of tool store
Use of tool box

Complete the following abbreviations as used in building. (2 marks)

HC-hardcore
DPM-damp proof membrane
RC- reinforced concrete
GCI- galvanized corrugated iron
(Correct definition 4x ½ =2 marks)

Name two occupational hazards that a mason may be exposed to. (2 marks)

Inhaling of dust particles of both cement and lime.
Collapsing buildings.
Falling objects.
Scaling of high heights.
(Any 2 x 1 =2 marks)

State four regulations governing site investigation. (2 marks)

Position of building lines.
Provision of access roads.
Erection of hoarding.
Precautions while demolishing.
Damage to streets.
Closing and obstruction of streets
Disposal of rain water from the site.
(Any 4 x ½ =2 marks)

State why sub-soil drainage is necessary in a building site (give 4). (2marks)

To avoid surface flooding.
To increase the stability of the ground.
To avoid dampness in basement.
To reduce humidity in the immediate vicinity of the building.
To improve the workability of the soil for agricultural purposes.
(Any 4 x ½ =2 marks)

State two functions of a road kerb. (2marks)

To resist lateral thrust of the carriage way.
To define carriage way limits.
To direct the flow of surface water to gullies.
To support and protect footpaths and verges.
(Any 2 x ½ =1 mark)

Briefly explain four methods of curing freshly laid concrete. (2 marks)

Providing shades.
Covering the surface with hessian mats or gunny bags.
Sprinkling water on the surface.
Ponding
Membrane curing
Steam curing
Chemical application (any 4x ½ = 2 marks)

State two advantages of short bore pile foundation. (2 marks)

Cleaning site owing to the reduced amount of spoil which is excavated.
Greater speed of construction especially if the holes bored by mechanical means.
Work can proceed when the weather makes it difficult for normal excavation of trenches.
(Any 2 x ½ =1mark

State three steps in stone dressing. (2 marks)

Selecting the stone with the correct measurements
Cutting the stone to the required size
Cutting the marginal draft
Dressing the stone to the required size and shape.

State four places where vertical damp-proof courses are used. (2marks)

Reveals or doors and window openings.
Retaining walls.
Internal faces of walls enclosing laundry and dry cleaning areas.
On tanking to basements.
(Any 4 x ½ = 2 marks)

State any two defaults of a ball-valve that would necessitate continuous flow of water. (2 marks)

Punctured ball.-lever arm off the valve.
Lever arm stuck in open position.
Lever arm.
(Any 2x 1=2 marks)

State any four barriers to the trenches. (2 marks)

Making use of excavation soil
Close boarding
Continuous nails
Wooden face
Empty drum
Timber nails
(Any 4 x ½ = 2marks)





Using a labeled vertical cross sectional sketch, show the damp proof details provided on a parapet wall and roof covered with iron sheets. (8 marks)

State four factors to be considered when choosing a type of floor finish. (4 marks)

Use of floor area
Cleanliness required
Availability of materials
Cost of materials
Back ground
Tear and ware
Surface protection
Repair and maintenance
Cost

Outline three basic water treatment stages. (3 marks)

Sedimentation
Filtration
Chlorination

Outline the procedure of fixing tresses into position to form a roof. (5 marks)

Mark the position of the truss
Place the trusses in the marked positions
Fix the end trusses plumb
Brace the trusses
Tie the strings for alignment in order to align the remaining trusses into position
Fix the intermediate trusses into position with appropriate braces as you maintain the plumpness

Sketch a putlog scaffold and explain how it is assembled (10 marks)

The sole plate is placed on a relatively level ground.
Base plates are placed on top of the sole plate.
The standards are erected vertically on the top of the base plate.
The ledgers are fixed across the standard and secured tightly with strong ropes.
Put logs are supported on ledgers at each standard on one end while the other supported by the wall.
Scaffold boards are placed on the put logs.
Fix a toe board.
Finally a guard rail is fixed at least 1m height.


State five functional requirements of masonry walls in a building.(5 marks)

Safely transit imposed loads to the foundation
Prevent penetration of moisture from outside
Retain heat within
Resistant to weather elements like wind
Fire resistance
Insulate against heat from outside
Sound insulation
(Any 5 x 1 =5 marks)

Outline the procedure for the construction of timber wall framing. (5 marks)

Prepare cutting list
Set anchor bolts and compact concrete around them.
Cut and fix the sole plate.
Mark and cut housing for starts and sole plate.
Cut and fix studs to correct heights.
Cut and fix wall plate.
Cut and fix noggins.
Cut and fix external cladding and internal facing.
(Any 5 x 1 =5 marks)

Sketch and label a raft foundation. (5 marks)


Sketch a longitudinal section through reinforced concrete lintel. (5marks)

State three properties (qualities) of good building mortar. (3 marks)

Easy to spread
Able to retain water until the joints, plaster or screed gains adequate strength
Be able to bond with other materials
(Any 3x1=3marks)

Give four functional requirements of foundations. (4 marks)

It must not sunk or crack because the ground is not stable and firm.
It must not crack because of uneven settlement.
It must not break because it is based on loose soil.
Vegetable top soil must be removed.
Must not crack because of tree roots.
The foundation itself must be strong enough to carry building load.
The ford must not sheep because it has not been laid level.
It must not be undermined by rain water because the site is not back graded; the foundation has not been laid deep enough.
The foundation must not disintegrate in the presence of water.
(Any 4x1=4marks)

State three advantages of air seasoning. (3 marks)

It is cheaper in small supplies
Require little attention
Can be done anywhere by any person (no skills needed)
Fewer defects
(Any 3x1=3 marks)