QUESTIONS
Section A-Answer all questions in this section ( 40mks)
What is a Word processor? (1 mark)
State 4 purposes of word processing. (2 marks)
State four editing and 4 formatting features of any good word processor. (8mks)

Distinguish between Copying and Moving text. (2 marks)
A computer user may interact with a computer either through Graphical User Interface (GUI) or through typed commands.

State two features of a graphical user interface. (2 marks)
Give two advantages of using GUI based operating system over a Command line interface. (2mark)
Some computer systems still use Command line interfaces. State two advantages of command line interface. (2 marks)

Define an operating system (2mks)
State two advantages of electronic spreadsheets over manual worksheets. (2mks)

Match the computer generation with the technology used to make the (4mks)


Generation
Technology
Third
First
Fourth
Second
Thermionic values
Integrated circuits
Transistor
Large scale integration

List three types of secondary storage media (3mks)
State one advantage and one disadvantage of a laser printer (2mks

State two methods of minimizing dust in a computer laboratory. (2mks)
Differentiate between primary memory and secondary memory (2mks
State what is meant by each of the following and give an example of where each is used

Magnetic Ink character Recognition (MICR) (2 mks)
Optical Mark Read (OMR) (2mks
Section B-30(Mks)answer all questions in this section
What are computer viruses? (2mks)

State two ways through which computer viruses may be controlled (2mks)
Explain how each of the two ways stated in b (i) above assist in controlling computer viruses. (2mks)

The diagram below represents the essential features o a computer system . Study the diagram and answer the questions that follow:



Name the components (4mks)
On the diagram above, indicate the direction of data flow using arrows. (3mks)

Name the three types of buses in a computer system (3mks)
Explain how CPU registers may be used to carry out a basic calculation such as
2 + 7 = 9 ( 4mks)
Name two computers output devices. (2Mark)

What is a computer keyboard? (2mk)
List four types of keys found on a computer keyboard. Give an example of each(4mks)
Distinguish between a line printer and a page printer (2mks)
MARKING SCHEME
Define an operating system (2mks)
This is part of the computing system that controls all the hardware and all the software.
State two advantages of electronic spreadsheets over manual worksheets.(2mks)
It enables automatic recalculation
Editing is easy
Analysis of data is easy due to the use of formulas
Work is neat
State two methods of minimizing dust in a computer laboratory (2mks)
Constant cleaning and mopping
Use a carpeted floor (gathers dust slowly and does not raise dust)
Users to remove shoes. This ensures that no dust is carried to the room.
Differentiate between primary memory and secondary memory. (2mks)
Primary memory refers to the storage capacity of the CPU. It holds data and instructions currently in use. Also stores immediate results from processing waiting transfer to the output devices. Primary memory is volatile, i.e contents held transfer to the output devices. Primary memory is volatile, i.e. contents held are lost on power loss.
Secondary memory or backing storage refers to the storage of programs and data files, not currently being operated on. Secondary memory is non-volatile or permanent, i.e. Contents held are not lost on power loss.
Optical Mark Reader (OMR) (2 mks)
An OMR is able to sense marks on a special form in certain places. Application include multiple choice answers sheets, enrolment forms etc
What are computer viruses?
A computer program designed specifically to damage other programs or cause irregular behaviour. A virus itself from one computer to another
State two ways through which computer viruses may be controlled (2mks)
Using an up to date antivirus
Prude management policies & procedures e.g. restricting the movement of diskettes.
Explain how each of the two ways stated in b (i) above assist in controlling computer viruses. (2mks)
Antivirus software that is resident in the computers memory will detect a virus before it can affect the system. However the antivirus must be continuously updated to be effective.
Good management policies will ensure that the movement or transfer of virus programs is reduced to a minimum. Policies include:
Restriction of movement of diskette
Write protecting diskettes
New software on disk should be evaluated
Having a fire wall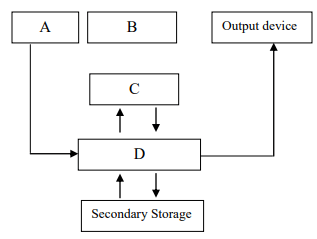 Name the components: (4mks)
A. Input
B. Control Unit
C Arithmetic Logic Unit
D Primary storage
Name the three types of buses in a computer system (3mks)
Data Bus
address bus
Control Bus
Explain how the CPU registers may be used to carry out a basic calculation such as (4mks)
2 + 7 = 9
The data 2 and 7 are fetched from memory (RAM) and placed in the Data register (DR) via the memory Buffer Register and the Address register.
The instruction + (add) is also fetched from memory (RAM) and placed in the instruction register (IR) via the address register.
The IR decodes the instruction and sends out the necessary command to process the data in the DR.
Results are then taken back to the RAM
Name two computers output devices (1mk)
Monitors, Speaker, PrinteR
What is a computer keyboard? (1mk)
Input device with keys foe keying in data in the form of characters
List four types of keys found on a computer keyboard. Give an example of each. (4mks)
Alphanumeric
Function
Numeric key pad
Special character
Cursor control
Distinguish between a line printer and page printer
A page printer prints one page at a time while a line printer prints one line at a time