INSTRUCTIONS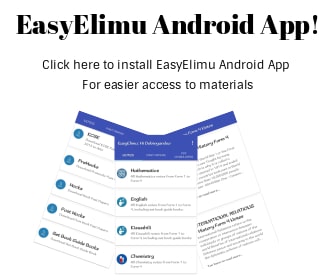 ---
QUESTIONS
Give reasons why the Bible is referred to as a library (5mks)
State five activities that took place when Jesus was born (Luke 2: 6 – 20) (5mks)
Outline five reasons why Jesus was baptized yet He was sinless (5mks)
How did Jesus demonstrate the teachings in the sermon on the plain in his ministry? (5mks)
Describe the parable of lamp under a bowl in LK 8:16-18 (5mks)
Outline reasons why Jesus used parables in His ministry (5mks)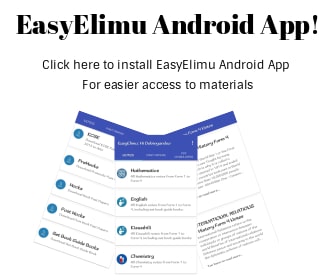 ---
MARKING SCHEME
Give reasons why the Bible is referred to as a library (5mks)


It has many books.
It was written at different times, circumstances/situations.
It is written by different authors people.
It is written by different styles.
It is written different purposes/messages/levels/
It is written over a long period/span of time.

State five activities that took place when Jesus was born (Luke 2: 6 – 20) (5mks)


Mary, the mother of baby Jesus wrapped him in swaddling clothes.
She laid him in a manger
Angle of the Lord appeared singing the praise of God
A multitude of angles appeared singing the praise of God.
The shepherds hurried to see the baby
The shepherds spread the news to many people
The shepherd sung/praises God after they had seen baby Jesus
The shepherds retuned to their homes/work.

Outline five reasons why Jesus was baptized yet He was sinless (5mks)


Jesus explained why He was baptized. It was to fulfill all righteousness.
To serve as a pattern or example to believers. Those who trust Jesus as their Savior are to follow Him in water baptism.
Jesus Came Out Of The Water Immediately - The Bible also emphasizes that Jesus came immediately out of the water. People stayed in the water to confess their sins. The fact that He came immediately out of the water is another indication that he had no sin.
To identify himself with sinners
To be identified by John
To be introduced to the crowd as the messiah
To fulfill all righteousness
It symbolized his death and resurrection
To show that he was ready to start his work
To acknowledge the work of John the Baptist as his forerunner

How did Jesus demonstrate the teachings in the sermon on the plain in his ministry? (5mks)

Jesus loved all people unconditionally
Jesus acknowledged his own shortcomings before condemning the faults of others.
jesus was generous
Jesus forgave others
Jesus endured sufffering in order to inherit the internal kingdom and wash away our sins
Jesus demonstarted commitment to God and did His will throughou his ministry.
(Students can give examples)

Describe the parable of lamp under a bowl in LK 8:16-18 (5mks)
No one after lighting a lamp covers it with a jar or puts it under a bed, but pits it on a stand, so that those who enter may see the light. (17) For nothing is hidden that will not be made manifest, nor is anything secret that will not be known and come to light. Take care then how you hear…
Outline reasons why Jesus used parables in His ministry (5mks)

To Give His Enemies No Ground
To Enlighten the True Hearted
To Make People Think
To Divide Into Two
To Fulfil Prophecy.