Chemistry Paper 2 Form 3 End Term 2 Exams 2021 with Marking Schemes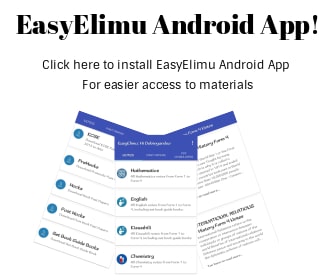 INSTRUCTIONS TO THE CANDIDATE
Write your name, adm numbernumber and class in the space provided.
Answer ALL the questions in the spaces provided.
All working steps MUST be clearly shown, where necessary
This paper consists of 8 pages
Candidates should check the question paper to ascertain that all the pages have been clearly indicated and no question is missing.
Hydrogen can be prepared by reacting zinc with dilute hydrochloric acid.

Write an equation for the reaction. (1mk) 
Name an appropriate drying agent for hydrogen gas. (1mk)
Explain why copper metal cannot be used to prepare hydrogen gas. (2mks)
Hydrogen burns in oxygen to form an oxide.

Write an equation for the reaction. (1mk)
State two precautions that must be taken before the combustion begins and at the end of the combustion. (2mks)

Give two uses of hydrogen gas. (2mks)
When zinc is heated to redness in a current of steam, hydrogen gas is obtained. Write an equation for the reaction. (1mk)
Element Q reacts with dilute acids but not with cold water. Element R does not react with dilute acids. Elements S displaces element P from its oxide. P reacts with cold water. Arrange the four elements in order of their reactivity, starting with the most reactive. (1mk)

 

The number of protons, neutrons and electrons in atoms A to F are given in the table below the letters do not represent the actual symbol of the elements:-


| | | | |
| --- | --- | --- | --- |
|  Atoms |  Protons |  Neutrons |  Electrons |
|  A |  3 |  4 |  2 |
|  B |  9 |  10 |  10 |
|  C |  12 |  12 |  12 |
|  D |  17 |  18 |  17 |
|  E |  17 |  20 |  17 |
|  F |  18 |  22 |  18 |

Choose from the table the letters that represent:

An atom of a metal ....................................................... (1mk)
A neutral atom of a non-metal ....................................................... (1mk)
An atom of a noble gas ....................................................... (1mk)
A pair of isotopes ................................................................... (1mk)
A cation ............................................................................... (1mk)
Anion …………………………………………... (1mk)

The grid below shows a part of the periodic table. The letters do not represent the actual symbols. Use it to answer the questions that follow:-



How do the atomic radius of element 

X and M compare. Explain. (2mks)
U and Q. Explain (2mks) 

Which letter represent the most reactive metal. Explain. (2mks)
 

Using crosses (X) to represent electrons, draw the atomic structure of element Q (1mk)
State the period and the group to which element Q belong (2mks)
Group ……………………………
Period ……………………………

 

The ionic configuration of element G is 2.8 G forms an ion of the type G-1. Indicate on the grid, the position of element G. (1mk)
To which chemical family does element G belong? (1mk)
State one use of element U (1mk)
What is the nature of the compound formed between K and U (1mk)

Study the set-up below and answer the questions that follow:



 

Name Gas X ……………………………………………………………… (1mk)
State the effect of releasing gas X to the environment (1mk)

Write down equations for the reactions taking place in;

Tube I (1mk)
Tube II (1mk)
Flask (1mk) ………………………………………………………………………………………………………

State the observation made in tube III (1mk)
Write down an equation for the reaction which could be used to generate Carbon (IV) Oxide for the above set up (1mk)
Name the reagents used to generate gas X in the laboratory (1mk)
Complete the diagram above to show how excess gas X can be collected (1mk)

The flow chart below illustrates two industrial processes, Haber process and the Contact process:



 

Give the name of the process by which air is seperated into oxygen and nitrogen (1mk)
Apart from oxygen and nitrogen gases produced from process (a)(i) name one other gas produced (1mk)

Name the substances represented by the letters A, B, C and D (4mks)

 A …………………………………………..
B …………………………………………..
C ………………………………………….
D ………………………………………….

Name the catalysts used in: 

Haber Process …………………………………………… (1mk)
Contact Process ……………………………………….. (1mk)

Explain the role of the catalysts in both the Haber and the Contact processes (1mk) 
Write a chemical equation for the formation of compound B (1mk) 
Calculate the percentage by mass of the nitrogen present in compound D (2 mks)
Give one major use of compound D (1mk)

 

Two reagents that can be used to prepare chlorine gas are manganese (IV) oxide and concentrated hydrochloric acid.

Write an equation for the reaction (1mk)
Give the formula of another reagent that can be reacted with concentrated hydrochloric acid to produce chlorine gas (1mk)
Describe how the chlorine gas could be dried and collected in the laboratory (2 mks)

In an experiment, dry chlorine gas was reacted with aluminium as shown in the diagram below



Name substance A (1mk)
Write an equation for the reaction that took place in the combustion tube (1mk)
State the function of the calcium chloride in the set-up above (1mk)

 

Sulphur occurs naturally in two different forms called allotropes;

What are allotropes (1mk)
The two allotropes of sulphur are stable at different temperatures, as shown in the equations below.
Give the name to the temperature 95.5ºC (1mk)

Below is a flow diagram for the contact process for manufacture of Sulphuric acid(VI)



Give the name of the chambers labelled (3mks)
Z …………………………………………
X ……………………………………………
Y ……………………………………………
State the three conditions in the converter (1mks)
Explain why the gases are passed though:

The dust precipitator and drying tower (1mk)
The chamber labeled Y (1mk)

Write the balanced equations for the reactions in : 

Step 2 (1mk)
………………………………………………………………………………………………………

Step 3 (1mk)
………………………………………………………………………………………………………

Step 4 (1mk)
………………………………………………………………………………………………………

The following flow chart shows the industrial manufacture of Nitric (V) acid.



Identify substance B, C, E and F. (4mks)

B ………………………………………………….
C ………………………………………………….
E ………………………………………………….
F ………………………………………………..... 

Describe what happens in the catalytic chamber. (2mks) 
State what takes place in chamber D. (1mk)
60 – 65% nitric (V) acid is produced in the absorption chamber. Describe how the acid can be concentrated. (2mks
State why nitric (V) acid is stored in dark bottles. (1mk)
Copper reacts with nitric (V) acid and not hydrochloric acid. Explain. (1mk)