QUESTIONS
You are provided with a solid labeled M.
Crush the solid M on a piece of paper. Dissolve the powder in a 10ml of distilled water.
Shake the mixture well.

Using the reagents provided, test the food – substances in the solution.


| | | | |
| --- | --- | --- | --- |
| Food - substance | Procedure | Observation | Conclusion |
| | | | |
| | | | |
| | | | |

State the importance of each of the food substance present in solution L, to the human body (2marks)

The photographs below show various stages of seed dispersal in a certain plant. Study the steps carefully and answer the questions that follow.
(SEE PHOTOGRAPH ATTACHED)

Identify the type of dispersal (1 Mark)
Give a reason for your answer in (a) (i) above. (1 Mark)

Name the type of placentation shown in the photograph. (1 Mark)
Briefly explain the events leading to the seed dispersal (2 Marks)
Name the parts labelled A to D. (4 Marks)
A………………………………………………………………………………………………………..
B………………………………………………………………………………………………………..
C………………………………………………………………………………………………………..
D………………………………………………………………………………………………………..
The actual length of the fruit below in cm is shown by a section of the tape in the photograph.
(SEE PHOTOGRAPH ATTACHED)

Determine the length of the fruit on the photograph. (1 Mark)
Calculate the magnification of the image. (2 Marks)
Determine the actual width of the fruit from point X to Y. Show your working (2 Marks)

A student collected the following specimens from the field during an ecological study. Examine the specimens and answer the questions that follow. The organisms belong to the same phylum and class.
(SEE PHOTOGRAPH ATTACHED)

Name the phylum to which the specimens belong. (1 Mark)
State the characteristics of organisms found in the phylum named in (a) above. (3 Marks)

Name the class to which the specimen belongs. (1 Mark)
State three characteristics found in the members of the class named above. (3 Marks)

State two differences between the wings of the specimen shown in the photograph above. (2 Marks)
State two observable differences between specimen X and Y. (2 Marks)
On photograph X, label any two parts of the organism. (2 Marks)
PHOTOGRAPHS
QUESTION 2 PHOTOGRAPHS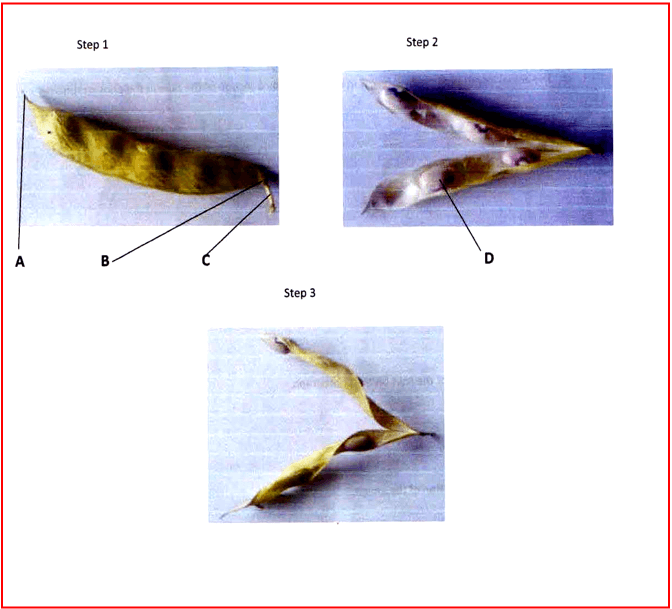 QUESTION 2. (e) PHOTOGRAPHS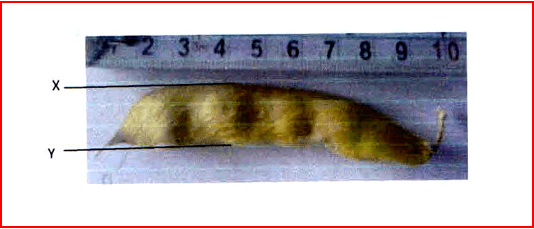 QUESTION 3. PHOTOGRAPHS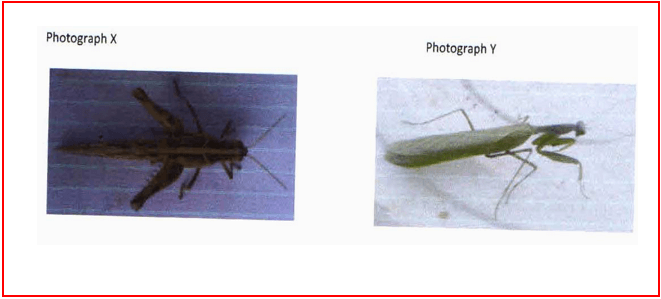 MARKING SCHEME



Food - substance

Procedure

Observation

Conclusion

Starch

Add 2 drops of iodine solution to the food – Substance M;

No colour change/iodine colour remains the same

Starch absent

Reducing – sugar

Re; Simple – sugar mono saccharide

- Add 2 mls of Benedict's solution to the food – Substance M; Heat/boil/Warm in a hot water bath

Colour change to yellow then to orange

Acc. Yellow or orange

Reducing - sugar present

Vitamin

C/A Ascorbic acid

- Put 2mls DCPIP solution in a test tube

- add solution M dropwise;( and shake)

Colour changes from blue to colourless/decolourisation occurs

Vitamin C/Ascorbic acid present

(9marks)
Reducing sugar – It is oxidized in the cell to release energy/source of energy.
Vitamin C – Protection against infection/offers resistance to infection.
- Used in formation of collagen, cement of teeth, connective tissues of blood. (2 Marks)

Self/Explosive mechanism; (1 Mark)
Presence of lines of weakness/surtures/seams along which splitting occurs; (1 Mark)

Axile/central; rej. Free central
The fruit, which is a pod dries; and splits along lines/seams/surtures of weakness; scattering the seeds
A – Remains of style;
B – Remains of calyx/sepals
C – Stalk/Pedicel;
D – Seed;

8cm; rej. If units are missing
Mg = 8cm/10cm
=X0.8
Width = 1.5cm/0.8
= 1.875cm

Arthropoda; (1 Mark)
Jointed appendages;
- Presence of exoskeleton
- Presence of segmented body

Insecta;

Three body parts
Three pairs of legs
A pair of antennae;

Outer Inner wings (2 Marks)
Hard Membrenous
Protection Flight
Specimen X Specimen Y
- Hind legs large and modified for leaping Hind legs small
- Fore legs small Fore legs large and modified for seizing prey
- Narrow abdomen Broad abdomen
Labelling on photograph X

Any two labelled parts (2 Marks)
CONFIDENTIAL
INSTRUCTIONS
Each candidate should be provided with or have access to:-
Solid labeled M (M is a vitamin C tablet – 100mg. It is available in chemist – shops) 1 tablet per student.
Iodine solution.
Benedict's solution.
4 clean test tubes.
DCPIP solution
1 test tube rack.
Distilled water.
One 10 ml measuring cylinder.
4 droppers.
Source of heat.
A ruler marked in millimeters.
A piece of paper or a white tile.
Test tube holder.