Instructions to candidates:
Answer All Questions in the Spaces Provided
The diagram shows two types of cells placed in a certain solution. Study them and answer questions that follow


Name the physiological process responsible for the observed results. [1 Mark]
Give the correct biological term used to describe cells A & B. [2 Marks]

The equation below shows a chemical reaction that takes place in plants.
Carbon (iv) oxide + water                        A + water

Identify substance A. [1 Mark]
Name the process represented by the equation. [1 Mark]
Other than the reactants state

two

conditions necessary for this reaction. [2 Marks]

The diagram below illustrates an experiment used to determine rate of respiration in a small insect.


Name the chemical compound labeled X and state its function. [2 Marks]
Why is the conical flask placed in a water bath? [1 Mark]
What would happen to the level of coloured water after 5 minutes? Explain: [2 Marks]
How can a control experiment be set? [1 Mark]

In a biology lesson a student collected the animal in the diagram below.
Use it to answer questions that follow;


Name the phylum and class to which the organism belongs

Phylum ______________________________________             [1 Mark]
Class________________________________________             [1 Mark]

Give two reasons for your answer in 1 (i), (ii) above [4 Marks]

The diagram below represents a plant in the division Byrophyta:


Name the parts labeled U, W, X, Y and Z [5 Marks]
Name one function of part labeled X, Y and Z [3 Marks]

 

It is observed that when apical bud of a plant is removed, lateral buds sprouts, where as they do not sprout in presence of the apical bud;

What is the biological term used to describe this? [1 Mark]
Give one application of this phenomena in agriculture. [1 Mark]

State four roles of IAA in plant growth and development: [4 Marks]
In epigeal germination the cotyledon is brought above the soil surfaces; Explain [2 Marks]        

 

State 2 structural modifications of nephrons in desert mammals. [2 Marks]
State a kidney disease whose symptom is coloured and turbid urine [1 Mark]

In a biological experiment; a cross was made between a tall pea plant & dwarfs plants; their progeny was selfed and the resulting plants were in a mixture in the ratio of 3:1. Make a biological cross to show these outcomes.             [4 Marks]
Explain geographical distribution as evidence of organic evolution. [2 Marks]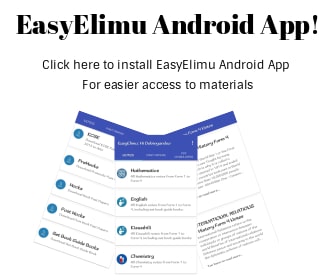 SECTION B
Answer Questions 10 (Compulsory) and either question 11 or 12 in the Spaces Provided
The table below shows the changes observed in the dry weight in milligrams of a barley seedling, its embryo and Endosperm during the first ten days after the onset of germination.


 

Dry weight in milligrams

Time (days)

Embryo

Endosperm

Whole seedling

0

2

41

45

2

2

39

43

4

7

32

41

6

15

21

38

8

22

11

35

10

35

6

43




Using a suitable scale and on the same axis, plot a graph of dry weight of embryo, endosperm and whole seedling against time. [8 Marks]
State and account for the changes in dry weight shown by:-

Endosperm [4 Marks]
Embryo [4 Marks]

Explain the role of water during germination [4 Marks]
 

Describe how the mammalian heart is adapted to its function [10 Marks]
How does gaseous exchange take place in terrestrial plants? [10 Marks]

 

How is the Epidermis of a green plant adapted to its function? [6 Marks]
Describe how structural factors affect rate of transpiration in plants [8 Marks]
Describe how xerophytes adapted to minimize water loss in their habitat. [6 Marks]
MARKING SCHEME
(a) Osmosis
(b) Flaccid; crenated
(a) glucose
(b) Photosynthesis
(c)  Light, chlorophyll
(a) To absorb Co2 produced
(b) Provides favorable temperature
(c) H2O rises in the capillary tube; to occupy space after O2 is used up
(d) Use a dead organism or do not include X.
(a) i)  Arthropoda;
ii) Arachnida
(b) i)   segmented body
Jointed appendages;
Exoskeleton
ii) 4 Pairs legs;
Head and thorax fused to form cephalothorax