CRE
FORM 4
END TERM EXAMS
TERM 1 2021
PAPER 2
TIME 2 hrs
INSTRUCTIONS
Give eight ways in which Jesus fulfilled the prophecies of suffering servant of Yahweh. (8mks)
Outline the content of Mars's song, the magnificent. (5mks)
State seven reasons why Christian must be baptized. (7mks)

Describe the healing of the woman with flow of blood. (Lk. 8: 43-48) (8mks)
How did people react towards Jesus use of miracles? (7mks)
State five ways the church continues with the healing ministry of Jesus. (5mks)

Outline seven events that took place during triumphant entry to Jerusalem. Lk. 19: 28- 44.(7mks)
Narrate eight teaching of Jesus on Eschatology. Lk. 21:5-36. (8mks)
How are Christian preparing for Jesus parousia? (5mks)

Outline the teaching of Peter concerning the people of God. 1st Peter 2: 9-10. (10mks)
Show ways through which Christian can promote unity. (6mks)
State ways in which kindness as a fruit of Holy Spirit is abused in Kenya today. (4mks)

Identify similarities between the Christian and Tradition Africa on marriage. (8mks)
Give reasons why young people are choosing to remain unmarried in Kenya today. (6mks)
Show ways in which the church is helping to solve domestic violence in Kenya today. (6mks)

What is the Christian view on plastic surgery? (10mks)
Ways through which science and Technology has negatively affected the environment created by God. (4mks)
Shows ways in which the youth in the church can carry out environmental restoration in Kenya today.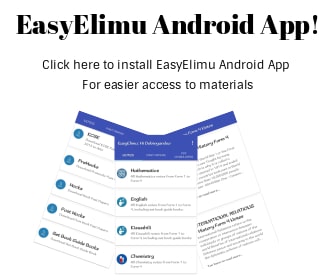 ---
MARKING SCHEME
Give eight ways in which Jesus fulfilled the prophecies of suffering servant. (8mks)

Bore the sin of human kind.
Delivered the human beings by dying on the cross.
Submissively bore disgrace.
Was despised and rejected.
Was mocked and spat on. Was pierced and wounded on his side.
Was crucified with thieves.
Was buried in a rich man's tomb.
Was innocent of sin yet treated as criminal?
Through his wounds many have been forgiven their sins.
Through him God's everlasting kingdom was established.

Outline the content of Mary's song, the magnificent. (5mks)

My souls magnify the Lord.
The mighty one has done great things to her.
He has scattered the proud.
He has put down the mighty from their thrown and exalted those of low degree.
All generations will call her blessed.
He has helped his servant Israel.
The Lord's mercy is on those of who fear him.

State seven reasons why Christian must be baptized. (7mks)

One becomes a member of Christian denomination/church.
Through it Christian identify themselves with Jesus.
It unites Christian as members of the body of Christ.
Through it, they share in death and resurrection of Jesus.
Through it, Christians are considered as children of God/new life.
Through it sins are forgiven /washed away, symbolically.
Prepares Christians for the kingdom of God.
Follow example of Jesus.

Describe the healing of the woman with flow of blood. (Lk. 8: 43-48) (8mks)

As Jesus was passing, people pressed around him.
A woman who had a flow of blood for 12yrs and could not be healed come from behind/ torched the fringe of his garment.
Immediately her flow of blood ceased.
Jesus said, 'who is it that torched the fringe of my garment.
When all denied it Peter said, 'master, the multitudes surround you and press upon you'.
Jesus insisted that someone touched him as he perceived power and gone from him.
The woman saw that she was not hidden/come trebling/fell before him declaring that she was the one.
Jesus told her, 'daughter, your faith made you well'.

How did people react towards Jesus of miracles? (7mks)

Some were happy/joyous.
Some were angry /annoyed /sent Jesus away.
Some planned /plotted how to arrest / kill Jesus.
Some glorified/ praised God.
Some went to witness about Jesus.
Some wanted to became his followers.
Some became followers.
Some were amazed/ astonished/ wondered.
Some accused him of using the power of Beelzebub.
Some said he was a prophet.
Some brought their sick ones to be healed/ asked for Jesus' help.
Some asked him to perform wonders /signs.

State five ways the church continues with the healing ministry of Jesus. (5mks)

Establishing hospitals.
Establishing medical colleges.
Visiting and praying for the sick.
Encouraging and supporting medical work.
Teaching the public on preventive measures against diseases.
Teaching on good hygiene.
Giving guidance and counseling.
Teaching proper methods of farming.

Outline seven events that took place during triumphant entry to Jerusalem. Lk. 19: 28- 44. (7mks)

When he drew near to Bethphage and Bethany, he sent two of his disciples to bring him a colt.
He told the disciples what to give as the answer when asked by the owner.
They brought the animal to Jesus/dressed the animal for Jesus.
The people spread their garment on the road.
When Jesus neared Jerusalem, the multitude began to rejoice /praise God.
Some Pharisees asked to rebuke the singers.
Jesus responded that even if the singer kept silence, stones would sing /cry out.
When he drew near and saw the city of Jerusalem, Jesus wept over it.

Narrate eight teaching of Jesus on Eschatology. Lk. 21:5-36. (8mks)

The temple and city of Jerusalem will be destroyed.
Many will come claiming to be Jesus.
There would be wars /rumours of war.
Nation will rise against nation /kingdom against kingdom.
There would be great earthquakes.
There would be famine /outbreak of diseases.
They should endure so as to live on.
The end will come suddenly so the followers should be watchful all the time.
Strange things.
Disciples persecuted.
People will faint.

How are Christian preparing for Jesus parousia? (5mks)

By repenting their sins.
Obeying God's word/ commandments.
Praying /fasting.
Preaching to other / evangelization.
Living exemplary life /role model.
Doing charitable works.
Contributing financially for the Church growth

Outline the teaching of Peter concerning the people of God. 1st Peter 2: 9-10. (10mks)

The believes are chosen people /race /they have been selected.
They are a royal priesthood /they are to serve the greatest king /God.
They are a Holy nation/ expected to lead holy/righteous lives.
They belong to God /they form a family of Gods own possession.
They are to declare deeds of God / that is to lead a life of worshipping God/testifying about God.They were called from darkness to light /their lives had been transformed and should not be dominated by evil.
They were once not a people/ they were outside the covenant way of life.
They are led by the mercies God/ have received Gods' grace.

Show ways through which Christian can promote unity. (6mks)

Christian should hold joint/interdenominational prayers.
Christian takes a joint stand against injustice/ problem in the society.
They should work together to promote educational programmes in the country.
They should speak with one voice on matters of construction / political life of the nation.
Christian should join together in the training of the clergy/pastors from different denominations.
They need to provide loans/ funds/ support to the poor irrespective of denomination affiliations.
Christian churches / organization should unite in provision of medical services.
Christian need to respect one another's doctrinal position.

State in which kindness as a fruit of Holy Spirit is abused in Kenya today. (4mks)

By church leaders starting many projects in the church expecting the congregation to provide the finance.
Some Christian fails to work because they expect assistance from others.
Some Christian over- depend on other people's assistance / effort.
Some members of the church failing to return /refund borrowed money and expect the members of church to understand.
When church leaders demand for payment for all services they render.
When church leaders ask their congregations to cater for their personal needs like further studies / buying of vehicles etc.

Identify similarities between the Christian and Tradition Africa on marriage. (8mks)

in both, marriage is ordained /blessed by God/gift from God.
in both, marriage is for procreation.
In both marriage should be permanent.
In both, the husband and wife should respect /love each other.
In both, marriage gives a new status to those who enter / qualifies them for leadership roles.
Faithfulness in marriage is encouraged.
In both, re – marriage is encouraged after the death of a spouse.
In both, the husband and wife should give conjugal to each other.
In both the husband is the head of the family.

Give reasons why young people are choosing to remain unmarried in Kenya today. (6mks)

They have seen /experienced incidents of broken marriages /unfaithfulness in marriage.
In order to pursue their career /education.
They are not ready to take responsibility of marriage.
Poverty/ lack of job/inadequate resources to start a family/ economic empowerment.
Permissiveness allow many to satisfy their sexual lust without marriage commitment.
Failure to get an expected ideal partner.
Marriage is no longer a communal duty/ it is individual decision.
Religious commitment /superstition hinder one from involving themselves in marriage.
Low self esteem /lack of confidence /fear of being jilted/ failed relationship.

Show ways in which the church is helping to solve domestic violence in Kenya today. (6mks)

Offering guidance and counseling to couples who are affected.
Holding seminars / conference for marriage couples.
Developing mass media programmes on family relationship.
Praying for families.
Teaching on the need for love/respect/tolerance in marriage.
Members in their homes encourage them.
Giving material assistance/ employment to the needy on order to reduce tension.
Condemn all forms of violence.
Settling disputes among couples /children.

What is the Christian view on plastic surgery? (10mks)

Christian approves plastic surgery when used to restore /improve deformities/ treatment.
It is not recommended for beauty /cosmetic reasons since that goes against Lord's design.
Plastic surgery is like self – glorification thus it is discouraged.
God is more interested in one's soul than a beautiful body.
Plastic surgery take place of God who is the creator / challenges God the creator.
The intention of plastic surgery in most cases is to create celebrities God the creator.
Risks involved when performing surgery can lead to deformity /death.
It shows lack of appreciation of oneself.

Ways through which science and Technology has negatively affected the environment created by God. (4mks)

Used of chemical has led to the pollution of water /soil.
Emission of smoke from industries /nuclei factories leads to pollution of the air.
Felling trees has led to desertification /dying up of rivers.
Manufacturing of plastic material has led to environmental degradation.
Science and technology has led to the over utilization of natural resources like fish/ wildlife.
Quarrying /mining have led to environmental degradation.

Shows ways in which the youth in the church can carry out environmental restoration in Kenya today. (6mks)

The youth should sensitized people on the importance of protecting the environment /theatre performance in environment.
They should teach / on methods of environmental conservation gabion terracing contour ploughing etc.
They need to form church organization /clubs /military aimed at environment conservation.
The youth should raise funds to support environmental conservation programmes.
They take part in the environmental days for planning of trees /cleaning occasion.
They should lobby the government to enact laws that are aimed at protecting the environment.
They should act responsible /be role models on issues regarding the environment