Read the passage below. It contains blank spaces numbered 1-15. for each blank space, choose the BEST alternative from the choices given.
You must have been asked what you__ 1__ wish to be when you __2__ up. There's no __3__ about you growing up __4__ it is also almost obvious that it is the __5__ difficult thing as it takes a period of time which we __6__ a process. Many young people answer this question __7__ because there are people they know or have heard of __8__ the society whom they would __9__ to emulate.
If it __10__ as per their wish, the world would be a very __11__ place to live in. You can __12__ a world with __13__ many pilots that even there __ 14__ enough planes for them to fly. This shows that what _ 15_ individual on earth does it very essential to the other.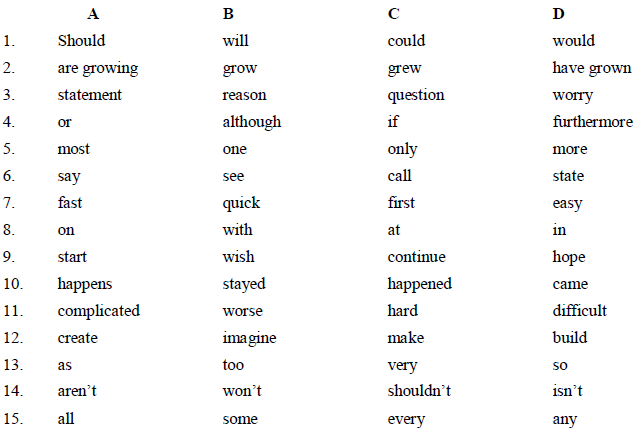 For questions 16 and 17. select the alternative that means the SAME as the underlined sentence.
 No sooner had we entered the house than we shut the door.
A. We entered the house then shut the door.
B. We shut the door as soon as we entered the house.
C. We shut the door just as we entered the house.
D. We entered the house and shut the
We hardly hear the owl hooting during the day.
A. We never hear the owl hooting during the day.
B. We usually hear the owl hooting during the day.
C. We sometimes hear the owl hooting during the day.
D. We rarely hear the owl hooting during the day.
In questions 18 and 19, choose the alternative that can BEST complete the given sentence.
If wishes were horses
A. beggars would have to ride.
B. beggars would ride.
C. beggars will ride.
D. beggars could ride.
I must have forgotten my pullover
A. either at home or school.
B. both at school and home.
C. neither at home nor school.
D. either at home or also school.
In question 20 and 21, choose the words that means much the SAME AS the underlined
You have no option but to abide by the school rules.
A. Try
B. Forced
C. Alternative
D. Compulsory
The man who visited us was unfamiliar to all of us.
A. Unique
B. Visitor
C. Strange
D. Cruel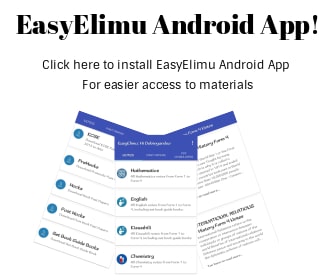 For questions 22 and 23. choose the BEST arrangement of the given sentences to form a sensible paragraph.
 i) Soon, the trees started swaying towards one direction.
ii). The clouds drifted slowly and covered the sun.
iii) In a short while, it started raining cats and dogs.
iv) The rumbling of thunder grew loud and louder.
A. (ii), (iv), (iii), (i)
B. (ii), (i), (iv), (iii)
C. (ii), (iii), (i), (iv)
D. (ii), (iv), (i), (iii)
i) Usually the bus booking offices get crowded just before public holidays.
ii) That explains why planning for a journey in advance is very important.
ii) It is easier and more convenient to book a ticket early enough.
iv) This makes many would be passengers to miss seats on the bus.
A. (iii), (i), (iv). (ii)
B. (iii), (iv). (ii), (i)
C. (iii), (ii), (i), (iv)
D. (iii), (i), (ii), (iv
For questions 24 and 25, select the alternative that BEST fills the blank space in the sentences below:
Yvonne has never been to Mombasa.
A. couldn't she
B. has she
C. wasn't she
D. hasn't she
We all saw the visitors arrive,
A. did we B. isn't it
C. didn't we D. is it
Read the passage below and then answer questions 26 to 38.
Lion was hunting. Unfortunately, this seemed to be one of his bad days. No animal was within vicinity and the more he prowled the forest, the hungrier he became. It was getting too hot to continue and as such, he was almost giving up when he saw one of those tiny creatures in a thicket. Under normal circumstances, he would not have looked at it twice because even if he caught and ate it, he wouldn't be satisfied but a hungry man has no choice.
He moved stealthily towards it and just as he pounced, the animal took a dash in a flash at a corner. Lion pursued it but didn't go far as a big thorn pricked his paw and got stuck into it.
He sat down and roared loudly for help but instead; it sent animals scampering for safety. He tried to pull it out but to no avail. He tried again using his teeth but it was too tiny for his teeth even just to feel. It was then that Jackal, who was passing by, bumped into the struggling Lion. Lion begged and implored upon Jackal for help but the best Jackal could say was that he was not an expert at pulling out thorns and referred Lion to a friend he knew could perform the task with ease
However, Jackal demanded that before he could go for the friend, Lion would have to give in to his special demand. Lion would have to agree to be kicked hard five times on the back. Lion tried to object but when Jackal threatened to leave him alone, he obliged. However, he too had a secret plan: As soon as the thorn was pulled out, he would kill and eat both Jackal and his friend, irrespective of the size. That, to him, would be better than wasting time later to go hunting in the thorn-infested forest, Soon, Jackal returned with his friend, Porcupine. Before Porcupine could embark on his mission, Jackal kicked Lion five times on his back a hard as he could. Porcupine was shocked! With very little strain, Porcupine pulled out the thorn and subsequently the pain in Lion's paw subsided.
Porcupine was not in a hurry to leave but was surprised to realise that Jackal had melted away' unnoticed. Seeing nothing more to do, Porcupine walked away slowly and disappeared into the thickets. Lion was unable to move for some time. He did not know whether to start hunting or just sit there nursing his injuries. He realised he had been unkind to many animals in the past and if he didn't change he would have no friend to help him next time. He stood up and started walking back home.
Lion was unfortunate that morning because
A. he had started hunting at the wrong time.
B. he was hungrier than usual that morning.
C. there wasn't a single creature in the forest.
D. nothing seemed to be going as per his expectations
Why did Lion feel hungrier as he prowled the forest?
A. It was probably a large forest.
B. He was hastily looking for what to eat.
C. He had started the hunting in a wrong area.
D. He had not had a meal for some days.
Lion decided to try to catch and eat the tiny creature
A. as priority.
B. to prove his superiority.
C. as a substitute.
D. to satisfy his hunger.
Why do you think did the tiny creature dash and take a corner immediately after?
A. He was in a confused state of mind.
B. He intended to shake off his attacker.
C. He had seen the thorn before Lion did
D. It was his plan to trick Lion to get pricked
When Lion roared, it made the other animals run away from him. It means the roar…
A. made the other animals become Lion's enemy.
B. helped Lion to get assistance.
C. was the first ever to be heard by the animals.
D. sent a contradicting message to the animals.
The attempts Lion made to pull out the thorn show that
A. he was desperate and in pain.
B. he was sure he had been tricked.
C. he was still determined to catch a prey.
D. he had never been pricked by a thorn.
The MAIN reason why Jackal insisted on kicking Lion before helping him is because
A. it was the easiest way to remove the thorn.
B. he probably needed to revenge.
C. he had helped many animals that way.
D. his friend had given him that condition.
Which of the following statements is TRUE according to the passage?
A. It was rare for Lion to go hunting on a hot day.
B. Porcupine was the only animal who could remove thorns.
C. Lion only ate small creatures as a last option.
D. Jackal and porcupine had hatred for Lion
By saying Jackal had Melted away, the writer means that
A. Jackal was very scared of Lion.
B. Jackal had sat in the sun for too long.
C. Jackal had accomplished his mission.
D. Jackal went away silently and fast.
Why did Lion move away stealthily towards the small creature?
A. He did not want to make any noise.
B. His paws were already aching.
C. He had seen a lot of thorns there.
D. He was too hungry to move faster.
Which of the following descriptions would BEST fit Jackal?
A. A clumsy schemer.
B. Clever and vengeful.
C. A forgiving friend.
D. A stubborn creature.
Jackal must have 'melted away' because
A. he believed he could soon be harmed.
B. he had other things to do elsewhere.
C. he had finished his business with Lion
D. they had agreed with porcupine..
In the end, we learn that
A. having too many friends can cause you trouble.
B. there is actually no need to call friends for help.
C. you cannot always get everything you need.
D. it is important to choose what to eat.
Read the passage below and then answer questions 39 to 50.
All living things breathe in oxygen and breathe out carbon dioxide. Carbon dioxide is harmful to the human body and too much of the gas can lead to death. 
When you breathe, your internal organs contract due to the air pressure caused by oxygen, your lungs expand to fill up to depth and the diaphragm contracts with an upward movement supporting the other organs. The part of the face or head through which a person or animal smells and breathes is the nose. The nose has two holes called nostrils. The nostrils and the nasal passages are separated by a small wall called septum. Closer to the tip of your nose, the septum is made of cartilage, which is flexible material that is firmer than skin or muscle but not as hard as bone. Behind your nose, in the middle of your face is a space called the nasal cavity. It connects with the back of the throat. The nasal cavity is separated from the inside of your mouth by the palate-the roof of your mouth. When you inhale air through your nostrils, the air enters the nasal passages and travels into your nasal cavity. The air then passes down the back of your throat into the trachea or windpipe, on its way to the lungs. 
It is recommended that you breathe through your nose, not through your mouth. The human nose conditions inhaled air, for instance, by warming and or humidifying it, also flicking if moving and by mostly reclaiming moisture from the air before it is exhaled. It is also nourished by warm mucus like material that sieves dirt or harmful debris off the inhaled oxygen. The nose, with time. also grow's hair that prevents large particles of dirt from reaching the lungs. It is therefore not advisable to breathe via your mouth. This is as harmful to your body for it becomes bridge to harmful fragments entering your body.

Breathing is also important for calming down nerves as well as a stress relief agent. Often when people are stressed and overwhelmed. they tend to either breathe improperly, hold their breath or entirely stop breathing. This is a normal response to stress. When overwhelmed, sit up with your back straight and place your hand on your abdomen. Also, when breathing in, make sure  abdomen contracts towards your spine.