Read the passage below. It contains blank spaces numbered 1-15. For each blank space, choose the best alternative from the choices given:
The bicycle, though invented a century ago__1__is still a very popular means of transport today. In__2__earliest years of its invention, the bicycle sported both large and small__3__. At first, there was no mechanism to stop it. Men had to rely on their heels to do the work. Today _4_, the bicycle has changed greatly. The modern bicycle only resembles the ancient one in that it _5_ two wheels. On each wheel is__6 __series of pattern spokes. It also has a series of teeth for the various gears. Before, the handbar was straight, now it can be upturned, down turned or straightened __7__, the handbar was used to direct the bicycle left, right and also balance it. These days, it also __ 8__ the gears that control the speed and a bell. The seat of the bicycle is called a saddle, and the pedal is the part the foot is put to __9___the bicycle forward. A person who rides a bicycle is called a__10__. The bicycle is powered by the muscles of a person who rides it. It is__11__advisable to carry along a bicycle pump to pump air into the bicycle tubes incase the tyres __12__flat. _13__ is a good exercise as it tones the whole body.
One must not forget to __14__ a helmet when exercising in this manner. The bicycle may continue to evolve in years to come but man's love for __15__will remain the same.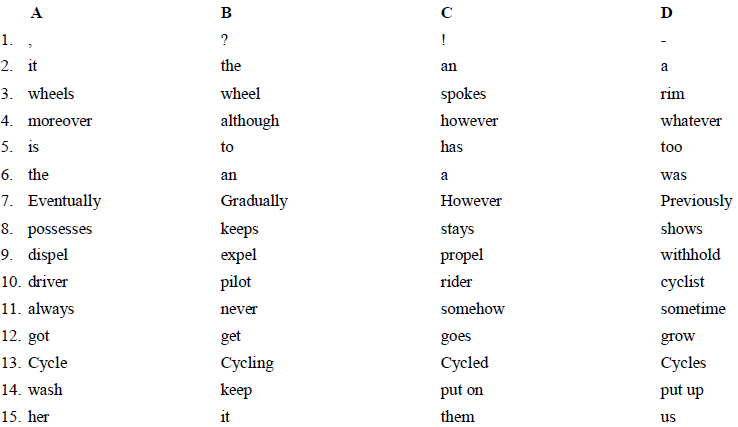 For questions 16 and 17. choose the prefix that can be added to the given word to form a NEW word:
Similar
A. DIS
B. MIS
C. UN
D. IN
Spell
A. DIS
B. MIS
C.DE
D. IN
For questions 18-20, choose from the endings given the one needed to complete each of the following sentences
Our guardians wanted to know ___
A. where have you been?
B. where we had been.
C. we had been where
D. where were we being
The English teacher____
A. explained me very well the problem
B. explained the problem very well to me
C. explained very well the problem to me
D. very well explained me the problem
Had he heeded his parents advice___
A. he would not be in trouble now
B. but he did the opposite of what he was told
C. he would have been safe
D. now he is suffering
For questions 21 and 22. select the BEST order
(i) The game will start
(ii) So you should go to the field
(iii) A short time before then
(iv) At two o'clock in the afternoon
A. i, ii, iii, iv
B. ii, iii, iv, i
C. i. iv, ii, iii
D. iii, i, ii, iv
(i) Last he came top of our class
(ii) He is also very clever and works hard
(iii) Chaka is liked by everyone in our class
(iv) He has a high sense of humour
A. iii, i, ii, iv
B. iii, iv, I, ii
C. i, ii, iv, iii
D. iii, iv, ii, i
Choose the correct alternative to fill in the blank spaces in questions 23 to 25
___ she had never been to Nairobi before, she did not feel nervous
A. Since
B. When
C. Although
D. Because
Lie is to lay as hang is to
A. hanged
B. hung
C. hunged
D. hang
Hardly had they left the room
A. than the roof collapsed
B. and the roof collapsed
C. when the roof collapsed
D. that the roof collapsed
Read the passage below and the answer questions 26 to 38
It was not long after I soon learned, however, that life for a growing boy was a bit all play. At least, not for boys with parents like mine. Although my mother had never had the benefit of formal education herself, she was determined that I should be sent to school the earliest opportunity. My father probably due to my mother's persuasive power, was strongly in favour of this also. Even though I could often get around my father, I knew that once my mother's mind had been made up, there was nothing I could do about it.
In school, I found my first day so disappointing that I ran away, determined never to return. But my mother turned a deaf ear to my raging protests and quietly but determinedly dragged me by the arm each morning and deposited me in the classroom.
Eventually, I realised that I had lost the battle and decided that I was going to be forced to stay there. I might as well get to like it and do what I could to learn something. To my surprise, I soon found that I enjoyed my lessons and looked forward to go to school even though we lived in fear and trembling of the teacher because of his firm and active belief in the adage, "spare the rod and spoil the child." I disliked being forced to do things against my will, for I had not been accustomed to it and I used to think what a paradise school would be if we were left in peace to do our studies without the presence of a school class teacher.
Pupils of various levels were in one room and the master used to teach a class at a time. It must have been a hard job for him and we did not do anything to ease his lot. Luckily, I was keen on learning, so keen, in fact that soon my only dread was that my father might one day be unable to afford school fees. Because of this, I started to rear a few chickens which I sold later. Because of this income, it meant I could not only help to meet the school fees but I had money to buy books as well.
From the first paragraph, the writer learnt that
A. life for a growing boy was all play
B. life for a growing boy was all work
C. life for a growing boy was not all play
D. life for a growing boy was not all work
Which of the following best describes the writers parents?
A. The writer's father did not like education
B. The writer's mother had no education
C. The writer's parents benefited from the formal education
D. They had not got the formal education
When the writer was young, we learnt that,
A. he always made his father agree to his demands
B. he was often able to make his father agree to his demands
C. he was often able to make his mother agree with him
D. his father never wanted him to go to school
The writer's mother was a
A. serious but cheeky woman
B. cunning and mischievous woman
C. focused and determined woman
D. confident and cunning woman
The phrase "turned a deaf ear" means
A. to become deaf and unable to listen
B. to ignore or refuse
C. to ignore but accept to listen
D. to listen but not understanding
From the passage, the writer ran away from school because
A. he did not like the school on the first day
B. his mother was a no nonsense woman
C. his teacher spoiled the children
D. be dearly missed his father and mother
"Eventually. I realised that I had lost the battle" means
A. the writer was beaten up by his father
B. the writer was beaten up by his mother
C. the writer had to stay in school when he wanted
D. the writer had to stay in school whether he liked it or not
After a few days in school the writer did all the following except
A. he stopped fearing the teacher
B. he went to school unwillingly
C. he always wanted to go to school
D. he started enjoying the lessons at school
According to the passage, the teacher had firm and active belief in the adage "spare the rod spoil the child." It means that
A. the teacher punished the pupils when they made mistakes
B. the teacher did not punish the pupils when they made mistakes
C. the teacher made the pupils fear and tremble in class.
D. the teacher disliked forcing pupils to work
In the last paragraph, we learnt that the learners
A. of different levels were in the different classes
B. of the same levels had different teachers
C. of the different levels had different teachers
D. of different levels were in same class
The writer's problem after adapting to school environment was
A. the class teacher was very frightening
B. the other pupils used to beat him up
C. his parents would not afford to maintain him in school
D. his teacher gave him a lot of work that was hard to finish
Which of the following explains what the writer did with his earnings from the project he started?
A. Purchased the family necessities only
B. Purchased his learning materials as well as maintaining himself in school
C. Purchased both family necessities and his basic needs
D. Purchased new items for himself
The BEST title for this passage would be
A. All that glitters is not gold
B. Hard work never pays
C. Hard work always pays
D. Never judge a book by its cover
Read the following passage and answer the questions 39 - 50:
If you have been to Lang'ata, you must have known a place called Dr. Barnado Children's Home. Who was Doctor Barnado? Thomas John Barnado, a young Irish man, wanted to be a medical missionary in China in 1866. When he was 20, he set off from his home in Dublin to train at a London hospital.
The hospital was in the East End, where the people were miserably poor and ignorant. Barnado found that they needed help as badly as anyone he was likely to find in China. He and his friends decided to start a ragged school in the evenings to teach children who otherwise would never learn to read and write, for in those days, there were
hardly any schools for people who could not pay.
One winter evening, when Barnado was about to shut up the school, he noticed that one particularly ragged little boy was still standing by the fire. "Come on", said Barnado, "It's time to go home now." "Please sir, let me stay," the boy begged. "Stay! What for?" Asked Barnado. "Your mother will wonder why you are so late." "I have no mother." said the boy.
"Your father then, where is he?" "I have got no father." "Don't tell stories, where do you live?" "Nowhere." answered the boy. Barnado discovered the boy, Jim Jarris, who was 10 had never known his father, and that since his mother had died, he had been quite homeless. He could sometimes earn a few pennies, but seldom had enough to eat. His few clothes were in shreds and he went barefoot always. He slept wherever he could find shelter, he had spent the night before in hay cart, he said there were many boys like him.
Barnado took Jim back to his own lodging and gave him a hot meal. Then, he asked him to show him some of the places where the other boys might be sleeping. Jim led Barnado through the street to a shed which was a rag market by day. On the open iron roof a dozen boys huddled a sleep under the frost moonlight. All were in rags, all utterly homeless.
After this, Bamado went out several times a night, with Jim, to collect the most miserable of the boys. Before long, he was paying for lodging for Jim and fifteen others. But Barnado was only a medical student, not a rich man. So, he could not begin to provide for all the destitute children in London. When his friends found out what he was doing, they helped him with money and wanted to give all his time to this work. But Barnado still thought he ought to become a missionary.
Dr. Barnado was brilliant at persuading people to support his work. His whole life was given up to caring for destitute children, and worked so hard that he wore himself out and died when he was only 60. Now, there are Barnado Homes all over the world
From the first and second paragraphs, we can tell that
A. the writer does not know who Dr. Barnado is
B. Thomas Barnado trained in London
C. everybody knows where the children's home is
D. Barnado who is twenty years old is a medical missionary
The word destitute as used in the passage could be replaced by
A. poor
B. dirty
C. Careless
D. lovely
Why did Dr. Barnado and his friends start a ragged school?
A. To train as many missionaries as possible
B. To teach poor and ignorant children how to read and write
C. So that they could pay for those who could not afford
D. Because they wanted to earn a living
When was Dr. Barnado likely to have been born?
A. 1866
B. 1966
C. 1846
D. 1946
According to the passage, the little ragged boy asked to stay because
A. he did not know where his father was
B. it was not yet time for him to go home
C. he loved the school so much
D. he had nowhere else to go.
What in the passage shows that Jim was homeless?
A. His clothes were shreds
B. He rarely had enough to eat
C. He slept wherever he could find shelter
D. He refused to go home
Which of the following statements is NOT true according to the passage?
A. Jim did not have enough to eat
B. All the boys who were rescued were homeless
C. Many people in China were poor
D. Thomas Barnado was a kind man
When Jim led Barnado to the streets, they first came across ___ boys.
A. two
B. One
C. fifteen
D. Twelve
"All were in rags" means that the boys wore
A. torn clothes
B. dirty clothes
C. old clothes
D. small clothes
The writer describes the people of East End as.
A. literate and poor
B. homeless and ragged
C. poor and ignorant
D. kind and learned
Why according to the passage did Barnado die early?
A. Due to the hardwork
B. He gave up in life
C. People refused to support him
D. He had a deadly disease
Which one of the following is the best title for the above passage?
A. Dr. Barnado Children's Home
B. How Barnado became a doctor
C. Dr Baranado and Jim Harvis
D. Irish Doctors
COMPOSITION
You have been given 40 minutes to write your composition.
Below is the beginning of a composition. Complete it in your own words making it as interesting as you can.
The two boys flew on and on toward the village, speechless with horror. They………………………………
MARKING SCHEME