SECTION A 25MKS
(Answer all questions)
Identify two sources of information on Kenyan history.(2mks)
What is the significance of Rusinga Island to the history of Kenya.(1mk)
Name the dispersal area of the Eastern Bantu.(lmk)
Give two social roles of the council of elders(NjuriNceke) of the ameru in the Pre-colonial period.(2mks)
Name two groups that rivaled the Portuguese for the control of the Kenyan coast in the 16th(2mks)
Identify two ways in which citizenship by birth can be revoked.(2mks)
State the main reason why the second Lancaster house conference was held in 1962. (lmk)
State two rights of a person who is detained or in custody.(2mks)
Name two aspects of fair labour practices as contained in the constitution of Kenya 2010.(2mks)
Identify two factors that enabled the white settlers to establish farms in the white highlands.(2mks)
State one institution that may limit parliamentary supremacy in Kenya (lmk)
State two ways in which the rule of law is applied in Kenya.(2mks)
Give type of fund established by the constitution of Kenya in 2010.(1mks)
Name one source of the principle of African socialism.(1mk)
What is the main role of Ethics and Anti-corruption Commission in Kenya.(EACC)(1mk)
Who was the first vice –president of the independent Kenya. (1mk)
Give the meaning of the devolved government in Kenya.(1mk)
SECTION B
Answer any three questions.
State five economics activities of the Borana in the 19th (5mks)
Discuss five results of the migration of the cushites into Kenya..(10mks)
State five factors which contributed to the development of trade between different Communities in the interior of Kenya. (5mks)
Discuss five negative effects of the Portuguese rule at the coas of East African. (10mks)
Identify five problems faced by political parties in Kenya between 1992 and 2007 in Kenya.(5mks)
Explain five factors that favored maumau freedom fighters in Kenya. (10mks)
Give five reasons why corruption is being discouraged in Kenya.(5mks)
Explain five problems associated with Moi's leadership as a president of Kenya.(10mks)
SECTIONC
Answer any two questions
State five peaceful methods of solving conflict.(5mks)
Explain five economic factors that promote national unity in Kenya.(10mks)
State three non-military function of the Kenya DefenceForces (3mks)
Explain 6 functions of the Supreme Court in Kenya.(12mks)
Name three categories of members who make up the county assembly in Kenya.(3mks)
Explain six obstacles facing county governments in Kenya.(12mks)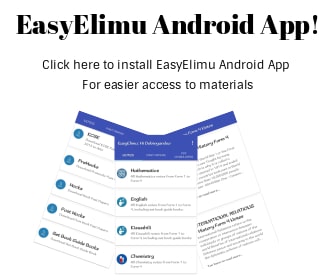 ---
MARKING SCHEME
SECTION A
Written
Unwritten
Electronic
The remains of dryopithecusAfricanus were found there.
Shugwaya

(NjuriNceke) of the ameru in the Pre-colonial period.(2mks)
Blessed warriors before going to war
Presided over religious ceremonies.
Egyptian
arabs
British
French
turks
Persians
dutch
If obtained through fraud
If the nationality of the children parents is known
If it's realized that the child was above the age of eight years when found.
To draft the independent constitution

Retention of all fundamental rights and freedom except freedoms incompatible and Being detained.
Right to human treatment as spelt out in parliamentary legislation
Treat in keeping relevant international human rights instruments
Good renumeration
Reasonable working conditions
To join employers organizations
Government policy and support
Transport/Railway and feeder roads
Favourable climate/ adequate rainfall
fertility of the soil
International Criminal court-Presidency
Court of law
county Assembly

Equality before the law
The judiciary work without fear or favour
The state exercises powers granted by the law.
Consolidation
Contegencies
Equalization
Revenue
Traditional African practices
values of African traditional society
Virtues borrowed from both capitation and communism.

To investigate and reccommed for prosecution of corruption cases.
Oginga-Odinga

It's a form of government in which power and authority is transferred or allocated From the central government to a local government.
Where the national government delegates certain power to lower level of Of administration
SECTION B
Trade
Fishing
Crop growing
reared animals
Wearing baskets
Tool making
hunting and gathering

Population increase
Increased warfare
Adoption of mixed farming from bant
Enhanced trade
Led to intermarriages
Adoption of cultural practices
Displacement of people
Uneven distribution of resources e.g iron
Skills learnt from other tribes
Production of surplus commodity by some communities
External demands four goods found in the interior e.g Ivory
Existence of well developed local trade provided a base for the intercommunity Trade.
Demand for foreign goods in the interior
Existence of good relation between communities

Disruption of coastal trade
Undermined islam
Constant rebellion hence death
harshness leading to suffering of people
Loss of life and death
Destruction of property
Introduced guns hence increased warfare.
Intensified slave trading

In adequate funds
Harassment by police and provincial administration
Internal conflicts
Tribalism
Inexperinced leadership

Oathing united the fighters
Use of guerilla warfare
Civilian population provided them with food and equipment
Strong leadership e.gdedanKimathi
Natural forest Mt.Kenya and aberdare ranges
fighters could access errads guns and ammunition.

To promote economic parity
To Promote peace and stability
To Promote National unity
To Promote fair distribution of national resources
To promote gain international confidence
To promote partriotism and ethical behavior

Attempted coup in 1982
Constant critism of governance/one party rule
Freeze in donor funding
Opposition from political parties after 1992
corruption/land grabbing
Weak economu/poverty
HIV/AIDS
Strained poor relations with some neighbours
amine/Elnino rains
SECTION C
Medition
Arbitration
Diplomacy
Legisation
Use of elders
Religious Action
Community Policing
International Agreements.

Equitable distribution of resources
National currency
Trade
Urbanisation
Entertainment during national holidays
Road and Bridge construction
Extinguishing uncontrolable fireurban areas
Locust control
Evacuation of civil population during natural calamities e.g floods.

Hears and determines dispute related to election of office of the president.
Has an appellate juridisction to hear and determine appeal from court of appeal.
Listens to petitions on interpretation or application of the constitution.
Gives advising opinion at the request of national government,stateorgan,county Government.
Makes decisions which are binding to all other courts.
May review the certification of the court of appeal on matters of general public interest.

Elected ward representatives/members of county assembly
Nominated members
Speaker who is an ex-official

Inadequate funding from national government
Inadequate personnel in key departments
Embezzlement of fund/Misuse of funds by corrupt court officials
Delay in remittance of funds by national government
Natural calamities e.g drought/floods
Duplication of roles from national government
Underdeveloped transport and communication.
Interference from the national government
Wrangles among leaders
Large population growth stretching the available resources.