INSTRUCTIONS TO CANDIDATES.
Candidate should have the following for this examination.
Drawing instruments
Drawing paper size A3
The paper consists of two Sections A and B.
Answer all questions in section A and any Four in Section B in the spaces provided.
Question 15 should be answered on the drawing paper provided. All dimensions are in millimeters unless otherwise stated.
Candidates should answer the questions in English.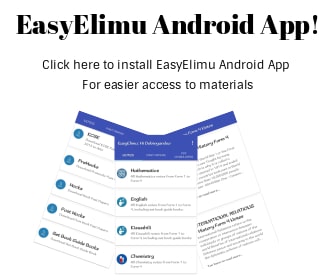 ---
Questions
SECTION A(44 marks)
Answer all questions in this section in the spaces provided
State four safety precautions to observe while using oxygen cylinders for welding. (2 marks
Explain the following terms as used in aircraft fire protection. (2 marks)

Firewall.
Extinguishing.

State four requirements for one to be a commercial pilot. (2 marks)
List any four roles of an airhost/hostess as part of the flight crew. (2marks)

Sketch each of the following aircraft hardware and label any two parts.

Countersunk rivet. (2 marks)
Turn buckle. (2 marks)
Stud. (2 marks)

State four advantages of flying an aircraft in the stratosphere layer. (2marks)
State four effects of lightning on an aircraft in flight. (2marks)

Outline three reasons why an aircraft maintenance engineer in a busy working environment would experience abnormal moods and poor decision. (3marks)

Differentiate between the following terms as applied to aircraft materials;

Mechanical properties (1mark)
Chemical properties (1mark)

Explain four advantages which make aluminium alloys best suited for aircraft fabrication. (4marks)

An aircraft with a rectangular wing is flying at a speed of 849.6 kilometres per hour at sea level conditions experiences a resistance of 128 KN. If the wing span of the aircraft is 25m and chord of 20m;find the value of drag coefficient in 4 decimal places. (4marks)

If you to cut a female and male thread, explain with reason which one will you cut first. (2 marks)
Outline procedure for cutting a male thread on a mild steel metal. (4 marks)

An aircraft left airport A (120°E, 20°N) at 0900 hours on Mondays. Calculate the time it is expected to arrive at airport B (150°W, 20°N). (3marks)

Outline two essential information contained in a title block on a drawing. (1 marks)
Figure1 shows three views of a longitudinal beam of an aircraft fuselage drawn in first projection. Sketch in good proportion an isometric drawing of the beam. (3 marks)

SECTION B (56 MARKS)
Answer any FOURquestions from this section in the spaces provided.
Differentiate between the following terms as used in aircraft structure.

Strain
Stress (1 mark)

State two functions of each of the following structural members of an aircraft. (3 marks)

Longerons
Spars
Bulkhead

Using well labelled sketches, explain any four structural stresses acting on an aircraft parts. (6 marks)
Describe the construction of Pratt truss fuselage. (4 marks)

Explain induced drag. (2mark)
Using drag/velocity graph illustrate the effect of speed on drag. (3marks)

Explain how the following factors affect lateral stability:

Low wing (1 ½ marks)
Dihedral wing (1 ½ marks)

Explain the three degrees of dynamic stability using sketches. (6marks)

Give any SIX ground operations done on an aircraft on the ramp area. (3marks)
Outline the function of FIVE safety equipment carried on an aircraft. (5marks)
Wanjala has just stepped into the JKIA terminal building and intends to travel to Hong Kong. Outline the stages he will go through before finally boarding the flight to his destination. (6marks)

Draw a cross-section of a cylinder piston assembly and show the following;

Cylinder
Piston
Connecting Rod
Stroke (3 marks)

With the aid of sketches, explain the basic principle of thrust generation by each of the following

Propeller
Jet engine (4 marks)

With the aid of a sketch, explain construction of a typical dry sump lubrication system of reciprocating engine. (7 marks)

Figure 2 shows an aircraft door bracket drawn in isometric projection. In first angle projection, draw fullsize the following views.

Front elevation in the direction of arrow F
The plan and end elevation
Indicate four major dimensions. (14 marks)
Use the A3 paper provided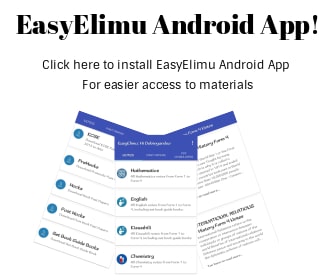 ---
Marking Scheme
State four safety precautions to observe while using oxygen cylinders for welding. (2 marks)

Ensure line and cylinder regulators and gauges are working
Do not allow a source of heat other than the welding flame.
Avoid grease and oil as when combined with pure oxygen they become explosive.
Ensure you switch off the gas after work.(4x½=2 marks)

Explain the following terms as used in aircraft fire protection. (2 marks)

Firewall.
It is a fire resistant bulkhead that separates the engine compartment from the cockpit area. This special bulkhead must be constructed so that no hazardous quantity of liquid, gas or flame can pass through it.
Extinguishing
On board systemdesigned to put off fires which occur either in air or on theground.
(2×1= marks)

State FOUR requirements for one to be a commercial pilot. 2marks.

Mean grade of C+ and above with the same in mathematics, physics, geography and English.
One must be medically fit
One must possess a private pilot license
One must have a minimum of 150hrs flight training.
One must seat for an exam with KCAA to attain the license. (4x½=2 marks)

List any FOUR roles of an airhost/hostess as part of the flight crew. 2marks

Welcome passengers into the aircraft.
Check boarding passes and direct passengers to seats
Give first aid to passengers and flight crew during flight.
Communicate the safety procedures to passengers before flight.
Serve food and beverages to passengers and crew.
Show passengers on how to use safety equipment and there location.
(4x½=2 marks)

Sketch each of the following aircraft hardware and label any two parts. (6 marks)

Countersunk rivet.
Turn buckle.
Stud.

(Sketching 3x=3 marks)
(Labelling 3×1=3 marks)

State four advantages of flying an aircraft in the stratosphere layer. (2marks)

The altitude is free from wind shear hence predictable wind direction.
The aircraft is able to fly free from adverse weather conditions such as heavy rainfall and thunderstorm.
The aircraft is able to evade uneven ground terrain such as mountains.
Flying at this high altitude, there is economical fuel consumption due to reduced air resistance.
(4x1/2= 2 marks)

State four effects of lightning on an aircraft in flight. (2marks)

Ignition of fuel vapors which may result to catastrophic explosions.
Thermal damage to internal structure due to conduction.
Physical damage to the aircraft structure.
Impact on avionics may affect flight displays and data signals.
(4x1/2= 2marks)

Outline three reasons why an aircraft maintenance engineer in a busy working environment would experience abnormal moods and poor decision. (3marks)

Mental fatigue
Stress
Drug abuse whichleads to poor judgement.
Poor working conditions
Poor/low remuneration
Fatigue due to long working hours/ overworking
Lack of technological knowhow
Straining health conditions
(Any3x1=3marks)

Differentiate between the following terms as applied to aircraft materials;

Mechanical properties (1mark)
The mechanical properties are properties of a material that define its behavior under applied forces.
Chemical properties (1mark)
Chemical properties of materials are properties which determine the ability of a material to react with other materials when in contact.

Explain four advantages which make aluminium alloys best suited for aircraft fabrication. (4marks)

Easy to work with: requires simple tools and processes, and does not require a temperature - controlled or dust-free environment, as with composites.
Malleability: easy to form into many shapes, with almost no limit to the shapes it can be formed into.
Environmentally friendly: no health hazards to worry about when working with sheet metal since it is also recyclable.
Easy to inspect: Construction or materials flaws are easily detected, as are defective parts and damage.
Simple to repair: rivets and fasteners can be easily removed to replace damaged parts or sections, and individual parts can be replaced without having to replace or rework an entire airframe section.
Has high resistance to corrosion hence able to withstand harsh weather conditions within which an aircraft operates. (any 4x1=4marks)

An aircraft with a rectangular wing is flying at a speed of 849.6 kilometres per hour at sea level conditions experiences a resistance of 128 KN. If the wing span of the aircraft is 25m and chord of 20m; find the value of drag coefficient in 4 decimal places. (4marks)

Solution
D=Cd×½ρv2s
128 × 1000=Cd×½×1.225×(849.6×10003600)2×25×20 ………………………(1 mark)
128,000=Cd×17,056,900
Cd=128,00017,056,900………………………….1 mark
=0.007504294…………………………..1 mark
=0.0075………………………………..(1 mark)

If you to cut a female and male thread, explain with reason which one will you cut first. (2 marks)
Solution

You should cut the female first(using the tap).
Reason
So that when the male thread is cut the die is set to its largest diameter on the first cut and can be adjusted on subsequent cut so as to obtain a good fit between the male and the female thread, (occasionally trying the male thread in the female). (2×1=2 marks)

Outline procedure for cutting a male thread on a mild steel metal. (4 marks)

Cutting an external thread is achieved through the use of a die, held in a stock.
Select the correct die size diameter depending on the metallic rod diameter.
Ensure the round metallic section steel is vertical and firmly held in the vice (90°)
Place the die on the round section steel, keeping it parallel with the vice.
Add a little pressure and turn the stock in a clockwise direction, the first couple of 'turns' of the die are critical. If the stock is not parallel to the vice, a drunken thread will result.
Stop once the die begins to cut the first couple of threads and check that the stock is still parallel to the vice.
Continue to rotate the stock in a clockwise direction.
Once the thread has been started, for every clockwise rotation, rotate the stock in an anticlockwise direction, for half turn. This clears away any steel chippings, from the die.
Thread cutting can continue until the correct length is been achieved.
Remove the stock and die from the thread by rotating it in an anticlockwise direction, effectively unscrewing it from the steel.
Untighten the centre adjusting screw and then tighten the two outer adjusting screws. Run the die down the thread a second time, as this will finish the thread accurately.
Any 8×½=4 marks (Note the sequence is key.)

An aircraft left airport A (120°E, 20°N) at 0900 hours on Mondays.Calculate the time it is expected to arrive at airport B (150°W, 20°N). (3marks)

Solution
Change in longitude 120o+150°=270°
1 = 4 min
270 = ??
270°×41=1080 minutes=18 hours…………………………………………………(1 mark)
Therefore time difference
=0900-18
=2700 HRS………………………………………………………………………....(1 mark)
But 1 day = 24 hrs…therefore 2700-2400=0300 hrs or 3am Tuesday………………(1 mark)

Two essential information contained in a title block on a drawing

Drawing number to identify the print.
The name of the part or assembly(nomenclature) for filling purposes.
The scale to which is drawn.
The date when the drawing was done.
The name of the firm.
The name of the draftsman and signature. (Any 2×½=1 marks)

Figure 1 shows three views of a longitudinal beam of an aircraft fuselage. Sketch ingood proportion an isometric drawing of the beam. (3 marks)


Differentiate between the following terms as used in aircraft structure. (1 mark)

Strain
Stress
Strain – its deformation as a result of stress.
Stress force acting per unit area of an aircraft part. (2×½= 1mark)

State two functions of each of the following structural members of an aircraft. (3 marks)

Longerons – (2×½=1 mark)

Longitudinal members of the fuselage.
Takes all primary structure load(stress) of the fuselage
Carry major loads (compression and tension).
Form part of fuselage framework.

Spars – (2×½=1 mark)

Main lateral strong structure members of the main wings and empennage
Carry the entire wing load/concentrated weight e.g. Engine.
Carry bending and twisting stresses of the wings
Provide attachment to the fuselage.

Bulkhead (2×½=1 mark)

Vertical structural members partitioning aircraft compartment.
Give fuselage its streamline shape.
Contribute to the fuselage shape.
Used as a firewall.
Carry concentrated load / Provide strength and take the stresses.

Structural stress of aircraft

(Sketches any 4×1=4 marks)
(Explanation any 4×½=2 marks)
Pratt fuselage construction

Made of longitudinal members and diagonal members which are designed to take tensional stress.
(Sketches=2 marks)
(Explanation=2 marks)

Explain induced drag. (2mark)

It's unnecessary and unavoidable by product of lift as its being generated.

Using drag/velocity graph illustrate the effect of speed of drag. (3marks)


Explain how the following factors affect lateral stability:

Low wing (1 ½ marks)

Characteristics of airflow down around the fuselage in the event of the sideslip decreases the angle of attack on down going wing and increases angle of attack on up going wing. This increases lift on higher wing and decreases lift on lower wing. This phenomena reduces lateral stability.

Dihedral wing (1 ½ marks)

When dihedral; wing encounters a side slip; the sideways component of the relative airflow will meet the lower wing at a greater angle of attack than upper wing thus generating more lift as compared to upper wing. This tends to return the aircraft to level attitude.

Explain the three degrees of dynamic stability using sketches. (6marks)


Give any SIX ground operations done on an aircraft on the ramp area. 3marks

Towing
Jacking
Waste removal
Fueling and defueling
Maintenance
Starting of engine
Loading and offloading
Servicing

Outline the function of FIVE safety equipment carried on an aircraft. (5marks)

A dingy is used to house passengers during ditching
A flare gun used to show the location persons by displaying color when shot.
First aid kit is used to perform first aid to passengers or crew during flight.
Fire extinguisher to fight fire on board an aircraft.
fire axe to cut through plastic or metal frame.
Beacon is used to emit a signal to allow location of persons under distress.
Smoke hood is used to allow easier breathing during a fire with a lot of smoke in the aircraft area.
Oxygen masks allow passengers and crew to breath during loss of air in the aircraft.

Wanjala has just stepped into the JKIA terminal building and intends to travel to Hong Kong. Outline the stages he will go through before finally boarding the flight to his destination. (6 marks)

One will go through the first security check to verify no illegal or dangerous goods are carried.
Two one will go to the airline agent to finish ticketing process, luggage weighing n checking and being given a boarding pass.
Three one will go to immigration area to verify validity of passport and visa to be upto date and you're not a security risk.
Four one will go through the health department to verify you have clean bill of health by possession of correct health requirements for the area I.e. yellow fever or Covid-19 vaccination.
Five one will go through second security check to screen for any illegal or dangerous goods before boarding or loading luggage to aircraft.
Lastly one will go to the sterile zone or waiting Bay to waiting for boarding of aircraft or and go directly to board aircraft
(6×1=6 marks)

Draw a cross-section of a cylinder piston assembly and show the following;

Cylinder
Piston
Connecting Rod
Stroke (3 marks)


With the aid of sketches, explain the basic principle of thrust generation by each of the following

Propeller
Jet engine (4 marks)

Propeller
By propeller; acceleration of large mass of air at a relatively low velocity which creates a reaction which pushes/pulls aircraft forward.

Jet engine;
Acceleration of small mass of air at high velocity which creates reaction which pushes aircraft forward.

(Sketches - 2×1=2 marks)
(Explanation - 2×1=2 marks)

With the aid of a sketch, explain construction of a typical dry sump lubrication system of reciprocating engine. (7 marks)

Sketch- 2 marks
Labelling- ½ X any 10= 5 marks

Figure 1 shows an aircraft door bracket drawn in isometric projection. In first angle projection, draw full size the following views.

Front elevation in the direction of arrow F
The plan and end elevation
Indicate four major dimensions. (14 marks)
Use the A3 paper provided

Solution
Total - 14 Marks