INSTRUCTIONS TO CANDIDATES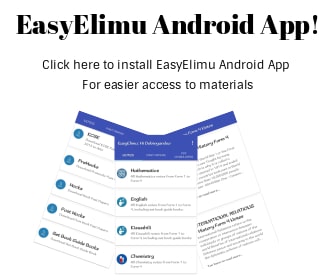 ---
Questions
Name the most appropriate tool that Biology students can use for collecting

Crawling animals (1mk)
Flying insects (1 mk)

State the name given to the study of:

Cells (1 mk)
Classification of living organisms (1 mk)

Define the term species (1 mk)
A Tiger is known as Panthera Tigris

Identify two mistakes made in writing the scientific name (2mks)
Explain why a Leopard and a tiger cannot breed yet they belong to the same genus(1mk)

A cell was magnified 200 times using a light microscope whose eye-piece lens magnification was X10. What was the magnification of the objective lens (3mks)
The cell structure below was observed under the light microscope


Identify the cell structure (1 mk)
Name the labeled parts A and B (2mks)
A…………………………………………………………………………………………
B………….………………………………………………………………………………
State one function of the above structure (1mark)

In an experiment equal amounts of three different sugar solutions were placed in the viskingtubing's X, Y and Z. the tubings were placed in a beaker of water containing 5% sugar solution. The set up was left for two hours. The results were as shown in the diagram below.


Name the process being investigated in the experiment (1 mk)
Account for the observations made at the end of the experiment (3mks)
State three importance of the process named in (a) above in living organisms (3mks)

Name the carbohydrates that is (3mks)

Found in abundance in mammalian blood
Stored in mammalian liver
Stored in plant seeds

List two importance of water in living organisms (2mks)

The enzyme pepsin and trypsin are secreted as inactive precursors:

What are the name of the precursors (2mks)
pepsin ………………………………………………………………………………………………...…
trypsin ………………………………………………………………………………………………...…
Why are they secreted in an inactive form (1 mk)

State two structural and two environmental factors that affect the rate of transpiration

Structural (2mks)
Environmental (2mks)

The diagram below is a transverse section of a certain part of a dicotyledonous plant.


Which part of the plant was the section made from (1 mk)
Give reasons for your answer (1 mk)
State the functions of the parts labeled A and C (2mks)
A…………………………………………………………………….……………………….…...………………………………………………………………..……………………C…………………………………………………………………….……………………….…...………………………………………………………………..……………………

Give an example of an animal with (2mks)

Open circulatory system
Closed circulatory system

The diagram below show the internal structure of a mammalian heart


Using arrows show the direction of blood flow in and out of the heart (2mks)
Name the parts labeled (2mks)
A…………………………………………………………………….……………………….
C…………………………………………………………………….………………………
The muscular wall of chamber D is at least three times thicker than the wall of chamber E. give a reason for this difference (1 mk)
Name two special characteristics of heart muscles which distinguishes it from other parts of muscles (2mks)
In what way does the artery labeled G differ from other arteries in the body (1 mk)

The figure below is a diagram of a potometer


What is it used for? (1 mk)
State one precautions which should be taken when setting up a potometer (1 mk)
The rate of transpiration was determined under normal conditions in the laboratory. Giving reasons, explain the differences you would expect if the measurements were repeated under the following conditions.

The shoot is placed close to the heat source (2mks)
Some leaves are removed (2mks)
The shoot is placed in a current of air created by a fan (2mks)

The figure below is a diagram of a vertical section of a mammalian tooth


Name the parts labeled A – D (2mks)
A………………………………………..
B………………………………………..
C ………………………………………..
D………………………………………..
How are the structures labeled A and D adapted to their functions (2mks)

The figure below is a diagram of an intestinal villus. Study it and answer the questions that follow.


Name the parts labeled A – D (2mks)
A……………………………………………….. C………………………………….
B……………………………………………….. D……………………………………
What is the importance of the villi? (1 mk)
What is the function of the part labeled F (1 mk)
Most of absorption of digested food in mammals takes place in the ileum. In what ways is it adapted for this function (4mks)
Name two nutrients that are absorbed in mammalian gut without chemical digestion (2mark)

State and Explain five factors that determine energy requirements in human beings (10mks)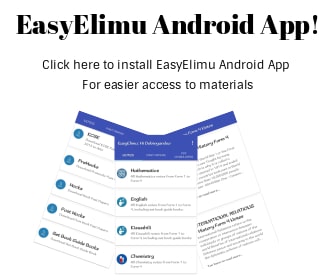 ---

Marking Scheme
Pitfall trap √ (1)
Sweep net √ (1)

Cytology √ (1)
Taxonomy √ (1)

Species is the smallest unit of classification, whose members can naturally/freely interbreed to give rise to viable/fertile offspring's. √ (1)
The second name which represents species should start with a small letter. √ (1). The two names should be underlined separately √ (1)
Because they do not belong to the same species. Only members of the same species can breed to give rise to offsprings.

Total magnification = eye piece lens magnification X objective lens magnifications
Therefore


Cell membrane/plasma membrane √ (1)
A – Phospholipid layer √ (1)
B – Protein layer √ (1)
It encloses the contents of the cell √ (1) either
It allows selective movement of particles in and out of the cell √ (1)

Osmosis √ (1)
The solution in tubing X was more dilute that that in the beaker/solution in tubing X is

hypotonic

to be solution in to beaker √ (2). Water moved from the tubing into the beaker by osmosis/. Water molecules moved from the beaker where they are highly concentrated to where they are lowly concentrated. √ ( ½)
The solution in tubing Y had the same concentration as that in the beaker. The solution is isotonic. There is no movement of water in either direction.

Z
The solution in tubing Z was more concentrated that in the beaker or Z is

hypertonic

√ (½) to the solution in the beaker √ . Water molecules moved from the beaker where take √ are more conc into the tubing by osmosis. Or in the beaker there are more free water molecules than in the tubing Z. free water molecules more from the beaker to the risking tubing through osmosis.
Uptake of water from the soil into the root hairs of plant roots √ (2).

Uptake of water from the surrounding medium into the cells of microorganisms.
Transport of water from the epidermal cells of the root to the cells at the center of the root (support).
Reabsorption of water from the kidney tubules (osmoregulation)
Reabsorption of tissue fluid into the bloodstream at the venous of the capillaries.
Movement of H2O from the veins of leaves through the leaf cells to the atmosphere during transpiration.
Opening and closing of stomata.
Feeding insectivorous plants.

Glucose
Glycogen
Starch
Act as a solvent in which all biology reactions take place

It is a reactant in many biological reactions e.g. photosynthesis, hydrolysis of food molecules such as carbohydrates, fats and proteins.
It is a solvent in which transport of nutrients, gases and waste products takes place.
It is the solvent in which raw materials like minerals salts and finished products like sucrose are transported in plants.
Helps in maintenance of constant body temperature in warm blooded animals because of its high specific heat capacity.
It is responsible for turgidity of plant cells and hence the maintenance of an erect posture of plant.
It is a habitat for many plants and animals.

Pepsinogen and trypsinogen
If secreted in active form, they would digest the cells which they are formed and also the lining of the glands that secret.

Structural factors

Environmental
-Temperature - Light intensity
-Wind - Atmospheric pressure
-Humidity - availability of water

Young root √ (1)
Reason

Presence of star shaped xylem with phloem strands lying between the arms of the star √.
Presence of root hairs √

A – function

Increases the surface areas for absorption of water, mineral salts √.
B
Transport of water and dissolved minerals to the stem and the leaves √ (1).

Open circulatory system. Arthropods e.g insects any correct
Closed circulatory system. (Any correct) √ (1) (mammals)
On the diagram (put) if correct) (in – half a mark, out – half a mark)

A – Aorta √ (1)
C – Semilunar valves √ (1) (at the base of the aorta)
Because D (left ventricle) has to pump blood all over the body whereas E (right ventricle) only pumps blood to the lungs. (Thicker walls helps D to exert pressure to force blood all over the body) √ (1)
They have inherent contractility i.e they contract on their own without stimulation of nerve or hormones (myogenic) √ (1)
They can contract rhythmically throughout without fatigue
G. (pulmonary artery) carries deoxygenated blood from the right ventricle to the lungs √ (1)

To estimate the rate of transpiration by measuring the rate of water uptake by a plant shoot.
Stem of the shoot should be cut and fixed into to potomoter under water to prevent air entering into the xylem vessels. Either All joints should be water tight √ (1)

The rate of transpiration would increase √ (1). Because heat causes temperature to increase hence increasing the rate of evaporation √ (1) of water from mesophyll cells of the leaf and reduces relative humidity of the air outside the leaf √ (1).
Rate would decrease √ (1). Because removal of the leaves reduces the surface available for transpiration √ (1).
Rate would increase √ (1). Because moving air washes away layers of water vapour √ (1) immediately outside the leaf. This lowers humidity of air outside the leaf thus increasing the relative humidity difference (saturation deficit) between the inside and outside of the leaf.

A – Enamel √ (1/2) C – Dentine √ (1/2)
B – Gum √ (1/2) D – Pulp cavity √ (1/2)
A – it is made up of hard organic substance consisting of mineral salt crystals (calcium sulphate) and carbonate) board together by keratin √ (1). It forms an efficient, hard biting surface.
D – Contains blood vessels provide nourishment for the dentine √ (1).
Nerve endings for sensibility of the tooth √ (1)

A – Microvilli C – Venule
B – Lacteal D – Arteriole
To provide a large surface area for the digestion and absorption of food
F – is network of capillaries where soluble end products of digestion diffuse into the blood stream
It is very long and the inner lining is highly folded offering a large surface area for absorption.
-Its surface area is increased further by villi and microvilli.
-Its epithelium is very thin allowing soluble food materials to pass through faster.
-It is richly supplied with blood capillaries and lacteals for transport of absorbed food materials.
Vitamins (any)
Inorganic ions

Explanation √ (1)

Basal metabolism √ (1). This is the energy required to maintain life it includes the energy used to drive vital processes as blood circulation, breathing maintenance of body temp etc. or basal metabolic rate (BMR). This is the lowest level of energy production √ (1).
Sex √ (1) explanation √ (1)
Males require more energy than females because males are more masculine than female. Females have more fats males use more energy compared to females.
Body size √ (1) explanation √ (1)
Small bodies people have a small volume which leads to a large surface area to volume ratio. Their bodies lose a lot of heat to the surrounding. They therefore require more energy than big bodied people who have small surface area to volume ratio.
Occupation/activity √ (1) – manual workers require more energy than for example an office worker (any correct explanation by use of an example)
Age √ (1) explanation √ (1)
Young children have many actively dividing cells and they are physically active. Therefore their Basal metabolic rate is higher than that of adults.