QUESTIONS
SECTION A 30MKS
Name three branches of horticulture. (1 ½ mks)
State four advantages of organic farming. (2mks)
What is the importance of decomposers in agriculture. (1 mk)
State three basic economic concepts. (1 ½ mks)

What is concession company? ( ½ mk)
Give two examples of individual land tenure system. (1 mk)

Differentiate between solifluction and landslide. (2 mks)
Name four types of landslide. (2 mks)

Give three control measures of Blossom-end rot disease. (1 ½ mks)
How are crop pests classified according to the mode of feeding. (2 mks)
State any three effects of diseases to crops. (1 ½ mks)

State six effects of weeds in a pasture crop. (3 mks)
Define a weed. ( ½ mk)

List two ways of classifying herbicides based on mode of action. (1 mk)
State four factors considered when grading tomatoes for fresh market.(2 mks)
Give possible causes of swelling on roots of legumes. (1 mk)
What is a companion crop? (1 mk)
List two main methods of pruning. (2 mks)
State two functions of polythene sheet when used as mulch material.(1 mk)
Give any four factors that influence seed rates. (2 mks)
SECTION B: (20 MARKS)
The diagram below illustrates a crop. Study it and answer the questions that follow.



Identify the parts labeled K, L and M. (3 mks)
Apart from the parts mentioned above, list down five other vegetative materials used for crop propagation. (2 mks)

Study the diagram below and answer the questions that follow.



What are the dimensions of the figure shown above? (1 mk)
Name the parts labeled A, B , C and D. (2 mks)
State the importance of level A in this set up. (1 mk)
State two factors considered when selecting a site for a compost pit.(2 mks)

A farmer with one hectare of land requires 40kg of N in his farm. He applied CAN which costs Ksh 35 per kilogram. CAN contain 20kg N.

Calculate the amount of CAN the farmer requires. (2 mks)
How much will a farmer with one and a half hectares spend to apply in his farm? (3 mks)
List five characteristics of nitrogenous fertilizers. (2 ½ mks)
State the two methods employed during soil sampling. (1 mk)
Define soil sampling. ( ½ mk)
SECTION C: (40 MARKS)
Discuss the importance of crop rotation to a farmer. (12 mks)
Discuss the factors that determine harvesting of a crop. (8 mks)

Discuss the process of water treatment using a chemical treatment system. (12 mks)
State and explain various methods used during land clearing. (8 mks)

Explain various harmful effects of weeds. (10 mks)
State ten cultural methods employed in pest control. (10 mks)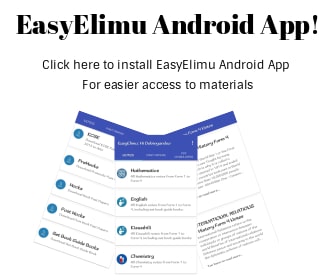 ---
MARKING SCHEME
Name three branches of horticulture. (1 ½ mks)

Promology/fruit growing
Floriculture/flower growing
Olericulture/vegetable farming

State four advantages of organic farming. (2mks)
Reduces pollution
Improves soil water retention
Improves soil texture
Provides feed for soil microbes
Improves soil water infiltration
What is the importance of decomposers in agriculture? (1 mk)
Causes rotting of organic matter in soil f arming manure
State three basic economic concepts. (1 ½ mks)
Opportunity cost
Scarcity
Preference and choice

What is concession company? (1/2 mks)
Tenure system in which the government rents land to a company for a specified period of time.
Give two examples of individual land tenure system. (1 mk)
Owner-operation
Plantation and concession
Landlordism/tenancy

Differentiate between solifluction and landslide. (2 mks)
Solifluction: slow movement of materials d own the slope
Landslide: fast movement of materials downslope.
Name four types of landslide. (2 mks)
Debris fall
Slump
Debris slide/slip
Rock slides
Rock fall

Give three control measures of Blossom-end rot disease. (1 ½ mks)
Regular watering
Application of calcium compounds in soil
Use of right amount of nitrogen.
How are crop pests classified according to the mode of feeding. (2 mks)
Those with biting and chewing mouth parts
Those with piercing and sucking mouth parts.
State any three effects of diseases to crops. (1 ½ mks)
Lower yields/quantity
Lower quality
Increases cost of production.

State six effects of weeds in a pasture crop. (3 mks)
Reduce life span of the pasture
Compete with pasture
Reduce quality of pasture
Reduce herbage yield
Some cause poisoning of livestock
Interfere with forage fertilization
Define a weed – any crop growing where its not needed.

List two ways of classifying herbicides based on mode of action. (1 mk)
Contact herbicides
Systemic herbicides
State four factors considered when grading tomatoes for fresh market.(2 mks)
Size of the fruits
Shape
Degree of ripeness
Damage on tomatoes
Give possible causes of swelling on roots of legumes. (1 mk)
Presence of rhizobium in the roots.
What is a companion crop? (1 mk)
A crop grown in the field to help suppress weed growth and control erosion.
List two main methods of pruning. (2 mks)
Pinching out
Annual pruning
State two functions of polythene sheet when used as mulch material. (1 mk)
Regulation of soil temperature
Control of weeds
Reduce soil erosion
Conserves moisture
Give any four factors that influence seed rates. (2 mks)
Desired crop stand
Germination percentage
Recommended spacing
Purpose of the crop
No. of seeds per hole
Method of planting
SECTION B: (20 MARKS)
The diagram below illustrates a crop. Study it and answer the questions that follow.

Identify the parts labeled K, L and M. (3 mks)
K – Crown
L – Slip
M - Sucker
Apart from the parts mentioned above, list down five other vegetative materials used for crop propagation. (2 mks)
Corns
Bulb
Stem tuber
Bulbils
Splits
Vines
Sett
Rhizomes

Study the diagram below and answer the questions that follow.

What are the dimensions of the figure shown above? (1 mk)
1.2m x 1.2m x 1.2m
Name the parts labeled A, B , C and D. (2 mks)

Topsoil
Ash
Organic manure
grass, leaves, refuse

State the importance of level A in this set up. (1 mk)
Introduces micro-organisms necessary for decomposition.
State two factors considered when selecting a site for a compost pit. (2 mks)
A well drained place
Direction of prevailing wind
Size of the farm
Accessibility.

A farmer with one hectare of land requires 40kg of N in his farm. He applied
CAN which costs Ksh 35 per kilogram. CAN contain 20kg N.

Calculate the amount of CAN the farmer requires. (2 mks)
20kgN = 100kg CAN √ (1mk)
40Kg = ?


40 X 100

= 200kg CAN √ (1mk)
20
How much will a farmer with one and a half hectares spend to apply in his farm? (3 mks)
200kg CAN = 1hec √ ( 1mk)
? 1.5 hec


200 x 1.5

= 300kg CAN √ (1mk)
1
∴ 1kg CAN = 35/-
300kg CAN = 300 X 35
= 10,500/- √ (1mk)
List five characteristics of nitrogenous fertilizers. (2 ½ mks)
Highly soluble
Highly volatile
Hygroscopic
Scorching effect
Short residual effect
State the two methods employed during soil sampling. (1 mk)
Traverse
Zigzag
Define soil sampling – this is collecting of sample of soil to represent the whole land.
SECTION C: (40 MARKS)
Discuss the importance of crop rotation to a farmer. (12 mks)
There is maximum utilization of nutrients. Different crops vary in their nutrient requirement in terms of type and depth of absorption.
Helps in control of soil-borne pests and diseases. Some pests and diseases specific to various crops are easily curbed by alternating crops from different families.
Controls weeds: Weeds associated with certain crops are easily controlled e.gstriga in grass family crops.
Helps to improve soil fertility: Inclusion of a leguminous crop in the program helps to restore soil fertility.
Improves soil structure: Glass hay when included in the rotation restores soil structure.
Helps to control soil erosion: Crops with poor growth cover should be alternated with those having good cover to prevent/control soil erosion.
Discuss the factors that determine harvesting of a crop. (8 mks)
Use or purpose of the crop: The intended aim of planting a crop is considered e.g maize for silage making is harvested bust before flowering.
Concentration of the required chemicals: Guided by the part being harvested e.g in coffee, the ripe berries are the ones harvested.
Market demand: Consumers preference should be considered e.g harvesting maize at green stage for fresh market.
Weather conditions: Dry spell is most preferred for most crops to prevent losses.
Market price and profit margin, harvesting can be delayed or done early depending on the trends in the market.

Discuss the process of water treatment using a chemical treatment system. (12 mks)
Stage 1: Filtration at water intake
Water is passed through a series of sieves of different mesh before entering the intake pipe.
State II: Softening of water
Water flows to a mixing chamber where soda ash and aluminiumsulphate are added in equal proportions.
State III Coagulation and sedimentation
Water moves to large open tanks where solid particles settle down. Air circulation in water also occurs to remove bad smells.
Stage IV : Filtration
Water is made to pass through a filtration tank with layers of different sizes of gravel and sand. This is to remove the remaining solid particles.
Stage V: Chlorination
In the chlorination tank, some small amount of chlorine is added depending on the amount of water to kill micro-organisms
State VI: Storage
Treated water is stored in large tank before distribution to consumers.
State and explain various methods used during land leasing. (8 mks)
Tree felling: Involves cutting down trees
Burning: Fire is set on the vegetation. However, care should be taken to prevent speed to unintended grasses.
Use of chemicals: employs use of herbicides which kill weeds faster.

Explain various harmful effects of weeds. (10 mks)
Lower quality of agriculture produce
Some weeds are poisonous to man and livestock e.g thorn apple.
Some weeds act as alternate host for insect pests and diseases.
Some weeds are parasitic to cultivated crops e.g witch weed in maize.
Weeds compete with crops for nutrient, space, light and soil moisture.
Some weeds are difficult to control e.g stinging nettle.
Some block irrigation channels, affect oxygen levels in water.
Some have allelopathic effect-surpress growth of crops
Weeds lower quality of pastures
Block navigation.
State ten cultural methods employed in pest control. (10 mks)
Timely planting
Timely harvesting
Proper tillage
Close season
Trap cropping
Crop rotation
Planting resistant crop varieties
Field hygiene
Altering micro-climate
Crop nutrition
Destruction of alternate hosts
Use of clean planting materials
Proper spacing
Use of organic manure
Irrigation