SCIENCE AND TECHNOLOGY.
Which one of the following is a non- living thing?

Which one of the following is not a characteristic of all plants? All plants


grow.
are green.
die.
reproduce.

When handling thorny plants, we should wear _______________________________ in our hands.


goggles
socks
gumboots
gloves

Eating too little or too much food is


unhealthy.
good.
healthy.
necessary.

Our classroom floors must always be dry to avoid


slides.
shocks
fainting.
burns.

When a person has fainted, he or she should be taken to a


swimming pool.
shade.
veterinarian.
chemist.

The following are different foods found in our locality. Which one of them shows cassava?

Below is a food storage facility found at home

Which of the following foods can best be preserved using the facility above?

Milk
Maize
Vegetables
Cooked food

All the following are energy giving foods. Which one is not?

Yams
Carrots
Rice
Porridge

When eating our food, we should always

eat without talking.
lick our fingers.
speak as we eat.
appreciate by singing.

Which one of the following can be a reason for bed wetting?

Taking too little water before bed time.
Drinking a lot of water when we wake up.
Noise from the surrounding environments
Dreaming.

A teacher drew the parasite below on the board.

She later asked Mambo to mention the name of the parasite. If Mambo was correct, what did he say?

Flea\
Tapeworm.
Louse
Jigger

All the following are internal parasites. Which one is external?

Tapeworm
Liverfluke
Jiggers
Threadworm

Which one of the following is a bedding material?

Carpet
Doormat
Curtain
Pillow

What is the use of ash when cleaning a latrine?

Ash makes the latrine floor dry.
It prevents smell.
It makes the latrine bright.
Ash kills germs on the latrine roofs.
AGRICULTURE.
Use the diagram below to answer the following questions.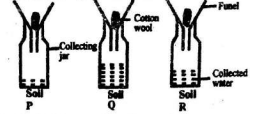 Soil Q was likely to be


smooth.
loam.
clay.
sand.

Loam soil was likely to be


P and R
Q
R
P

The best soil for building is labelled


P
R
Q and R
Q

Maundu wanted to cut long grass in his farm. Which one of the following farm tools would be the best?.

All the following farm animals give us milk. Which one does not?


Goat
Camel
Sheep
Cow

Farmers harvest their farm produce when the season is


dark.
dry
wet.
rainy.

The animal drawn below is reared in our county.

The animal shown above is called a

pig.
sheep.
dog.
cow.

Which one of the lists below has fruits only?

Maize, beans, pawpaws.
Avocado, mangoes, oranges.
Kales, spinach, cabbages.
Yams, cassava, potatoes.

Farmers need to ____________________ their crops when there is no rain.

uproot
plant
grow
irrigate

Which of the following animals is reared at home?

Zebra
Gazelle.
Rabbit
Squirrel.
HOMESCIENCE
Which one of the following is a safe play item?

Maua wants to make a ball. Which of the following materials should Maua use?

Stones
Old rags
Wires
Wood

Which of the following shows how we can take care of our play items?

Leave them in the field after playing with them.
Always play with them indoors to avoid losing them.
Keep them safe after playing with them.
Always leave them in school.

We can promote good health by

avoiding playing together.
avoiding sharing personal items.
avoiding sharing our balls with others.
playing alone to avoid diseases.

Which of the following items is found in the kitchen?

Which one of the following foods must not necessarily be cooked before eating?

Which of the following kitchen equipment shows a fork?

We should _________________________ our fruits before eating them.

wash
boil
fry
cook

We should not share our

toys.
books.
socks.
classes.

Which one do we use to clean our teeth?

Toothpick
Sponge
Handkerchief
Toothbrush
PHYSICAL HEALTH EDUCATION.
Study the diagram below.

The diagram above shows


an athletic track.
a swimming pool.
a football pitch.
a basketball court.

Athletes end their races at the

start point.
centre.
finish line.
middle of the track.

Below is a player practising a game in athletics.

The player above is likely to be practising

standing start.
standing long jup
warm up skills.
short races.

All the following animals live in water except a

whale.
crocodile.
shark.
tortoise.

Mwajuma was practising star fish float. Probably, Mwajuma was in their

house.
classroom.
swimming pool.
football field.

Which of the following parts of the body is not used in V-balance?

Shoulders
Hands
Head
Legs

Which of the following play items cari be used for climbing and sliding games?

Which of the following body parts is mainly used when skipping?

Hand
Shoulders
Fingers
Legs

Which of the following items can be used in a swimming pool?

In HELP in relation to swimming, L stands for

Listening.
Level.
Loose.
Lessening.

Sabina and Joy want to play a skipping game. Which of the play items below do they need?

A bean bag
A rope
A strong polythene paper.
Old rags.

When playing different games, all the rules must be

obeyed.
created
broken.
disobeyed.

Arm action and leg action have one factor in common in that they are both

field events.
swimming skills.
dangerous skills.
played in the field.

All the following are dynamic balances in gymnastics except

body balance.
beam balance.
crab stand balance.
wheelbarrow balance.

Horizontal float in swimming can also be called

treading in water.
vertical float.
gliding in water.
back float.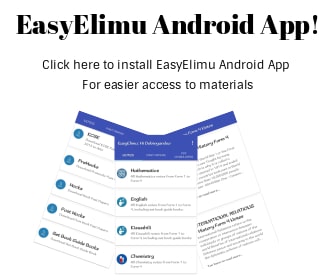 ---
MARKING SCHEME
A
B
D
A
A
B
B
A
B
A
D
B
C
D
B
D
C
D
C
C
B
A
B
D
C
C
B
C
B
D
C
C
A
C
D
A
C
B
D
C
A
B
D
A
D
B
A
B
A
D