QUESTIONS

TASK 1: LISTENING AND SPEAKING.
Answer the following questions that the teacher will ask you orally (Emks)

At what time do you wake up?
How is the weather today?
What do we use to cut our nails?
Which part of the body do you use for seeing?
Name any two family members.

TASK 2: READING ALOUD
Read the story below aloud. (10mks)
Tom is the second born in their family. He is in Grade One. Jane is his elder sister. Tom and Jane are pupils at Kemi Primary School. Their twin brothers are two years old. Tom's parents are Mr. and Mrs Juma. They are both doctors. During weekends, Tom and Jane help to clean their compound. They also take care fo their baby brothers.
TASK 3: GRAMMAR
Write the past tense by adding '-ed' (5mks)

Clean
Wash
Comb
Jump
Look

Complete the sentences using 'that' or "those'… (4mks)

____are rulers.
____is my car.
____books belong to Peter.
____is an apple.

Write correctly (3mks)

ndiwwo
asigs
otp

Write the plurals (Amks)

Basket
Pencil
Desk
Room

Add -ing to the words in brackets and use them to complete the sentences. (4mks)

The wind is________(blow)
It is____outside. (rain)
She is____a flower. (pick)
He is____a tree. (climb)

TASK 4: COMPREHENSION
Read the story and answer the questions below. (5mks) My name is Peres. I live with my mother and father. We have a nice home. We have two houses. There are many trees around our home. My mother and father are farmers. We have two cows and four goats. After school, I look after the cows and goats.

Who does Peres live with?
How many houses are in Peres' home?
What is the occupation of Peres' parents?
How many cows do they have?
At what time does Peres look after the cows and goats?

TASK 5: GUIDED WRITING
Write ten sentences about; (10mks)
"OUR CLASS"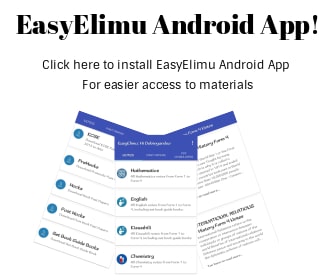 ---
MARKING SCHEME
Mark relevant answers for a-e
Mark as required

cleaned
washed
combed
jumped
looked

those
this
those
this

window
glass
pot/top

baskets
pencils
desks
rooms

blowing
raining
picking
climbing

mother and father
two
farmers
two
after school

Mark as required